Easy Hiking in France
Marais de Bourges
The Marais de Bourges is a unique landscape: 135 hectares of marshland, criss-crossed by a dense network of footpaths, and all that in spitting distance to the centre of one of France's oldest cities.
We had been eager to explore this area for quite some time and were naturally disappointed on being told at the Bourges tourism office that a walk would be out of the question on that weekend because, following the heavy rainfalls of the preceding days, the entire place was flooded. Deluged. Totally under water.
In the event, that turned out to be a gross exaggeration – only a relatively small part of the trail was actually submerged, and while we had to adjust our route to the circumstances, it was still possible to visit almost the entire area.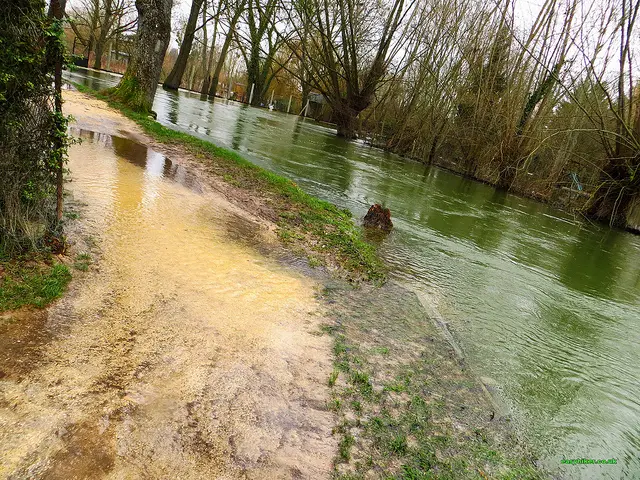 A little aside: something like this has happened to me often enough to believe that French tourism offices see it as their mission to keep visitors away from anything that is not a church or a museum. I can only advise you, if ever you are caught in a similar conundrum, to check the situation for yourself rather than take the tourism bureau's word on trust.
They do not make up their crisis scenarios (not yet, at least: that will be the next step to escalating in their war against the wayward tourist). But if they tell you about slippery slopes, falling rocks or gale force winds that are strong enough to blow any unsuspecting Mediterranean trail hiker half-way to Corsica, take it with a pinch of salt. These reports are nearly always more dramatic than the "crisis" itself.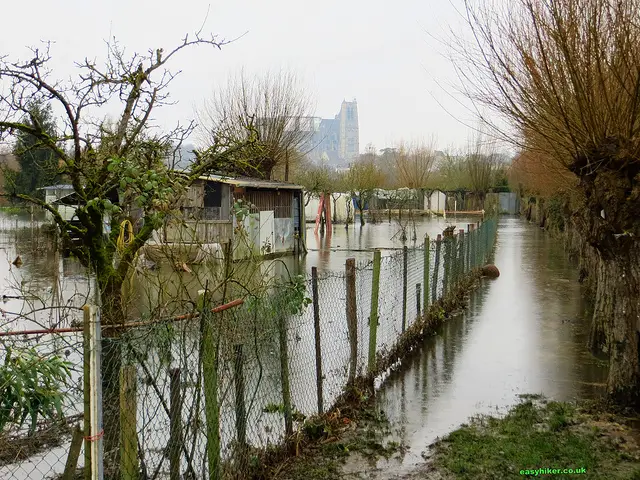 The marshlands themselves were an interesting experience. Some spots have a savage beauty, additionally accentuated by the excess of water that had turned the otherwise slothful Voiselle into a fairly lively rivulet (in official Tourism Board language, probably, a "raging torrent").
But the Marais is not the nature reserve that some of the brochures imply you will find. Much of the area between the footpaths is occupied by allotments, all of them under water when we got there, some of which are simple garden sheds but some of which have been built with such a degree of care and provision – on small elevations, for example, so they won't be easily flooded – that one may assume they have been designed for (semi-permanent or at least occasional) human habitation.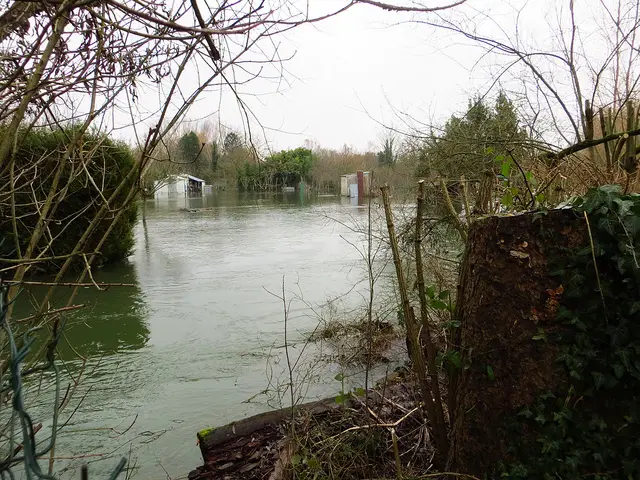 If you understand a bit of French, go and study the public noticeboards that are planted throughout the area wherever two footpaths meet: you will soon find out that the one concern shared by everybody around here is trash. The municipal administration appears to take the, not altogether unreasonable, view that an area of allotments does not need frequent refuse collections.
But where does that leave the people who live here for much of the year? Some of them, it seems, deposit their waste under the nearest tree, while others have taken to burning their trash in the gardens. Neither solution appears to have endeared these semi-permanent "irregulars" to the other allotment owners.
A chatty old man who was walking his dog gave us a guided tour of the neighbourhood – "this is where the noisy young man with his scooter lives, here we have 20 migrants from Tunisia", – managing to convey the impression that the Marais de Bourges is half nature reserve, half something straight out of the favelas in Rio de Janeiro.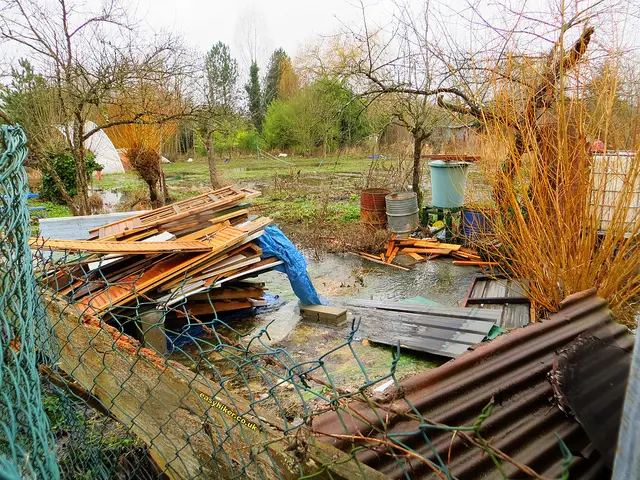 Whatever you can say about the allotments, however, they are not a recent invention. As a matter of fact, small gardens have been operated in the marshlands since the 17th century when Jesuits bought the land and sub-rented it out to the town's citizens. For three centuries, these marshlands have acted as Bourges's "fruit and vegetable basket". Commercial growers have operated here as recently as the 1970s.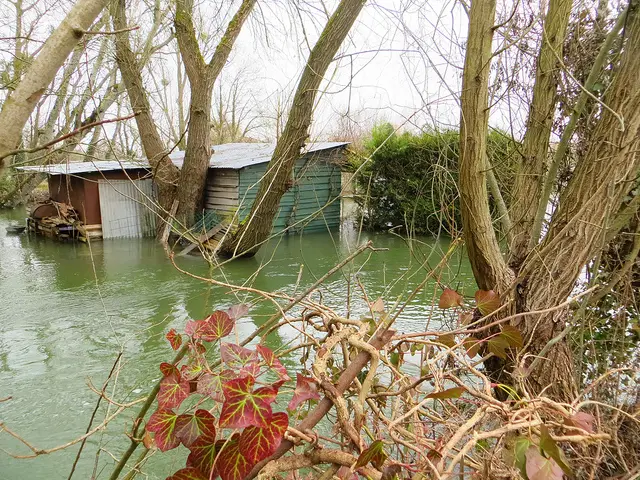 There are two main access routes from the town centre. When you come from Bourges train station, walk straight for one block and turn left into the riverbank path behind the bridge. Two bridges later, cross Rue Edouard Vaillant and turn right into Boulevard General Chanzy.
The entrance into the Marais is near the end of that street and leads you into the prettiest part of the marshland – unfortunately, this is also the lower-lying and therefore more easily flooded part, so we did not get much further on that day than to the small footbridge across the Voiselle.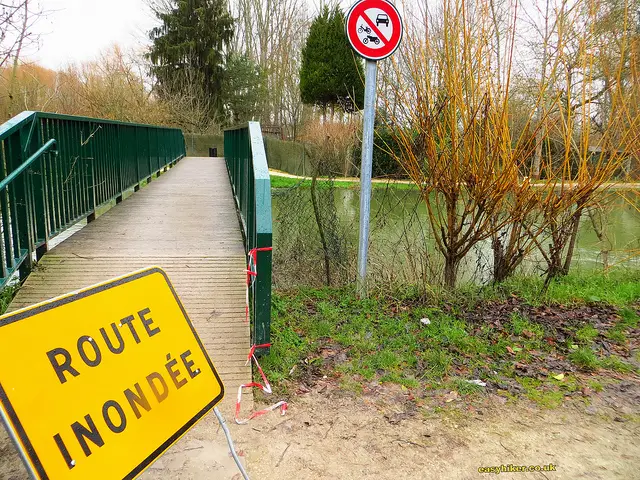 For an alternative way in, turn left after crossing Rue Edouard Vaillant into Rue Marx Dormoy and then, one block before the railway junction, right into a narrow path called Rue Babylone – that will eventually lead you to the river Yèvre, the second main waterway of the marshland.
There is quite a lot to explore in either direction, and you can eventually make a turn back to the city whether you decide to go left or right.
The Marais de Bourges is perhaps best experienced on a day trip if you are visiting the Loire valley and have grown tired of Renaissance castles. The train journey from Paris will take you about two hours, so if you are staying in the French capital, this is something you might want to consider for a weekend trip.
There is, after all, a lot more to see in Bourges than just a slice of swamp. More about that in our next post!