… and even squeeze a walk into your schedule
The Amalfi Coast is one of Europe's most scenic and famous. It is certainly more dramatic than the Riviera, perhaps its only serious rival in the Champions League of European coastlines, but suffers in comparison by its relative lack of "grand names" and famous resorts. This reflects the fact that the Amalfi Coast has only a small number of beaches.
Here, the cliffs do not gently lead to cozy lagoons and long stretches of sand but fall straight into the sea.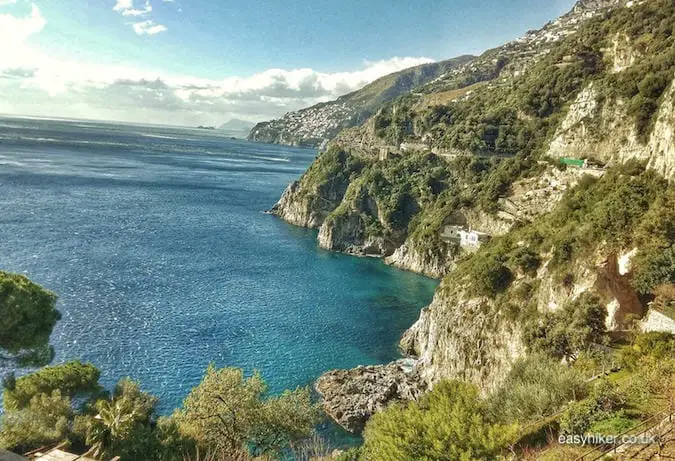 If you have plenty of time, dedicate at least a few days to exploring the coastal landscape. If, however, you only plan to spend four or five days in the area – and there is so much else to see: Capri, Naples, Pompeii – you may be grateful for a few tips of how to see much, perhaps even all of the Amalfi Coast in a single day and even manage to squeeze a short but scenic walk into your schedule. So here we go.
Five Tips to Get the Best Out of the Amalfi Coast in a Day
Base yourself in Sorrento.
Sorrento is a charming, lively and fairly picturesque little seaside town, …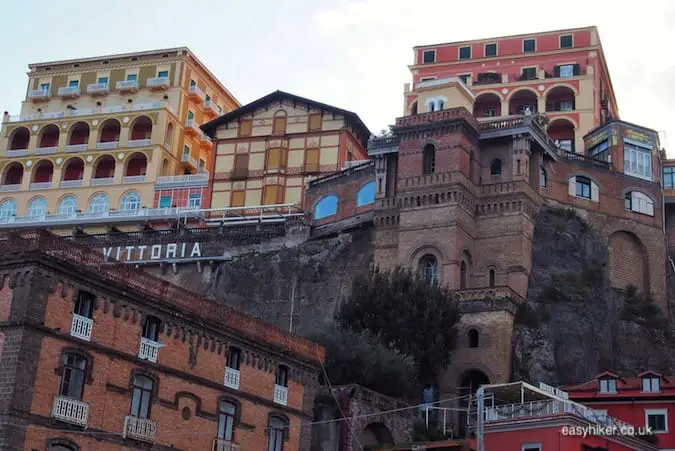 … but its main advantage is that it is so well connected. From here, you travel to Naples in a little over 1 hour and to Pompeii within 30 minutes – just take the Circumvesuviana train, a half-hourly and efficient suburban service.
Sorrento is also the nearest town to the island of Capri, and a reliable hydrofoil ferry service connects the two all year round.
More to the point, just outside Sorrento's train station, there is a row of bus stops. Your trip to the Amalfi Coast starts here. We stayed in a flat we found on AirBnB that was so perfectly placed.
Buy yourself an unlimited travel ticket for € 8.
This ticket covers all trips along the coast. It will perhaps not save you a whole lot of money, depending on what you eventually do with it (you need to take at least 4 individual journeys to make it pay), but it will spare you the trouble of having to cough up every time you board a bus and, more importantly, gives you the freedom to make decisions quickly: you see something you like, you get off the bus, no second thoughts.
Travel early when the buses are less full so you can also sit on the sweet side of the bus: on the right in the direction of Amalfi, on the left on your way back. You get a much better view.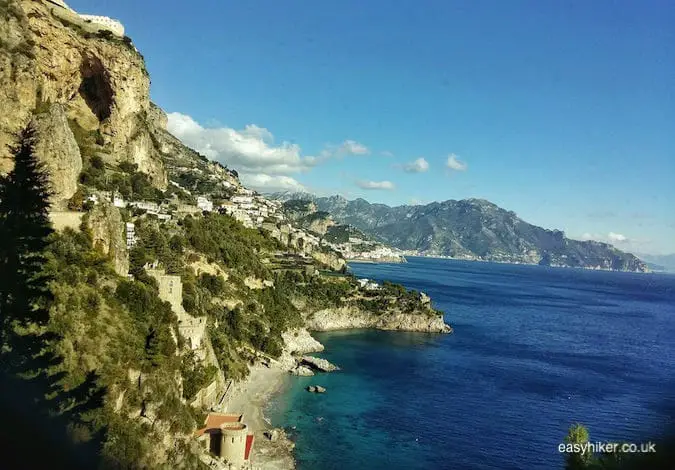 Also cast a glance at the bus schedules: on Sundays and out of the high season, the buses circulate less regularly. You don't want to return to the bus stop only to find out that there is no bus for two hours. That's a long time to spend in a small coastal town no matter how picturesque it may be.
Put in as many stops as you like, but there is only one must stop: Amalfi.
This is for technical rather than esthetic reasons. Amalfi is a handsome town and well worth a stopover, …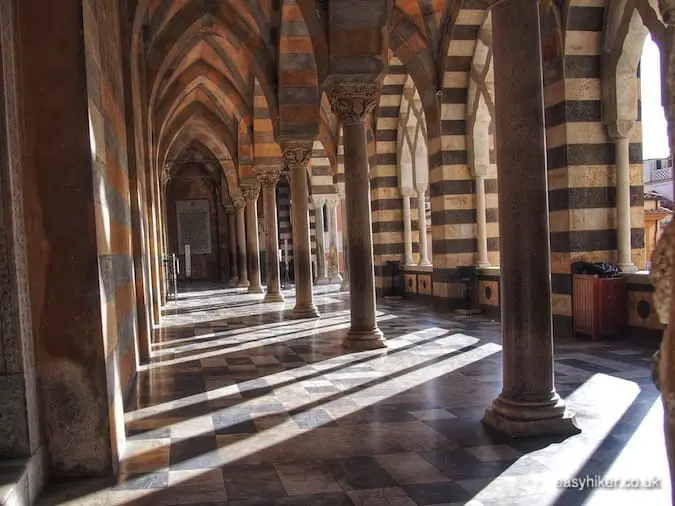 …but the point is that, being located pretty much in the centre of the coast, it is also the local traffic hub and the final stop for the buses from Sorrento.
If you want to continue down the eastern section of the coast, you must board another bus in the direction of Salerno. Whether you want to do that or not, is up to you. You will see more of the coast, in fact all of it, but there is such a thing as the law of diminishing returns. (Will the coast still be as spectacular in the 4th hour of looking at it?)
You may also find at the end of the day that you have spent virtually all of your time on the bus. The distances, after all, are not that small: from Sorrento to Amalfi, one way, will take approx. 90 minutes, and from Amalfi to Salerno only a little less.
Read also: Take this easy hike to see the best Capri can offer
You may, however, want to take the shorter ride to Ravello higher up in the hills (the place that the writer Gore Vidal called home for many years) which will take approx. 20 minutes from Amalfi. Look out for a different, smaller type of bus (which is better equipped to manage the tight corners of the mountain roads).
If you put in one optional spot, make that Positano.
Positano is the most famous town on the Amalfi Coast, mainly due to its unusual, pyramid-like shape that brings to mind the Tower of Babel from Pieter Bruegel's famous painting.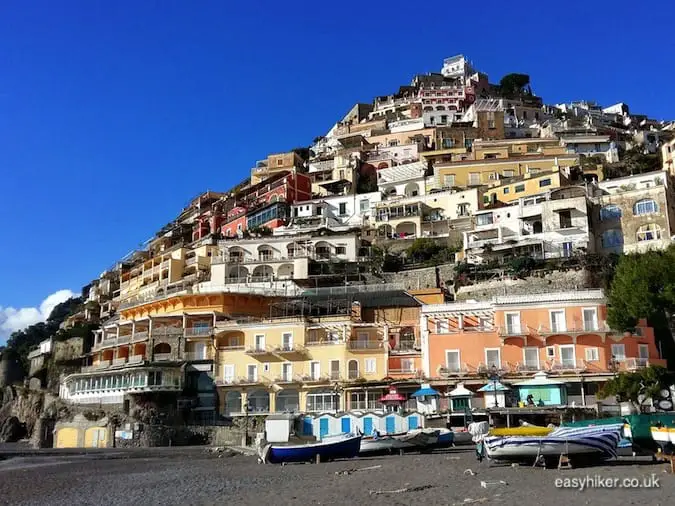 A long and narrow street spirals its way all the way down from the main road to the town centre near the Spiaggia Grande, Positano's "grand" but in fact tiny beach. Ordinary buses cannot manage the tight curves, so the main line stop, called Nuova Chiesa, is at the top of the village.
This is where the walk comes in.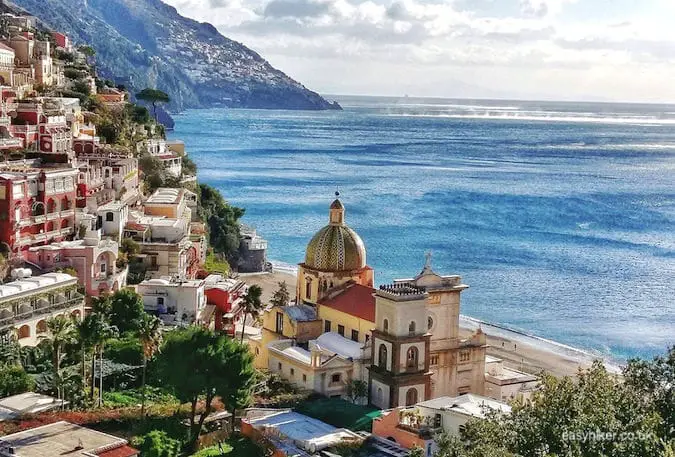 Positano centre not only looks far away, it actually is. Count 20 minutes for your walk down to the beach, more if you follow the main road instead of taking all kinds of shortcuts via the stairways that vertically connect the coils of the spiralling serpentine.
Incidentally, the Nuova Chiesa bus stop also doubles up as the trailhead for a more ambitious hike, the Amalfi Coast's "Walk of the Gods" from Positano to Praiano. But if you are planning to see as much as possible of the coast in a single day, it's better to leave that for another holiday.
Visit here out of the high season – although coming in winter also has its drawbacks as we found out.
What is the Amalfi Coast like in July and August? Crowded, based on what I have heard, and not always pleasant.
What was it like in January? Cold, bitterly cold, …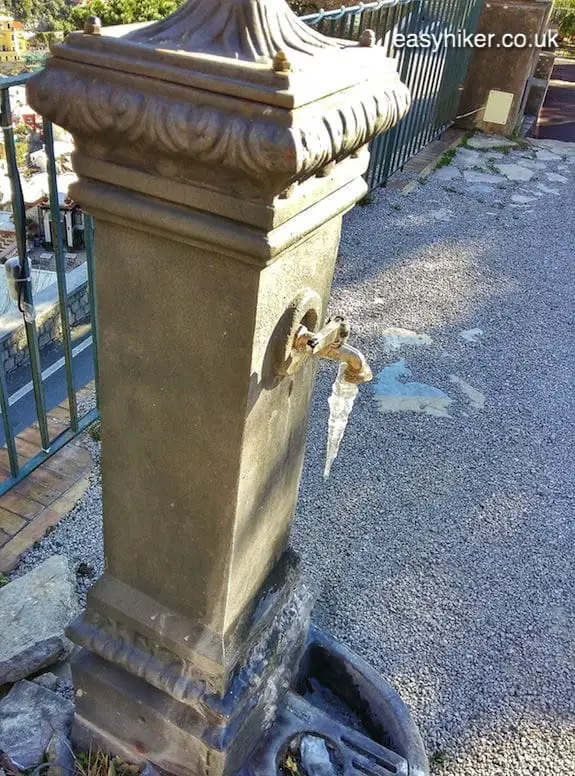 … a mere degree or two above freezing, and that was the daytime high in mid-afternoon. We were told that this was a highly unusual cold spell, but unusual or not, there it was, and I have never been colder on any walk that we have taken.
When we go to northern Europe at any time between October and April, we make sure that we are well protected against any eventuality, but we never expected the weather this far south to be that hostile. It did not help that the Positano stairways are perfectly arranged for catching and channelling the wind. It was so gusty that we had to hold on to the rails for much of our way so we would not be blown away, on certain stretches even had to shelter in doorways. This was not an experience we will forget in a hurry. But, hey: who wants a "here today, gone tomorrow" kind of holiday? Light hardship is a price well worth paying for lasting memories.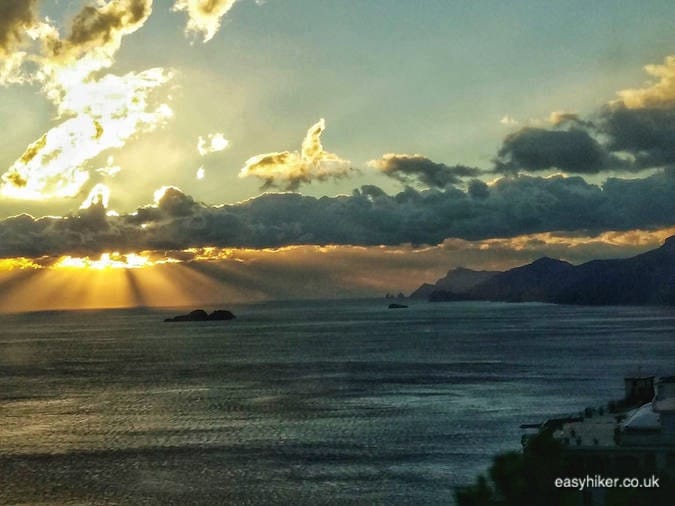 We hope you find our five tips to get the best out of the Amalfi Coast in a day helpful!
We based ourselves for a few days in Sorrento in an AirB&B apartment to get around the Amalfi Coast. Why not do as we did? We're even giving you €35 for your first rental anywhere!
There's more coming about our trip to the Campania region of Italy particularly along the Amalfi Coast. Come along with us by subscribing to our free updates via email. You can also follow us on Facebook,Instagram and Twitter. Why not include us in your G+ circles too?