Hiking in China:
Are You Up to Hiking Tiger Leaping Gorge?
Hiking in and around Tiger Leaping Gorge in China's Yunnan Province is a feast for the eyes, a test for stamina and a photographer's dream. A truly rewarding hike through epic countryside and mountains, almost untouched by humans.
First things first though – you'll need to know how to get there. Well, as with most travel in China, things are not entirely straight forward. Your best bet is to stay in the gorgeous city of Lijiang.
In Lijiang, head on any bus bound for "Tiger Leaping Gorge". Tiger Leaping Gorge is not a settlement, nor the name of the hike. However, for tourism purposes at least, you'll know this is the area you want to head to.
There's a village called Qiaotou (near Tiger Leaping Gorge) which you will want to stay in before doing the hike (unless you are pushed for time). So get yourself to Qiaotou and get checked in.
Tiger Leaping Gorge
My advice: head for the view of Tiger Leaping Gorge before you start the hike and go to the lower viewing platform to get up close and personal with this inspiring gorge with gushing waters. Get a bus or a shared car out to it.
Please be aware this is merely a viewing platform. You'll need to buy a ticket too, which is payable at the entrance gate.  Seeing Tiger Leaping Gorge up close is not part of the hike.
Have you read: Hiking in the Shadows of Mount Doom
Whether a tiger really leaped here or not, is not the point. While the old Chinese myth is unproven, the fact that this is a breathtaking tourist spot is uncontested.
The Lower Trail Hike
There is a "lower trail hike" in and around Tiger Leaping Gorge and to be honest, I don't recommend it at all, and neither do most travellers. You'll be walking beside a road, with traffic flying past and you're also low down, so you're missing all the best views. I'm actually shocked that the "lower trail hike" remains an option to some. It's not really hiking. Head to the the "upper trail hike" instead.
 The Upper Trail Hike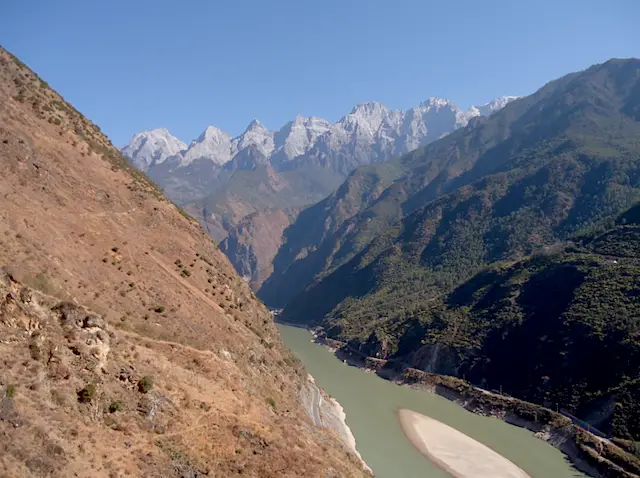 This, my friends, is what you dream of when you go hiking. No commercial aspect to it at all, you don't need a guide, you are free to enjoy the views and hike as slow or fast as you want. It's a stunning part of the world.
To start the hike, head from the village of Qiaotou. Jane's Guesthouse there is commonly regarded as the best place to begin the hike. Once you veer round the corner and head up left into the hills, you've started what's known as the "Upper Trail Hike".
There is no real entrance sign and nobody checks your ticket, but if you have visited Tiger Leaping Gorge itself then you will already have an entry pass to the area if they do happen to check.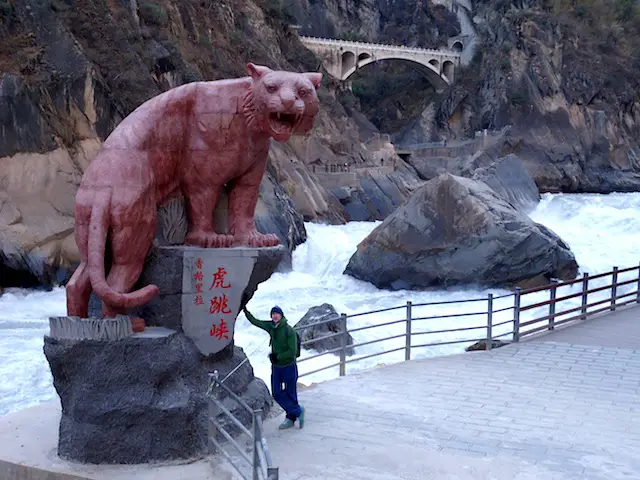 You'll first pass a school and some remote villages up in the hills. They're nothing more than a few scattered houses where the locals live. Most of the locals are friendly enough, but beware that you may be followed the whole way by local "pony vendors" who seem to think you will want a ride on the back of a pony to save your legs. Kindly refuse their service at the start and hope they go away. Our annoying pony guy followed us until the route got too steep for him and his beloved animal. This is an awesome hiking trail, you don't want to do it on horseback!
Before you reach a small village called Nuoyo Village, I thoroughly recommend relaxing and looking back into the valleys. On a clear day, the views on the way up are totally exceptional, as hopefully my photos will show. Once you've had your fix of the views, get ready for the onward climb to the hardest part of the hike. And it can be tough.
The Twenty Eight Bends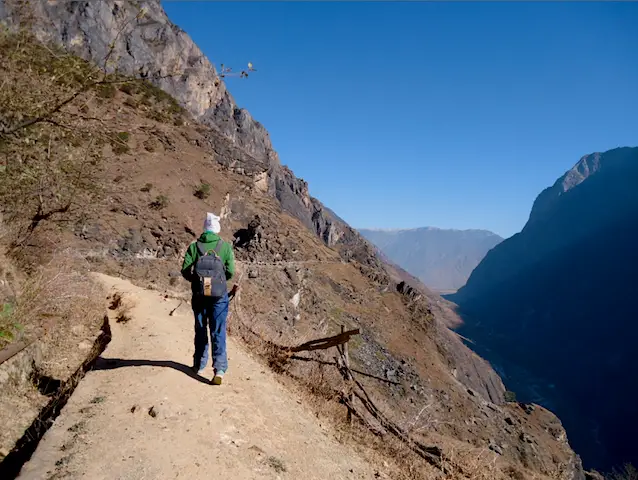 Known as the Twenty Eight Bends, this part of the hike is a seemingly never ending upward spiral staircase of twists, turns, bends and steps. Indeed there's a rest house just before it. I'd recommend stopping there for a few minutes to get your energy boost and fix and then get ready for the twenty eight bends.
It's a tough enough hike up, but totally rewarding. You will feel that there are more than twenty eight bends by the way – we reckoned about sixty!
All the way you can pause anytime you like and admire the views. You'll see some gorgeous jagged mountain peaks in the distance and you'll be able to look down and see Tiger Leaping Gorge itself from above.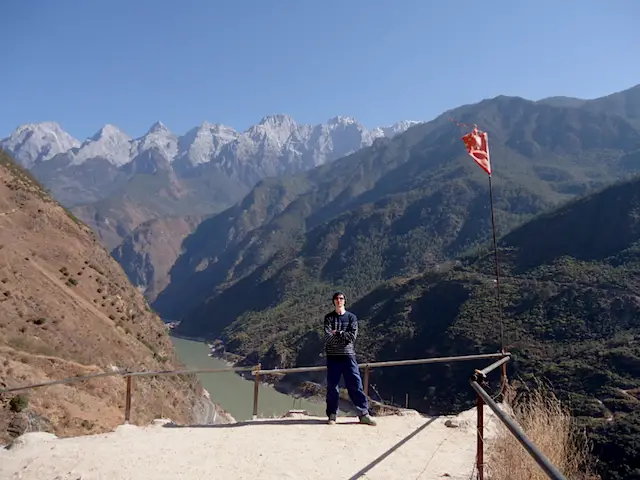 After the Twenty Eight Bends, you'll reach the peak of the hike and then you're heading back down again.
Have you read: Hiking in the Australian Outback
There are no food or drink vendors most of the way, so make sure you have enough water and energy drinks and snacks to tide you over.
Then you need to think about where you want to spend the night. There's an early, easy option at Yacha Village and some hikers will spend the night here. I'd recommend walking further and on to the Halfway House at Bendiwan Village. The rewards are cosy rooms, good food, beer and drinks, great breakfasts and hot showers!
Bendiwan Village is ideally where you should spend the night. It's also important to note that local Chinese people don't really understand the place names of these villages such as Bendiwan and Yacha. They're known as that in guidebooks and on some maps. Other than that, they're merely just the villages you pass through on the hike.
Sunrise in Yunnan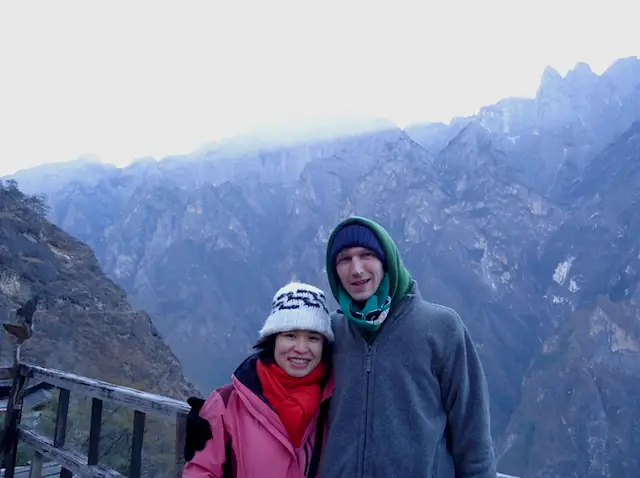 Make sure you get up nice and early at the Halfway House to watch sunrise over the mountains. It's an incredible sight as it pierces through the mountain tops, turning the day from bitter cold to deadly hot in a split second (we were there in December).
Have you read: Birds, Kidnappers and Hiking in New Zealand
Once the sun is up and you've had your breakfast and coffee fix, head on through yet more dreamy countryside for great views as you head to the Middle Rapids at Tina's Guesthouse. This is a short walk, and includes some steep cliff edges and a nice waterfall. There are no barriers or fences by the way, so take care all along the trail.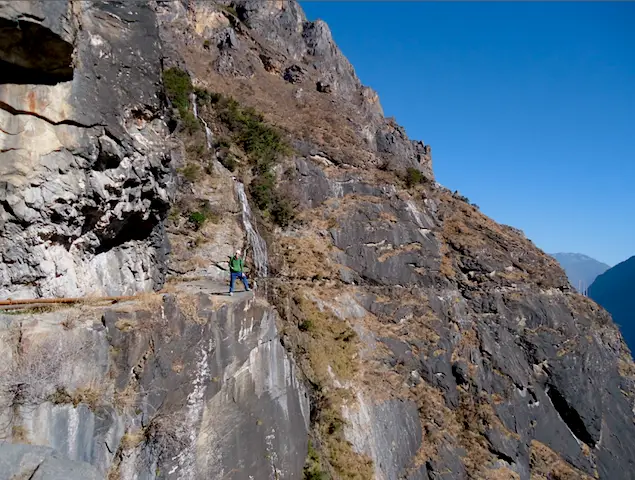 Tina's Guesthouse
On the second day of the hike you'll face a few options.Those of you getting a connecting bus here can do so – buses head to either Lijiang or Shangri La. I'd recommend both cities to be visited while you're in the region. Shangri La is stunning!
You can also stay the night at Tina's Guesthouse, indeed some of you may have spent the first night there if you started the hike early or are particularly fast hikers. From Tina's Guesthouse you can do a short hike down to the water at the middle rapids to see Tiger Leaping Stone (different location from Tiger Leaping Gorge).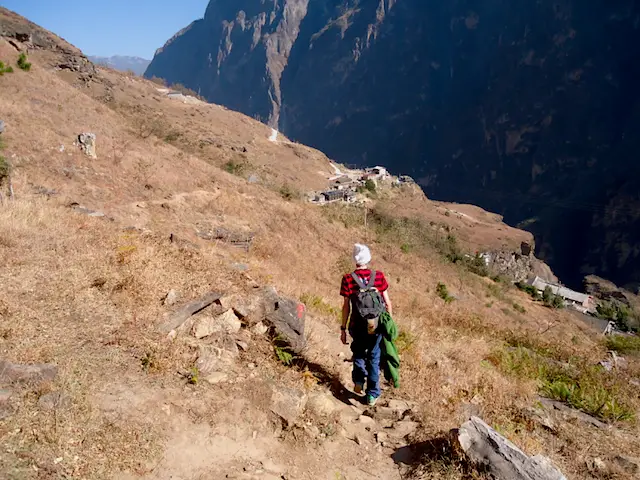 Walnut Garden and the Bamboo Forest is also an option for a short walk. If you're spending a night in Tina's, then I'd recommend doing these two short walks.
Getting to Daju
The final part of the hike, which for most hikers will be on the third day (if you spent your second night in Tina's) will take you to the town of Daju. This is a short walk and then you will need to get a ferry across to Daju. A scenic and relaxing end to your hike.
In Daju, you can get buses back to Lijiang, though there is also the option of flagging down taxis and cars to take you back to Qiaotou. Which is where a lot of hikers store their backpacks while they're away.
Whatever option you pick on this route, just be prepared for some exquisite views and completely subliminal landscapes that you never believed would exist here. Some people describe it as the best hike in China. It's difficult to argue otherwise.
Safe travels.
You can read more of Jonny's stories on travelling in China and further afield on his one man, seven continents travel blog Don't Stop Living. Jonny is a travelling Northern Irishman who has backpacked his way round the world over the last ten years, taking in almost 80 countries and working in over 50 different jobs. A keen adventurer and hiker, he has also recently hiked up Mount Kinabalu in Malaysia and done the Inca Trail in Peru. Follow Jonny  on Twitter and Facebook.