Easy hiking in the Australian Outback? Ohhh, YES!  Here's Amandawho will share her hands-on knowledge of the friendly trails of Kings Canyon Rim.
Hiking probably isn't something that comes to mind when you think about the Australian Outback. So I thought I'd better fix that.
Don't just think about big red rocks, flies and thousands of kilometres of nothing. Think about mountain ranges, gorges, waterholes and spectacular canyons.
… And hiking trails.
The outback has dozens of little-known hiking trails (and lots of well-known ones, too).
I was asked to guest post in Easy Hiker about hiking in the outback and I immediately said yes. There was no tight deadline given but required that there be no wild animals.
So, as long as the odd furry little rock wallaby (that's a small kangaroo) is OK with you, I think you'll like the easy hike I'm going to tell you about:
The Kings Canyon Rim Walk

Kings Canyon is much less well-known than its near (in outback terms) neighbour, Ayers Rock, but is much bigger and some would say, far more spectacular.
Kings Canyon is home to one of the most spectacular easy hikes in Australia, the Kings Canyon Rim Walk. My partner, Gary, who was the head ranger at Kings Canyon for a number of years, has done this hike hundreds of times and it's still his favourite.
I've also done this walk about 20 or 30 times. It's so breathtaking and the scenery so diverse, I'd gladly do it every day if I had the chance.
The Hike: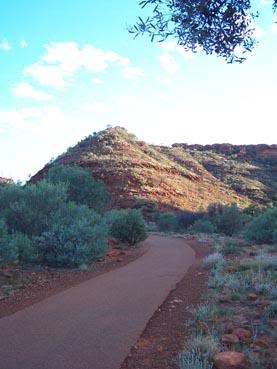 Kings Canyon is located 350 km (or 4 hours by road) south-west of Alice Springs and about 300 km (3 hours by road) north of Ayers Rock. It's located in Kings Canyon/Watarrka National Park. The Kings Canyon Rim Walk is one of a number of walks in the national park. It's six kilometres in length and takes you up onto the steep, wind-sculpted escarpment of the George Gill Range.
This is country where the sky is bigger and bluer than anything you've ever imagined, and provides a stunning contrast to the rich orange-red of the ranges and sand dunes.
Most people finish the Rim Walk hike in about three to four hours (although this depends on how often you stop to admire the extraordinary scenery!).
You'll need good shoes, a hat and a minimum of 2 litres of water to do the hike.
The first part of the walk is the hardest. It's an ascent of 1000 steps, where you climb from the plains 150 metres straight up onto the escarpment. Thankfully, there are several places to stop and rest along the way.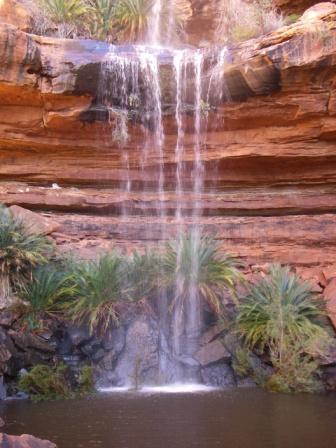 Once on top, you've got incredible views up the canyon and out across the sand dune country to the west. From here, the rest of the walk is fairly easy. You walk around to what's known affectionately as 'Priscilla's Crack'. This narrow gap in the rocks was made famous by the 1994 movie, Priscilla Queen of the Desert.
Just on the other side of Priscilla's Crack, you'll encounter a lookout. This overlooks a straight vertical cliff and gives a breathtaking (literally!) view of the north wall and south walls of the canyon.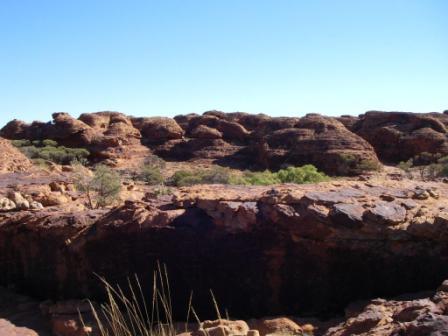 From the lookout, you travel round to a series of sandstone domes that look like giant, fossilized beehives. This incredible formation is called 'the Lost City' – and that's exactly what it looks like.
The 10-15 metre high domes stretch off in the distance for 10 km or so across the escarpment, and provide a maze of small gorges, valleys and domes.
After a wander through the domes, you can either follow the path out to Cotterill's Lookout (named after one of the first tour operators to the area) or head on to the Garden of Eden.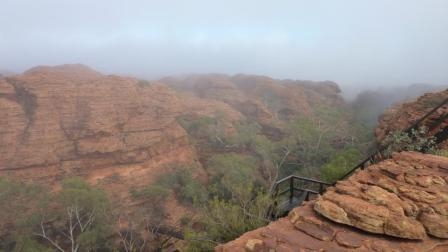 The Garden of Eden is a narrow cleft that leads to the top of the canyon, and is a magical place where there are small palm trees (cycads), permanent water, and lots of cool, deep shade. It also marks the halfway point on the hike.
On a hot day, the Garden of Eden is a great place for a swim.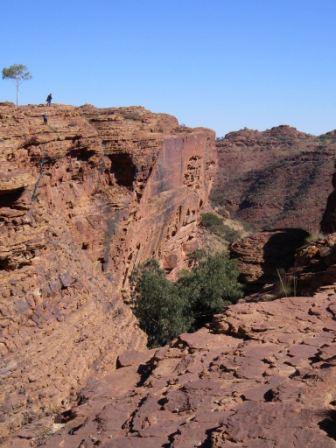 Climbing the staircase out of the Garden of Eden, it's not long before you reach the stunning, sheer southern wall of the Canyon. This is one of those views you'll see reproduced in magazines, travel brochures and on postcards from the outback. You'll be able to catch a glimpse back into the oasis of the Garden of Eden, and look down the 200 metre drop into the canyon below.
And of course, take lots of photos!
After the south wall, you wind around through some more domes, and into another cool, shady oasis. You emerge at a place called Kestrel Falls, and another view from a sheer drop out across the open plains to the west. It's all downhill from here to the car park, only a kilometre and a half away.
Some Tips for Outback Hiking
Lots of people attempt this walk in mid-summer, when it's 38-42 degrees Celsius, as Gary my Ranger husband, has observed. Many of them are from the Northern Hemisphere and they seem to forget that when it's winter in the north, it's summer in the south!
Sometimes, they faint from heat exhaustion and the rangers have to rescue them.
So my first tip is NOT to do this walk when it's over 36 degrees, especially if you've just flown in from a Northern Hemisphere winter.
Do this walk ONLY between April and October.
Some other tips:
• Always bring more water than you need (2 litres on a cool day; 4 litres when it's hot)
• Always wear sunscreen
• Wear hiking shoes, runners or light hiking boots (big, heavy leather hiking boots are not suitable for hiking in the outback!)
• Do NOT forget your camera!
If you do come over and decide to do this easy hike, or you've already done this hike, we'd love hear what you thought about it. Please leave a comment below.
Amanda Markham is an anthropologist, hiker, adventurer and writer living in the Australian Outback. Together with her partner, Gary, she writes a unique travel guide to the Australian Outback for adventurous, independent travellers.