Roman Holidays:
More Famous Movies in Rome
At the end of Part One in our movie walk through Rome, we arrived at the Tempio di Adriano in Piazza di Pietra. This is where we pick up the trail for today's conclusion of the tour.
Continue straight into Piazza della Rotonda for more art-house cinema, this time with a distinctly Anglo-Saxon flavour.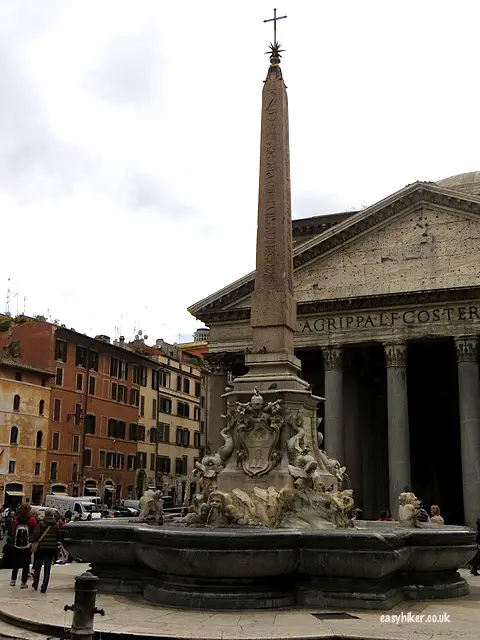 Peter Greenaway may very well be Britain's most controversial director, a title to which he lay claim when he featured acts of cannibalism and graphic sex in The Cook, the Thief, His Wife and Her Lover.
The Belly of an Architect equally divided critical opinion, but there was one thing that the reviewers could all agree upon: few directors had ever filmed Rome's architecture with comparable assurance and artistic sensibility.
Read also: The Road to Rome
The film's opening scene is set in Piazza della Rotonda, with the Pantheon, the best preserved of Rome's ancient buildings, providing the backdrop for a speech by the movie's odious protagonist in which he announces his latest project. (On the right side of the Pantheon, Gregory Peck and Audrey Hepburn take a drink in Roman Holiday – cold coffee for him, champagne for la signorina – at a cafe called Rocca's that either no longer exists or was "invented" for the film.)
Continue in the same direction towards Piazza Navona…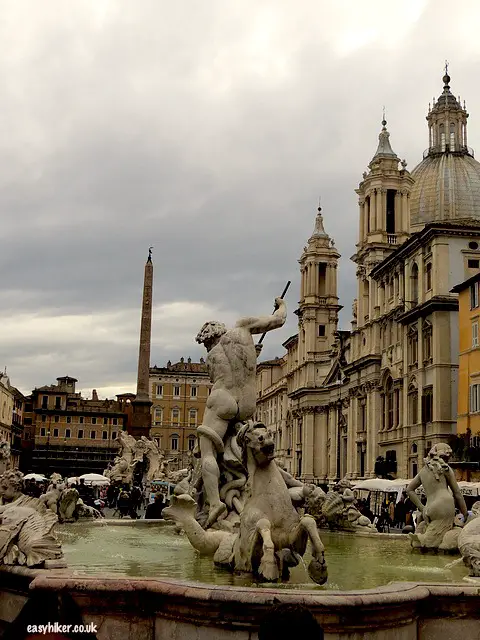 … another frequently filmed part of Rome's architectural anatomy.
This is the setting for the final scene in Angels and Demons, while in The Talented Mr. Ripley, Matt Damon takes Cate Blanchett for a walk across the square (after he has killed Jude Law and taken over his identity), stating that he has "never been happier and been handed a new life".
But the prize for the Piazza Navona's most famous moment in Hollywood history goes to Eat Pray Love: it is here, in front of the Church of Sant'Agnese in Agone, where Julia Roberts sits down to enjoy her ice cream – a moment of sheer bliss that was selected to advertise the film on movie posters all over the world.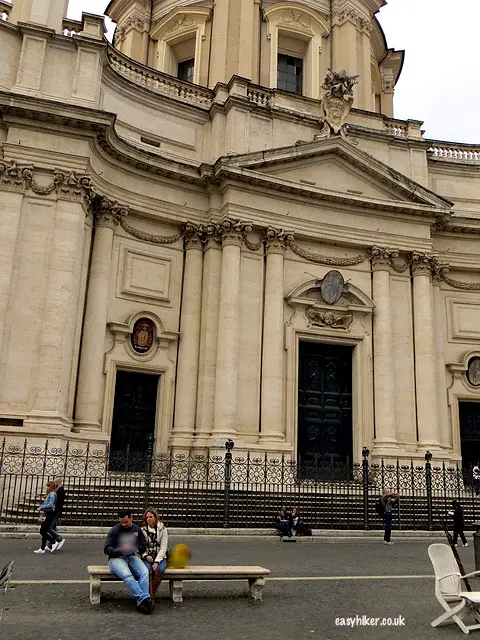 Leave Piazza Navona through the north end (at the top, with the church on your left hand side), turn right and then left into Via della Scrofa. Look for Via dei Portoghesi on your left hand side: it is here, at number 7, where Julia Roberts lives in Eat Pray Love. There is a lovely street cafe downstairs in that building…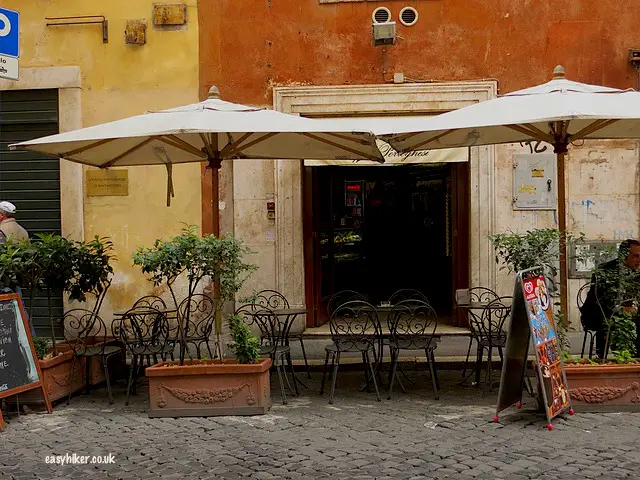 … just the ticket if you need a bit of rest after all this walking and want to sit down for a quiet moment over a cappuccino or a sandwich. (For a proper meal break, I suggest the near-by Ristorante Santa Lucia at 12 Largo Febo: this is where Ms. Roberts impresses her friends with the range of her Italian vocabulary – which happens to go only as far as the items on the menu.)
Read also: Is Castel Gandolfo Worth a Visit? 
Turn around on Via della Scrofa, turning left into Piazza de Sant'Eustachio and then right into Via della Rotonda – which eventually changes its name to Via Torre Argentina – into Lungo dei Cenci where you cross over to Isola Tiberina.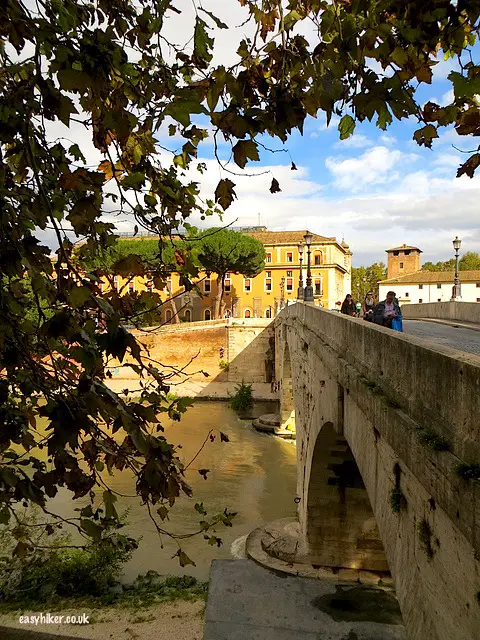 This island on the Tiber provides the setting for the opening scene of Michelangelo Antonioni's most famous film, the forever elusive L'Avventura, when Sandro – in his apartment opposite the church – makes love to Lea Massari (who will later mysteriously disappear) while Monica Vitti is waiting in the streets.
Walk across the island to the other side of the river (the quarter called Trastevere), turn left and use the next bridge, Ponte Palatino, to return to the left bank.
Walk over to the church of Santa Maria de Cosmedin on your left hand side and look for the portico – which is difficult to miss because there is normally a long queue in front of it. It is here where the most famous scene in Roman Holiday was shot: the one where Gregory Peck makes Audrey Hepburn believe – if only for a second – that the "Mouth of Truth", half ancient statue, half primitive lie detector, has bitten off his hand.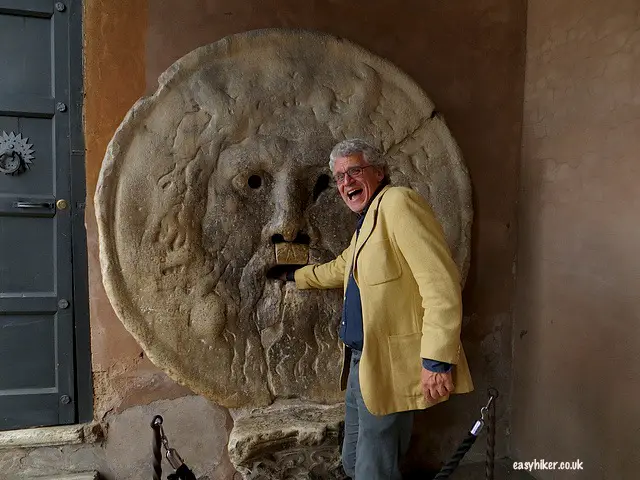 This picture, of course, does not show Gregory Peck but a woefully untalented impostor. I apologize for inflicting this upon you but plead marital coercion as a mitigating circumstance. (Mrs. Easy Hiker thought this would be funny. I leave it to you to judge this.)
Walk back to the river, continuing southwards along the Lungo Aventino and cross back into Trastevere on the Ponte Sublicio. Trastevere, that part of Rome which lies "on the other side of the Tiber", was for centuries the less genteel half of the city: Brooklyn to left-bank Rome's Manhattan, but has undergone a spectacular gentrification during the past 20 years or so –least so, however, in the area around Porta Portese which you are now entering.
Key scenes from Vittorio de Sica's neorealism classic Bicycle Thieves  were filmed at the Sunday market in Porta Portese (which still exists). It is here where the young boy falls in the pouring rain, unnoticed by his father who continues to search for his stolen bicycle. (If this part of Rome is still not sufficiently rough for you, I advise you to go to Pigneto in the east of the capital: this is where most of Roberto Rossellini's Rome Open City was shot and where Pier Paolo Pasolini set his directorial debut, the notoriously unblinkered Accatone.)
Taking a closer look now at Trastevere, we can watch the process of gentrification at work as the neighbourhood moves gradually up the social ladder almost block by block as we proceed northwestwards via Viale di Porte Portese and Via Gerolamo Induno, particularly once we have crossed Viale di Trastevere in our approach of Santa Maria di Trastevere.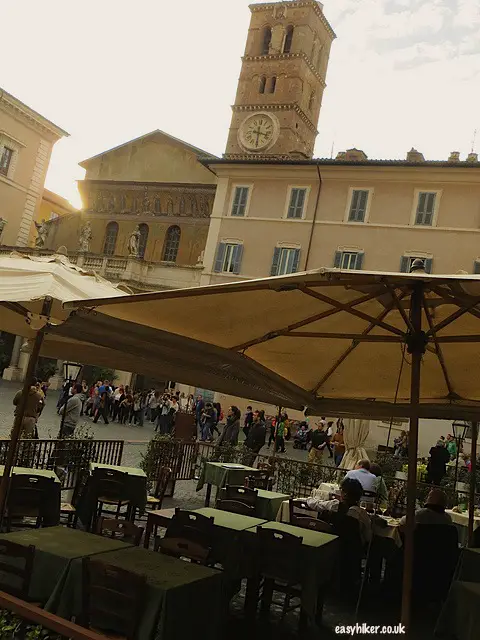 This handsome church served as a backdrop for the pivotal romantic scene between Marisa Tomei and Robert Downey Jr. in Only You.
This is also where our walk for more famous movies in Rome ends – not least because, if you have started the tour in the morning, it should be almost time for dinner now, and Trastevere is probably the best place in the city for eating out. (Marisa Tomei and Robert Downey also stay around for a bite.)
We will give you some suggestions of where to eat here in our next post – and, while we are at the subject, tell you about our experiences from a food walk through Rome. This is next on our Rome itinerary, and Mrs. Easy Hiker is already eagerly anticipating this.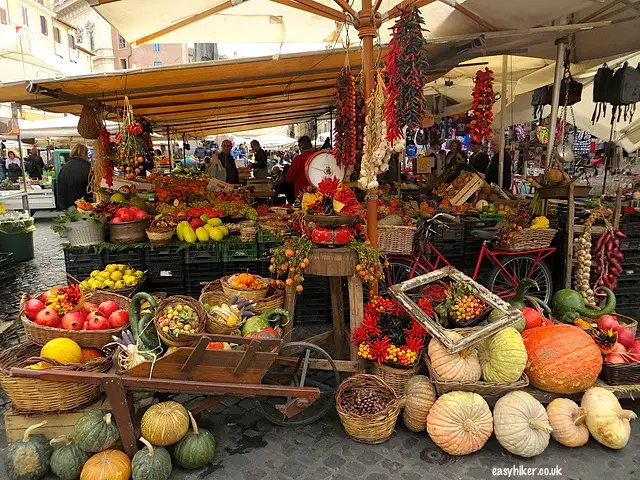 See you then!
Don't want to miss our suggestions on where to eat well and away from the tourist traps in Rome? Make sure you get our free updates via email or by following us on Facebook.
We thank GowithOh for letting us stay for seven wonderful days in Rome in one of their apartments, allowing us to revisit the capital and discover some unfamiliar places as well as gaining fresh insights into the city. Next time you're in Rome, GowithOh!