Our No Frills Island Tour in Mallorca
Let's be frank: guided bus tours are not generally the ideal solution if you want to explore unfamiliar surroundings – walking is always best, bearing in mind that "you have only really been to a place when you have experienced it on your own two feet" (it was Goethe who said that).
But the world is rarely perfect, which is why there are no iron rules, and you have to be ready to be flexible and make exceptions when it is highly impracticable to walk to all the sights you want to see and when the guided tour leaves you enough space and time – an hour here, 30 minutes there – to explore some selected areas on your own.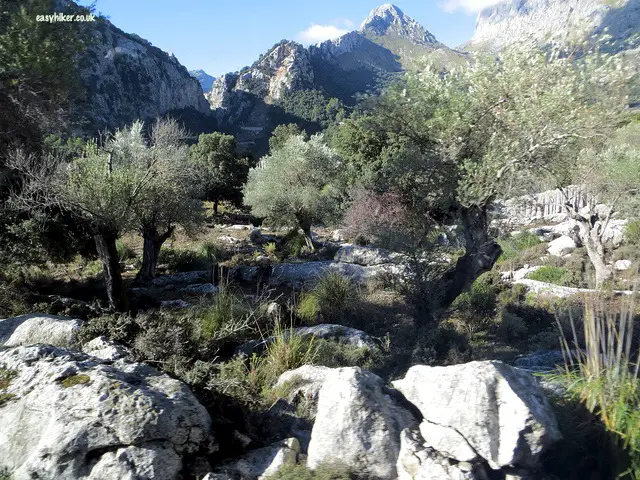 On our recent trip to Mallorca, No Frills Excursions offered us just such an "Island Tour", and the alternative – considering how little time we had – would have been to miss these sights altogether. It did not take us very long to make our choice.
And we did not regret it for a second.
Some bus tours make the mistake of covering too much, and the sights – interesting buildings, mountains, forests – all go by in a blur. This tour mainly concentrates on the western mountain range – coincidentally the area most interesting for hikers – and features a few stopovers where you have the time to look around for yourself, to take in the great views at your leisure and to gather inspiration and ideas for proper hiking excursions.
We had not enough time this time to experience the western mountains "on our own two feet" during our no frills island tour, but there is, of course, always the possibility of coming back some other time.
There may even be some things that can be seen better from the window of a bus – who knows whether this wild Mallorcan mountain goat would have continued to munch on his tree-top leaves just as serenely …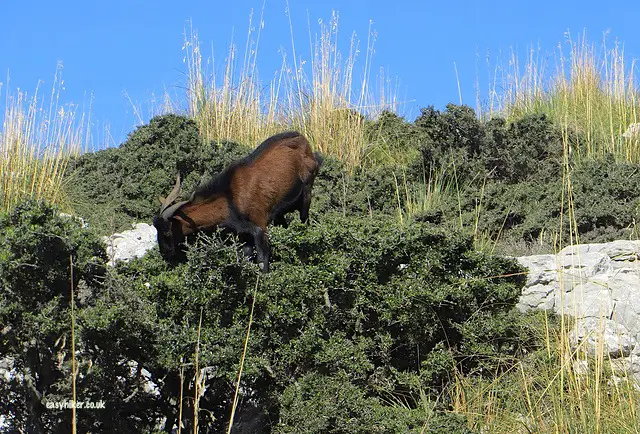 … on the approach of a pair of hikers?
And no hike can allow you to take in the dramatic scenery of the western side of the mountain range where steep cliffs fall directly into the Mediterranean Sea. We, conversely, got a very close view – when our tour exchanged the bus for a boat as a means of transport on the stretch to Port de Soller.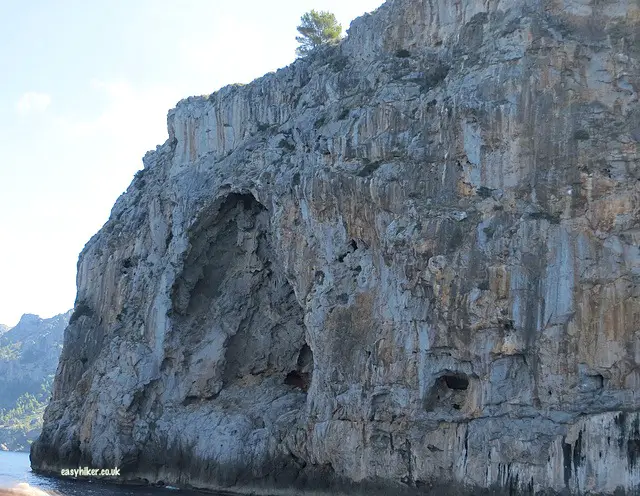 It is also true that no hike can give you a much better view of Puig Major – the highest peak of the island – than the one that we got: the mountain is a military installation and out of bounds for visitors. (Which throws up the question whom they are defending their island against – the Germans? In which case, they might as well pack up and leave – they are all there already.)
Or of the famous serpentines of the Pollenca-to-Sollers mountain road …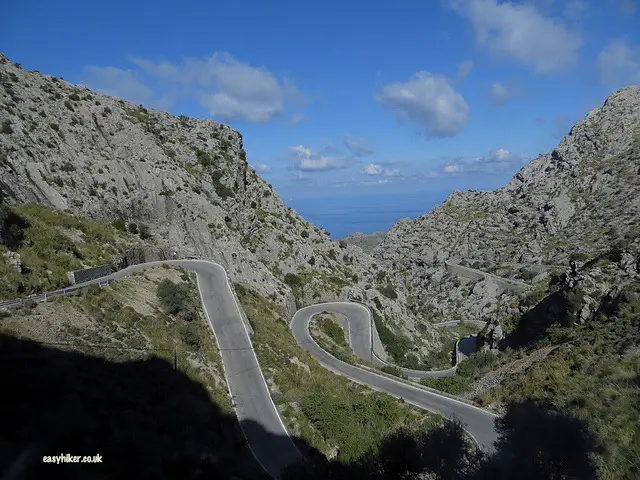 … that are so difficult to manoeuvre that all bus drivers – we were told – spend a sleepless night before their first assignment on this mountain tour.
The most spectacularly beautiful sight of the entire trip is the Torrent de Pareis …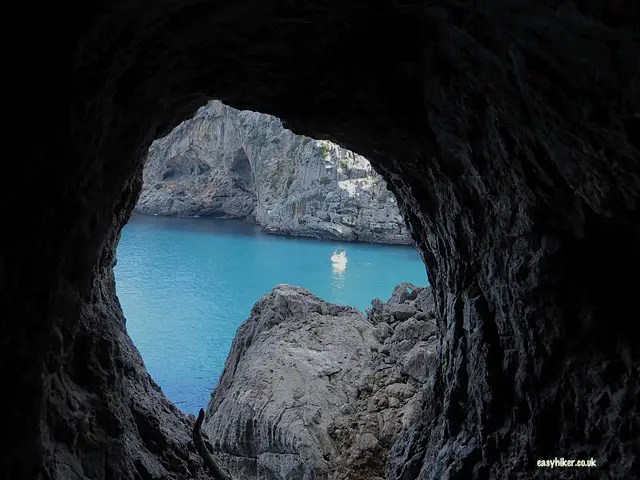 … which also happens to be the stuff of hiking legends. Speaking about gathering inspiration for further trips.
There is so much to say about the Torrent de Pareis that I am going to tell you more about the trail some other time, in a separate post.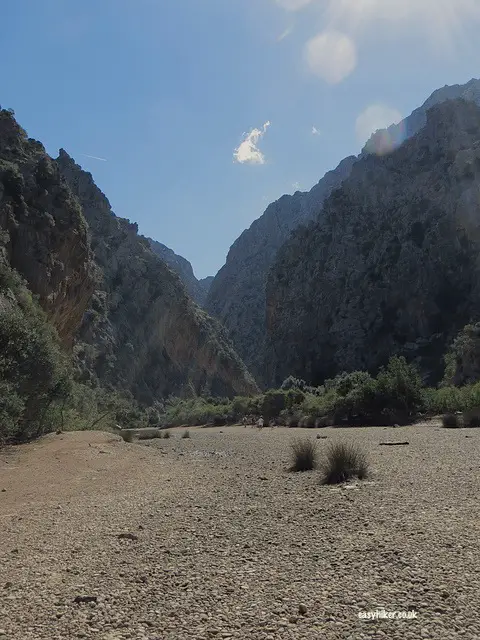 And to wrap it all up, at the end of the day, you get a brief look at the charming town of Soller – perhaps even for some shopping, but you do have to hurry – and a chance to ride the historic tramway that connects Soller town centre with its seaside resort, Port de Soller.
To be frank (again): for once, it was also quite nice to be driven around everywhere, without any more physical effort than it takes to board a bus – or a boat. And a train. For one day, at least – until tomorrow when another hike was already waiting for us.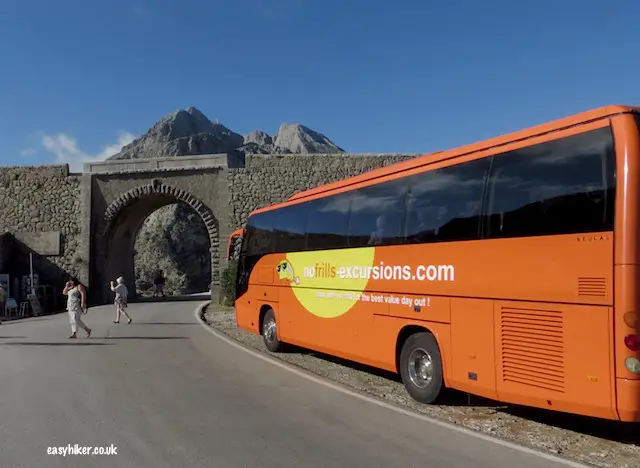 We were the happy guests of No Frills Excursions and Vanity Hotel Golf during our visit to Mallorca.
Don't fail to come along with us on our next hike in Port d'Alcudia by subscribing to our free updates via email or by following us on Facebook.