Product Review:
What's Best for a Day Hike?
Where to put all the stuff you need for a short outdoor trip? We put two popular alternatives to the test.
What size bag or pack to bring is one of hiking's perennial problems. This is particularly true for day-hiking trips because even a day-backpack is often too big to store just the water bottle, the sandwiches and the camera.
Two alternative solutions suggest themselves, and we were pleased to put both of them to the test in our first walk of the year, courtesy of online retailer Nightgear where we found just the right products in question.
First, there is the contraption called by our American friends the "fanny pack", which is not entirely correct, anatomically speaking (certainly not if you are British, in which case a "fanny pack" would suggest something half-way between a piece of luggage and a chastity belt.)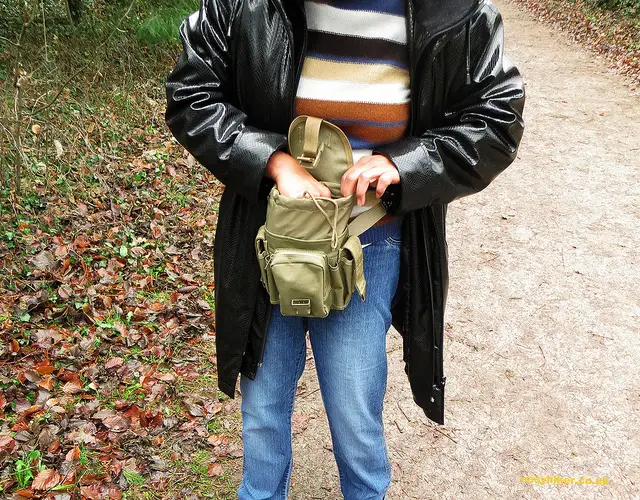 Fanny packs are supposed to be worn around the hips and are ideally big enough for at least one large object and several small ones. But size is only one criterion on which to judge whether a specific pack is fit for its purpose.
Convenience is just as important: the perfect contraption would feature two (even three or four) separate compartments rather than just a single large one because you will want to pack your bottle of water and the sandwiches apart from the camera, for example.
The Maxpedition waistpack had two separate side pockets but both were not large enough to hold even a portable telephone. The only purpose of these side pockets appears to be just to accommodate a lipstick or a pen.
These are the areas where the design of the Maxpedition M4 Waistpack could be further improved.
It feels only fair, however, to add that these criticisms highlight the limitations of the entire "fanny pack" concept. There are, let's face it, not that many things that you could wear comfortably around your hips.
Already something like a larger bottle would constantly get in the way, and any but the smallest model will make a female hiker – if worn underneath an overcoat – look pregnant. There is a reason, after all, why the backpack was invented.
Surprisingly, many of the items that would fit into a fanny pack can also be carried around in a pair of hiking trousers, item number 2 on our product testing agenda.
A good pair of hiking trousers would feature all of the following: Pockets that can be safely closed with a zipper or a long strip of velcro, leaving no gap at the sides through which things can fall out. Pockets of different sizes. Pockets that, even when stuffed, do not inconvenience you – as pockets on the lower leg invariably do, which is why they are useless.
I am pleased to report that the 5.11 Tactical Stryke model we found on Nightgear site ticks all of these boxes.
Hiking trousers should, of course, also ideally be easy to dry and easy to clean. I cannot tell you whether or not the 5.11 Tactical Stryke dries down particularly quickly, because it didn't rain on the day of our "test walk". But judging from my own experience, quick-drying properties should not be your main concern when you are looking for a pair of hiking pants. A good quality outdoor jacket will keep most of the damage away from you, and let's be honest: when it rains, or when heavy rain is forecast, most easy hikers would rather cancel their trip than walk through the type of constant rain that could drench their trousers.
It is far more important to have a pair of trousers that are easy to clean, and the 5.11 Tactical Stryke passed this test with flying colours – as Mrs. Easy Hiker gladly reported. All she needed to do to remove a bit of encrusted mud was to give the textile a quick brush. This is particularly useful if you go hiking for several days in a row, since it allows you to go to a restaurant in the evening without having to cast apologetic looks everywhere.
We are also pleased to report that the service of Nightgear, online providers of outdoor gear, was excellent. The website is well constructed, allowing you to find quickly what you are looking for. They also operate a fair return-and-refund policy, and they were very helpful when we were not sure about the right size of our equipment. We would definitely return to their website if we were looking for some other sort of hiking and outdoor gear.
What kind of pack or bag would you bring for a short day hike and what features would you look for in a pair of hiking pants?