Themed London Walks
Poetry in Motion
Literature and (easy) hiking have always gone together well. As a way of exploring nature, for one. Nature, after all, has provided a source of inspiration for poets since the dawn of literature.
But for many, I suspect, the more important thing has been the act of walking as such: new experiences and impressions slowly sinking in, set to the background patter of one's own movement, the tic-toc of walking feet, providing a powerful inducement to rhyme and rhythm.
This relationship can, of course, be inversed, too. Walking is a great way of making, but also of appreciating literature. So for today's walk, we shall string together a few major sights and side streets of West London into a Poetry Walk through the heart of the British capital.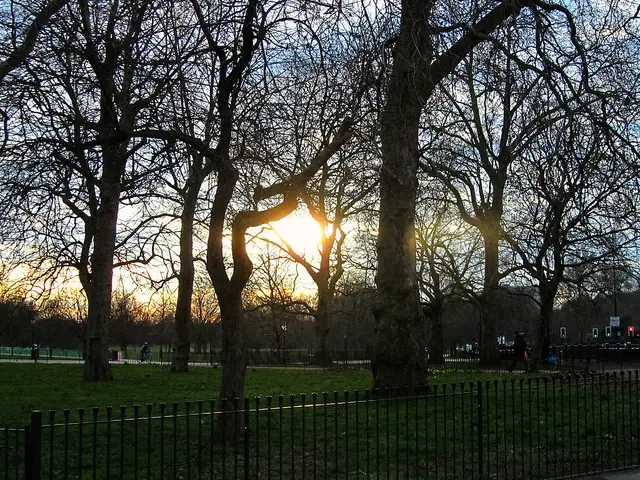 We start in Kensington Gardens, which is where Matthew Arnold claims to have written these lines.
Birds here make song, each bird has his,
Across the girdling city's hum.
How green under the boughs it is!
How thick the tremulous sheep-cries come!

Sometimes a child will cross the glade
To take his nurse his broken toy;
Sometimes a thrush flit overhead
Deep in her unknown day's employ.

Here at my feet what wonders pass,
What endless, active life is here!
What blowing daisies, fragrant grass!
An air-stirr'd forest, fresh and clear.
Not much change there, one might say, in 150 years, apart from the fact that the tremulous sheep-cries have since made way for something less pastoral – in most cases, something involving groups of teenagers – while the overhead thrush is nowadays more likely to be the 2.15 from Singapore, circling the skies while waiting for landing permission at Heathrow. But you get the drift.
Now this would not be Matthew "Dover Beach" Arnold if he left it at some quaint observations in the municipal park without involving God, man's yearning for love or the impossibility of actually achieving it.
Calm soul of all things! make it mine
To feel, amid the city's jar,
That there abides a peace of thine,
Man did not make, and cannot mar.

The will to neither strive nor cry,
The power to feel with others give!
Calm, calm me more! nor let me die
Before I have begun to live.
We leave Kensington Gardens in a northeasterly direction, towards Regent Park, but turning right into Devonshire Street just before we reach it. This is a street of hospitals, like the more famous Harley Street around the corner.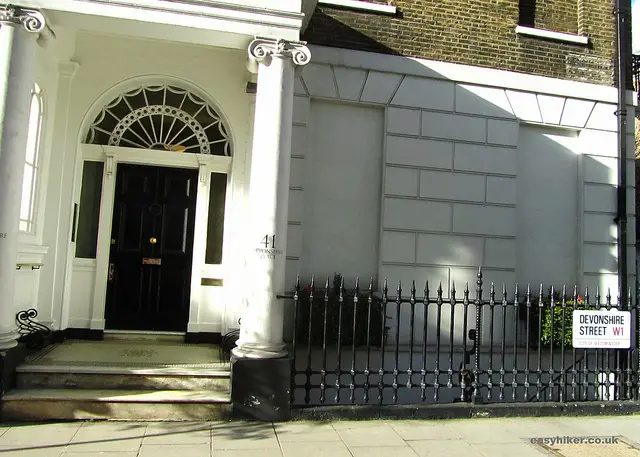 This is important to know to understand John Betjeman's poem which  carries the street's name. After the atmosphere has been set – featuring Edwardian faience, wrought iron screens and a heavy mahogany door – the poem suddenly goes into close-up: 
No hope. And the X-ray photographs under his arm
Confirm the message.
A man has been told that he will die, soon, and, it seems, under specifically unpleasant circumstances. Understandably, he feels more than a little sorry for himself.
No hope. And the iron knob of this palisade
So cold to the touch, is luckier now than he
"Oh merciless, hurrying Londoners! Why was I made
For the long and painful deathbed coming to me?"
But then, his wife, who has so far stood "timidly by", takes center stage, and Betjeman proves that he is more than the whimsical "bard of suburbia" for whom he is often mistaken.
She puts her fingers in his, as, loving and silly
At long-past Kensington dances she used to do
"It's cheaper to take the tube to Piccadilly
And then we can catch a nineteen or twenty-two".
(The building on the photo, incidentally, standing in for Betjeman's private clinic, is the HQ of the National Philatelic Society. None of the actual hospitals in the contemporary Devonshire Street appeared to fit the description as well.)
We continue around the corner for a strikingly similar theme – death and the indifference of urban life to it – and turn right into Wimpole Street, searching for the building at no. 67, which is the subject of this poem by Alfred Lord Tennyson.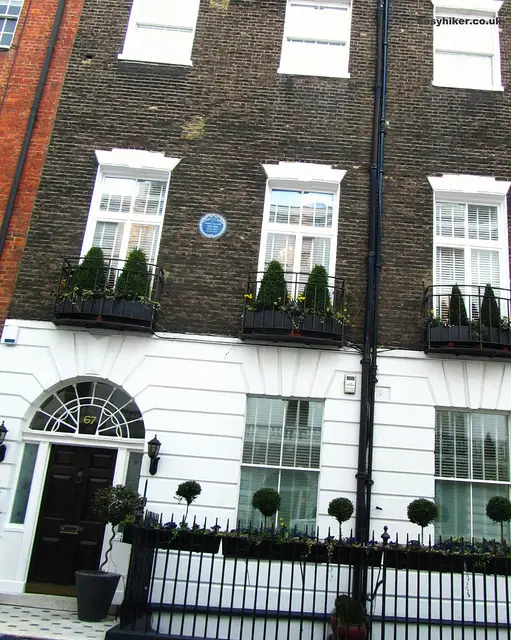 Dark house, by which once more I stand
Here in the long unlovely street …
This is where Arthur Henry Hallam lived, son of the royal historian Henry Hallam (who was sufficiently well known to make it on to the plaque that adorns the front of the building) and Tennyson's best friend when he died, aged 22, on a trip to the continent. Tennyson took 18 years to finish the 133 cantos of In Memoriam, an epic outpouring of grief, of which the following is a part (as Canto 7).
… doors, where my heart was used to beat
So quickly, waiting for a hand,—
A hand that can be clasped no more,—
Behold me, for I cannot sleep,
And like a guilty thing I creep
At earliest morning to the door.
He is not here ; but far away
The noise of life begins again,
And ghastly through the drizzling rain
On the bald street breaks the blank day.
(On a totally different note, at no. 57 Wimpole Street, just a few houses down the road, Paul McCartney and John Lennon wrote I Want To Hold Your Hand. Just thought I'd mention that.)
Turn right into Regent Street and continue down to Trafalgar Square for some well-earned light relief, provided by the reliably upbeat William McGonagall, who is generally known as the worst poet in British history. This is what the Swan of Dundee has to say on the subject of Nelson's Column.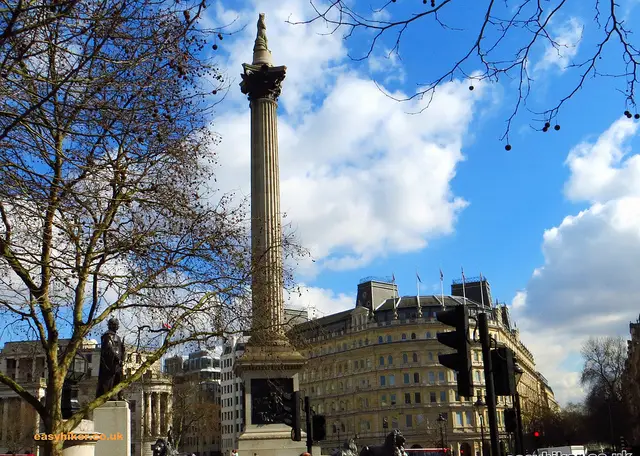 And as for Nelson's Monument that stands in Trafalgar Square,
It is a most stately monument I most solemnly declare,
And towering defiantly very high,
Which arrests strangers' attention while passing by.

Then there's two beautiful water-fountains spouting up very high,
Where the weary travellers can drink when he feels dry;
And at the foot of the monument there's three bronze lions in grand array,
Enough to make the stranger's heart throb with dismay.
Dismayed, we are now crossing the Strand and continue down to the Thames.
The river, slipping between
Lamps, is rayed with golden bands 
D.H. Lawrence is mainly famous for his novels (nude wrestling, gamekeepers and all that), but he also wrote hundreds of poems including some about London including this one called Embankment Bridge. At the time (just before WWI), the bridge – on your right hand side – appeared to be the place where the city's "outcasts" drifted at night: the word with which the poem starts. Lawrence then continues:
Beasts that sleep will cover
Their faces in their flank; so these
Have huddled rags or limbs on the naked sleep.
In the 1980s, the drifters and homeless set up their village a little further downstream underneath Waterloo Bridge, but nowadays, you can see them almost anywhere across the West End. What has not changed is the proximity of extreme poverty to some of the capital's fanciest parts, specifically its theatres – nor has the seeming indifference of the wealthy to the destitution in their midst.
On the outer pavement, slowly,
Theatre people pass,
Holding aloft their umbrellas that flash and are bright
Like flowers of infernal moly
Over nocturnal grass
Wetly bobbing and drifting away on our sight.
This specific stretch of the Thames also gets a name-check in Rudyard Kipling's The River's Tale, in which the Thames – in its own "voice" – gives an account of the prehistory of London right up to the times "when the Romans left / and the Danes blew in / and your history books begin".
And I remember like yesterday
The earliest Cockney who came my way,
When he pushed through the forest that lined the Strand,
With paint on his face and a club in his hand.
We turn underneath Embankment Bridge towards the Houses of Parliament – but while we are in the right place for the Impression du Matin by Oscar Wilde, we may not be there at the right time. Let's use our imagination and pretend it's the hour right before dawn.
The Thames nocturne of blue and gold
Changed to a Harmony in gray:
A barge with ochre-colored hay
Dropt from the wharf: and chill and cold

The yellow fog came creeping down
The bridges, till the houses' walls
Seemed changed to shadows, and St. Paul's
Loomed like a bubble o'er the town.

Then suddenly arose the clang
Of waking life; the streets were stirred
With country waggons: and a bird
Flew to the glistening roofs and sang.

But one pale woman all alone,
The daylight kissing her wan hair,
Loitered beneath the gas lamp's flare,
With lips of flame and heart of stone.
And finally – remember: it's early in the morning – we can now climb Westminster Bridge for Wordsworth's ode to this city: the most famous of all poems about London or indeed any great city in the world.
Earth has not anything to show more fair:
Dull would he be of soul who could pass by
A sight so touching in its majesty:
This City now doth, like a garment, wear
The beauty of the morning; silent, bare,
Ships, towers, domes, theatres, and temples lie
Open unto the fields, and to the sky;
All bright and glittering in the smokeless air.
Never did sun more beautifully steep
In his first splendour, valley, rock, or hill;
Ne'er saw I, never felt, a calm so deep!
The river glideth at his own sweet will:
Dear God! the very houses seem asleep;
And all that mighty heart is lying still!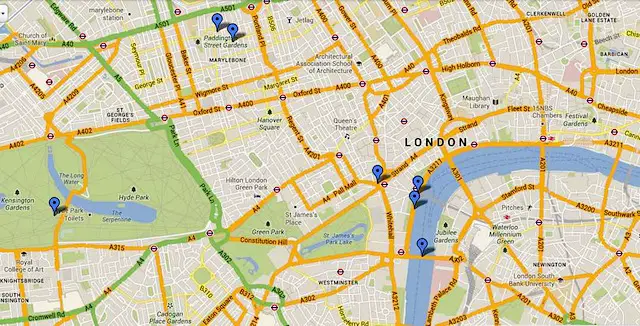 Experience some poetry in motion. Take a walk or an easy hike. Part 2 follows.