Themed Walks in London
Walking the London Crime Trail
Crime is, of course, not unique to London, nor was it invented here, although it may sometimes feel that way. It is certainly true that no other city revels more in it, and no other city would dream of bestowing semi-mythical status to its mass murderers such as Sweeney Todd or Jack the Ripper who are as deeply ingrained in the city's cultural fabric as its pop music legends whom we visited last time around.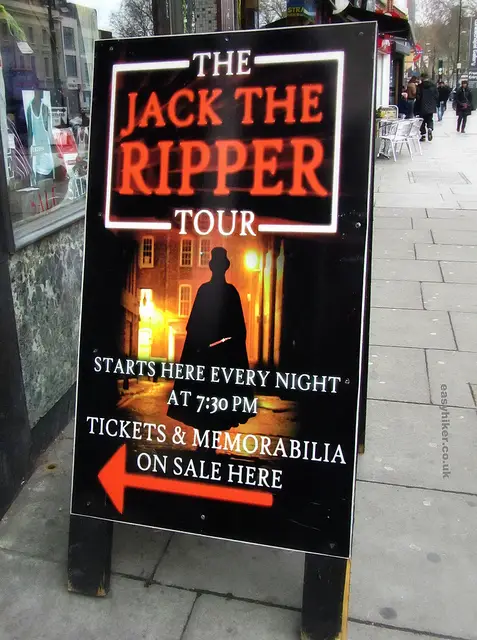 After Swinging London, however, today we invite you to walk on the less sunny side of the street, the grimy East End rather than Soho and Mayfair – which comes dressed not so much in a flower-power floral print shirt but in far darker hues.
For a number of reasons, as we shall see, it is best to start walking the London crime trail a couple of miles to the west, approaching the East End from the outskirts of central London. If you wonder why, don't worry everything will be revealed in due course – as in every good crime story.
Sweeney Todd cut his customers' throat before delivering them to Mrs. Lovett's pie shop.
We start the walk at Waterloo station – where, incidentally, Buster Edwards, one of the key participants in the Great Train Robbery of 1963, owned a flower stall after his release from prison. The flower stall no longer exists, but you can still visit the Wellington pub straight opposite on Waterloo Road where Edwards drank so much in the night before he died – he was found hanging from a girder in his garage – that the coroner ruled he has been too drunk to commit suicide. (Yes, this is the same "cheeky cockney" so memorably portrayed by Phil Collins in the comedy caper "Buster".)
Before Anatoly Litvinenko and the polonium-laced cup of tea, there was Georgi Markov and the poisoned umbrella. You can still see the bus stop on Waterloo Bridge – on the left hand side, immediately behind the station – where he was waiting on 7 September 1978 when he suddenly felt a sharp pain in his right leg. He turned around, and a man with an umbrella who appeared to have bumped into him apologized "in a heavy accent", as Markov later told his colleagues at the BBC World Service (in Bush House, just on the other side of the river).
That evening, Markov developed a high fever, and three days later he was dead. It took the British police weeks to establish what had killed him – a ricin-filled pellet in a cartridge that was designed to melt at body temperature.
Almost immediately, the finger of suspicion pointed at the Bulgarian secret service and the KGB – Markov had been a well known dissident and "enemy of the state". Nobody has ever been formally charged with the murder, although a main suspect has since been identified – who remains free to this very day.
Turn right behind the bridge into Strand – with Bush House on your left – past the Royal Courts of Justice (you may have seen it on TV: this is where high-profile civil cases are heard) …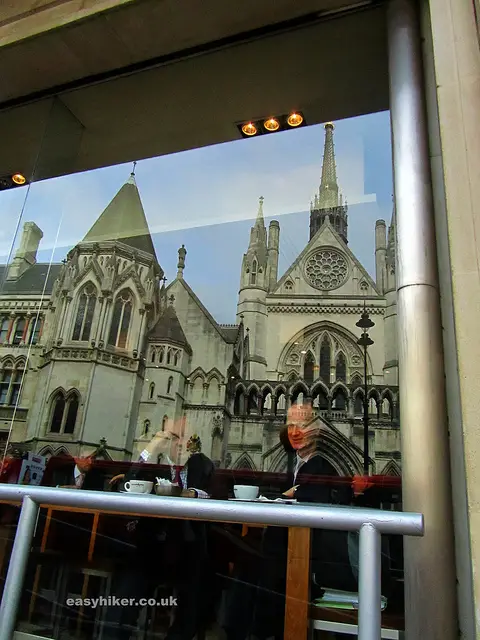 … into Fleet Street.
186 Fleet Street is given as the address of the barber shop where Sweeney Todd cut his customers' throat before delivering them to Mrs. Lovett's pie shop in neighbouring Bell Yard.
There has, however, never been such as shop. The "murderous barber of Fleet Street" from (among others) the Stephen Sondheim musical was an entirely fictional character. The name first appears in an early Victorian horror novel, although the "urban myth" on which the story has been based is much older.
Turn back in the direction of the Temple Bar monument that marks the boundary between the City of London and Westminster and search for a narrow lane on your left hand side that will lead you to Temple Church.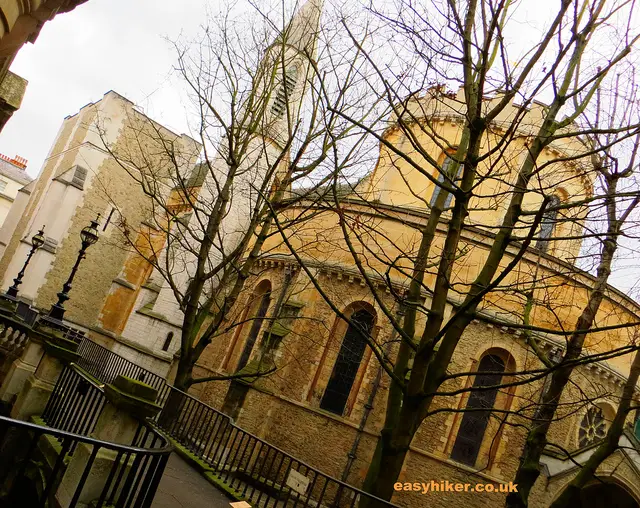 This church – with its effigies of medieval knights in full armour – is one of the spookiest places in London and looks as though it should be the site of a major crime, although it isn't.
The church, one of London's oldest, was built in the 12th century by the Knights Templar who had their headquarters in this part of town – which is why the entire area is still called the "Temple".
Turn right into Middle Temple Lane….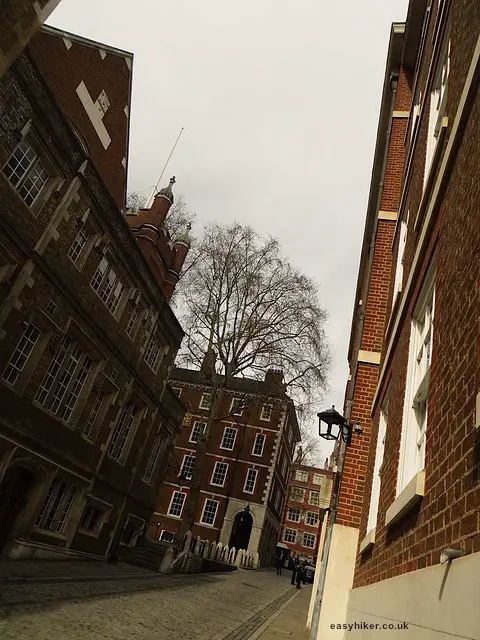 … the heart of legal London, where many barristers and judges have their offices. Tony Blair used to work here as a young lawyer (at 11 King's Bench Walk), and an even more famous British Prime Minister, Mrs. Thatcher, came here every week in the decade before her death to water the roses in the Inner Temple Gardens (on your left hand side).
Walk all the way down Middle Temple Lane, cross Victoria Embankment and turn left, continuing on the footpath along the river underneath Blackfriars Bridge.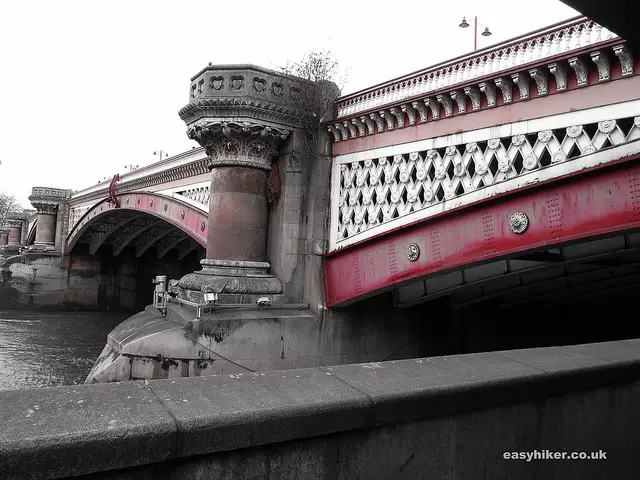 On 18 June 1982, a dead man was found hanging from scaffolding on the supporting pillars, just above water level. He was wearing an expensive suit, and his pockets were stuffed with bricks and $ 15,000 in cash. It did not take long to identify him as Roberto Calvi, the former head of Banco Ambrosiano, Italy's second largest private bank which had just gone belly-up in its own way.
For many years, wild conspiracy theories were circulating, most of them based on the Dan-Brown-like notion of Vatican hit squads and murderous monks (Banco Ambrosiano was known as "the Vatican's bank"). Most people nowadays, however, including Calvi's own family, believe that the murder was the work of the mafia – some of whose money, it appears, was lost in the Banco Ambrosiano bankruptcy.
On your right hand side, on the far side of the river, you can now see the Tate Modern, London's premier museum for modern art.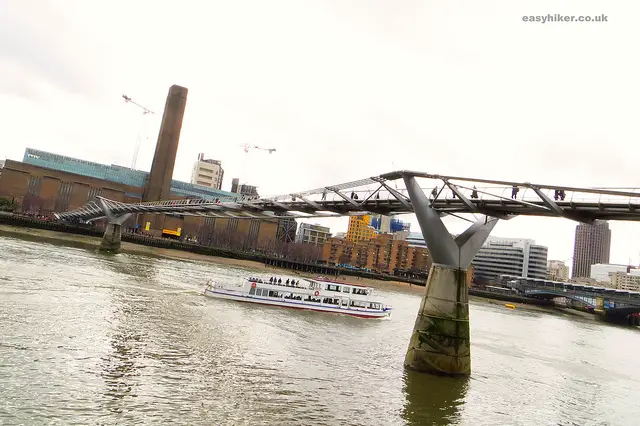 In its previous incarnation – as Bank Power Station – it played a major part in the Great Smog of London that killed at least 4000 people in 1952, perhaps as many as three times that figure.
Nobody ever went to prison for these deaths or was even formally charged, although they were not an act of Force Majeure but clearly the consequence of two badly conceived political decisions:
One, to continue building coal-fired power stations in close proximity to densely populated urban areas as late as 1933 (Battersea) and even after WWII (Bank was commissioned in 1947 and had started to generate electricity only a few months before the Great Smog in 1952).
And two, in the wake of the UK's financial problems during the immediate post-war years, to sell the higher quality coal abroad and to supply the domestic consumers (power stations and households) with low-grade coal that contained high concentrations of sulphur.
Continue on the river path, passing underneath Southwark Bridge and perhaps, if the tide allows, stepping down to the river itself for a bit of atmosphere …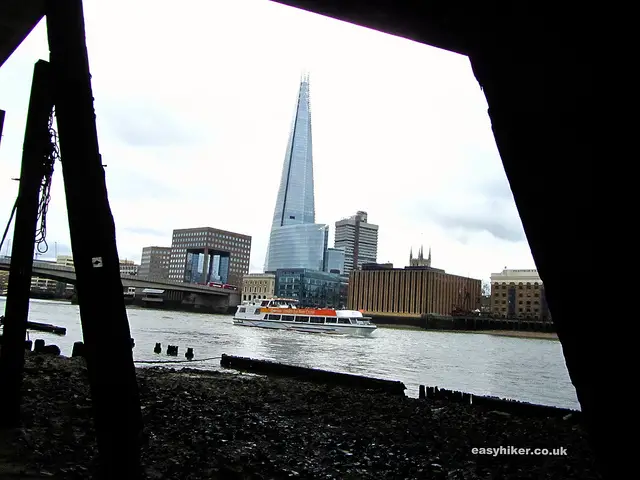 … and some gloomy looks of London Bridge in the distance …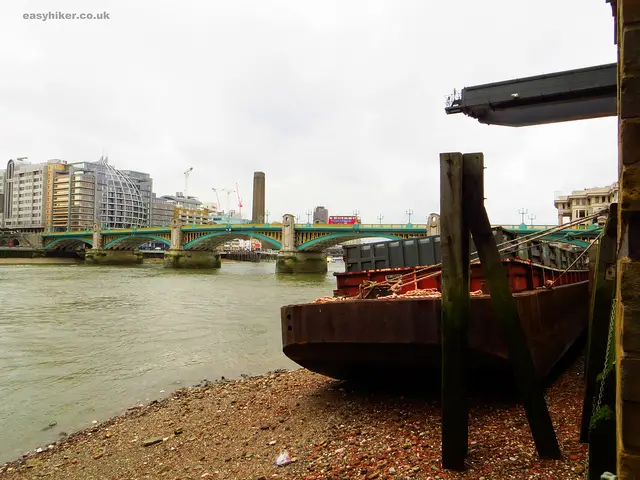 … before turning left on London Bridge itself into King William Street.
While the Great Smog was not considered a crime (at least not at the time), the Great Fire of London took the opposite route. We believe today that it was caused by a series of cockups. "A woman could piss it out", the Lord Mayor famously stated on first seeing the fire. Three days later, 14,000 houses lay in ashes, and 70,000 out of London's 80,000 inhabitants had been made homeless.
In 1666, however,  people took a different view, and the architects of the 1670s Monument – it will come into view on your right hand side – had a clear idea of who was to blame: "It was Popish frenzy that wrought such horrors", the contemporary Latin inscription used to claim (before it was removed in 1830).
The fire broke out in a bakery at near-by Pudding Lane, and the Monument marks the spot of the first of the 86 churches that were destroyed in the fire. The Monument is 62 metres high, and you can climb all the way to the top, using an interior stairway with a total of 311 steps – but it's perhaps better to preserve your energy because we still got a long way to go.
Continue on King William Street into Bishopsgate and turn right into Leadenhall, past Lloyd's of London, to take a close look at the building on your left, officially called the "Swiss Re" but known by everyone in London as the "Gherkin".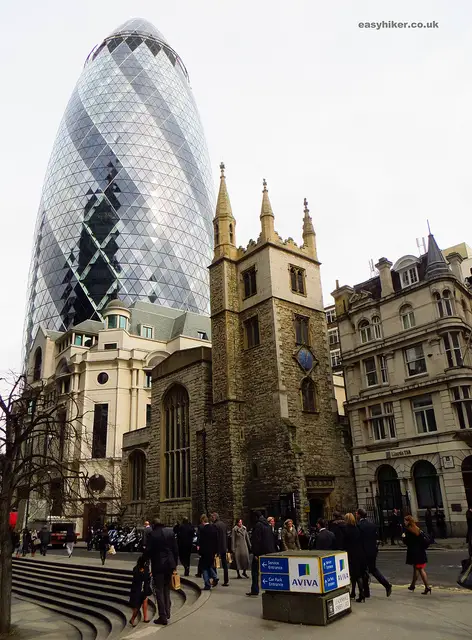 Until the mid 1990s, you would have seen another building in this spot, but on 10 April 1992, the Baltic Exchange was destroyed in one of the largest attacks of the IRA (militant separatists from Northern Ireland) ever on the British mainland.
The car bomb – a white van filled with 1 ton of explosives – caused relatively few casualties (three people died, about 100 were treated for injuries) but damages of nearly 1 billion pounds, more than the total of all other bombings during the IRA campaign up to that point. Until then, the Baltic Exchange (built in 1903) had been one of the City's most splendid buildings, but the damages were found to be so extensive that it was eventually decided to raze it to the ground.
We have now arrived at the half-way point of our London crime trail. Before we cross the boundary into "Ripper country", the notorious slum district of Victorian London, you may want to explore the sumptuous Leadenhall Market …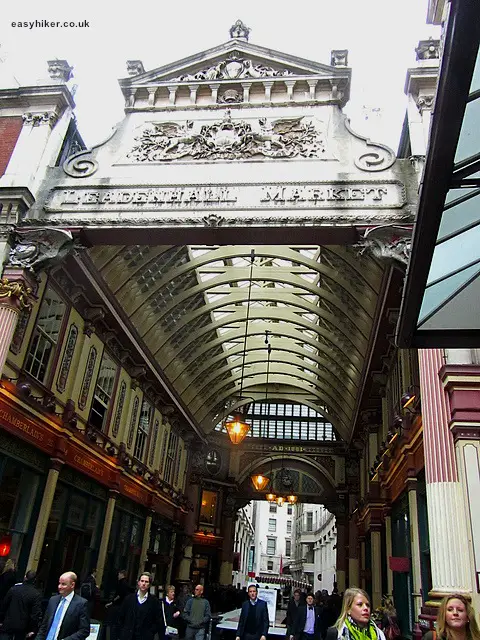 … in the back of Lloyd's of London and perhaps join the City bankers and office workers for a cup of coffee or a quick bite.