Just a reminder that it is the "kindness of strangers" which makes it all worth while
When does the hiking season begin? That depends very much on local specifics, on things like altitude and latitude: the weather, quite simply, but the season ends pretty much everywhere on the same date, and that's when the clocks go back.
From one day to another, you will find that the available daylight hours have dramatically shrunk – or rather that's the way it feels, for people like me at least who like to take their time over breakfast and who are not too keen on leaving the house before 8. Or make that 9.
The day when the clocks go back – which is, all over Europe, the last Sunday in October – also divides the season into two parts, separating the balmy, golden-leafed autumn from barren, cold and wet fall. Less so perhaps on the Mediterranean, but even here the change makes itself felt: late October is generally the time when we can no longer eat our dinner out on the balcony. Once the clocks have gone back, the sun will have been away for two hours at dinner time rather than for one, and that is a difference you can clearly notice at this time of year.
….we sometimes need the unexpected: just to remind us why we bother to go travelling at all…
Not all hiking comes to a close in November, of course. There are still many opportunities for urban walks, while parks and public gardens look as inviting as ever on a sunny day, but there are generally not enough daylight hours for the longer trips.
So this is as good a time as any to recapitulate the highlights of the "hiking year". And for some strange reason, my mind always insists on returning to Kingsbridge.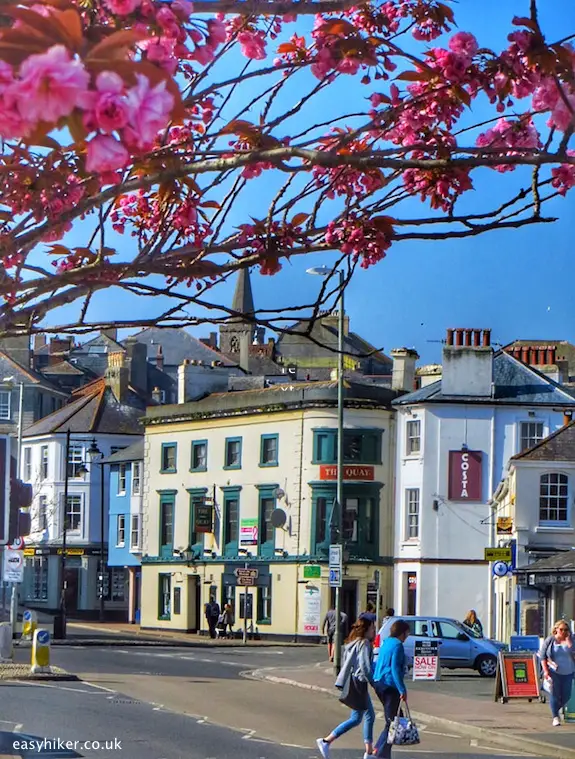 This is strange because, over the past six months or so, we had many good hikes and walks, and in no way would I describe our 30-minute stroll through the centre of this cozy little market town as our top hiking experience of 2015 – at best, it was a mildly intriguing footnote to our exploration of the Devon South West Coast Path. Still, there was something special about Kingsbridge. Let me try to explain.
All towns are beautiful, once you have learned to look at them the right way.
I have always felt that one of the best things about hiking, particularly if you use public transport (and every hiker has to, at some stage), is that every trip is a "tale of the unexpected": you go to experience this mountain or that coast, but in between your walks, you are willy-nilly familiarizing yourself with something-hausen and somewhere-ville, places whose names meant nothing to you when you were preparing your trip – only stageposts or bus stops – but which suddenly, on actually being there, can unfold a sort of mysterious presence.
Before we get any deeper into this, let us be frank and admit that we are unlikely to unearth another Florence by spending an hour waiting for the bus in a remote rural settlement, but on the other hand, every town is interesting in its own way. (I had a friend who used to say: "All women are beautiful if you look at them the right way.")
Our Thirty Minutes in Kingsbridge
Kingsbridge is located at the end of the so-called Salcombe estuary. If you go hiking in South Devon, you are likely to spend some time there, anything between a few minutes and two hours, depending on the specifics of the bus schedule. This is because Kingsbridge is the hub of the local bus network, and you practically cannot go from anywhere to anywhere else in the region without passing through. That, of course, is how we got there as well.
On arrival, go straight to the Tourism Information Office just off the central bus station. Ask them for a city map – that will help. And don't forget to take a view into the lovely "fake estuary" on the other side of the office.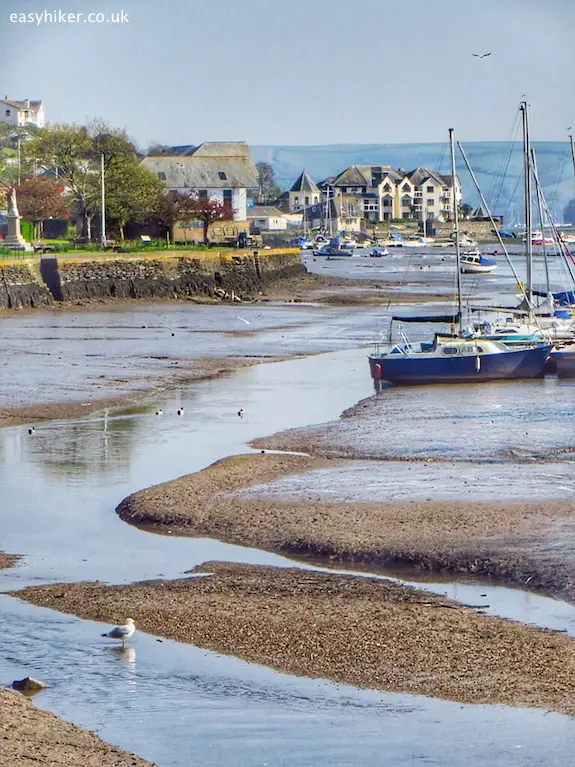 Kingsbridge actually has a fairly busy commercial life, as you will discover when you head down Fore Street straight off the bus station.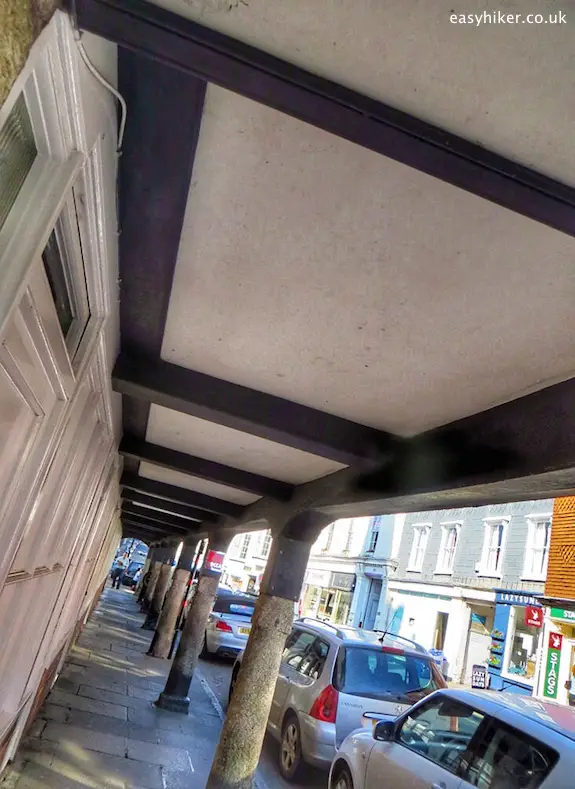 There are many interesting small shops, and the local City Hall appears to double up as the town's cinema. Isn't that great?
In the back of City Hall, you will find the town church. It's a quiet and secluded little sport, just right for a short rest away from all that small town bustle.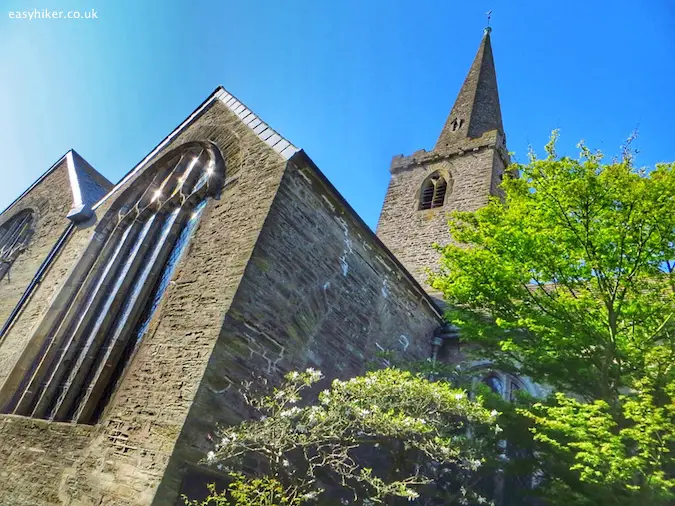 For our return to the bus station, we did not want to walk the same street back again, so we took a turn to the right and immediately another turn to the right into a footpath called Eastern Backway, simply because it looked okay on the map and appeared to be running parallel to the high street.
Actually, the Eastern Backway was really lovely, idyllic almost. We had not expected that and thought of it as a real bonus.
But that's what the whole experience was: a bonus. A kindness received from a stranger, an unexpected favour of fate. And that's why, you see, the whole thing was so lovely: all too often, trips degenerate into a mechanic ticking-off of sites and experiences along a meticulously planned itinerary – first this picturesque village, then that beauty spot. In fact, there is no more reliable way of killing all the joy of travelling. This is why we sometimes need the unexpected: just to remind us why we bother to go travelling at all.
And now for the punch line: there are hundreds, possibly thousands of Kingsbridges all over the world. Some of them may even be in your own neighbourhood – towns and villages that you have heard about but never made the effort of actually going to. And you know what: that's something you can even do in bleakest midwinter.
Because there will always be things that you can enjoy, no matter how dark and gloomy the day, how foul and unfriendly the weather – a historic village street, an old church, a pub.
And never forget: all towns are beautiful, once you have learned to look at them the right way.
Be sure to get our travel and hiking tips, all for free, by subscribing to our updates via email. You can also follow us on Facebook, Instagram and Twitter. Why not include us in your G+ circles too?