Enough about painters and the French Riviera! Entire books have been written about the way in which the great modernists of European painting – from Monet to Picasso – fell in love with the lights and the sights and the colours of southern France. You don't even have to go to the library to read about this "love story". You  can do so here, here and here.
All this while, there were writers on the Riviera, too: Beckett spent some time in Menton (one winter), R.L. Stevenson travelled widely through the area, even Dickens stopped by for a visit. Others (Anthony Burgess, Graham Greene, Noel Coward) came here to retire. Do we detect a pattern here? None of these writers actually went to the Riviera to work, only to visit, to grow old, or (as W.B. Yeats) to die.
Perhaps it is true what Anton Chekhov, the Riviera's most celebrated adopted literary son …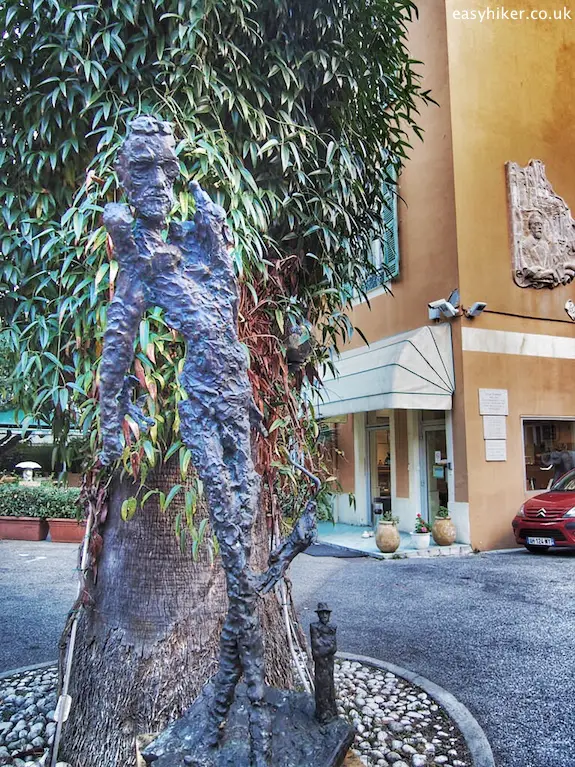 … once said: Nice is a good place to read but a bad place to write. (More of him later.)
Today's post about writers on the French Riviera comes with two qualifications: firstly, our Riviera writers must have done at least some writing here – and, for practical purposes, they must have done this writing in the city of Nice. (Otherwise, how could we string the various addresses together for a walk?)
On the trail of the Famous Writers in Nice
We start in the old harbour, the Vieux Port, where bus line 100 (the one from Monaco and Menton) terminates. Keeping the port on our left hand side, we stroll down the quayside and carry on straight into Rue Antoine Gautier.
Turn left into the last street before Castle Hill, Rue Catherine Segurane, and look for the house with number 38: this is where Friedrich Nietzsche lived for the winter of 1883/84, long enough to finish two books and to start a third, Thus Spake Zarathustra. ("Like a plant, I grow in the sunshine", he wrote.)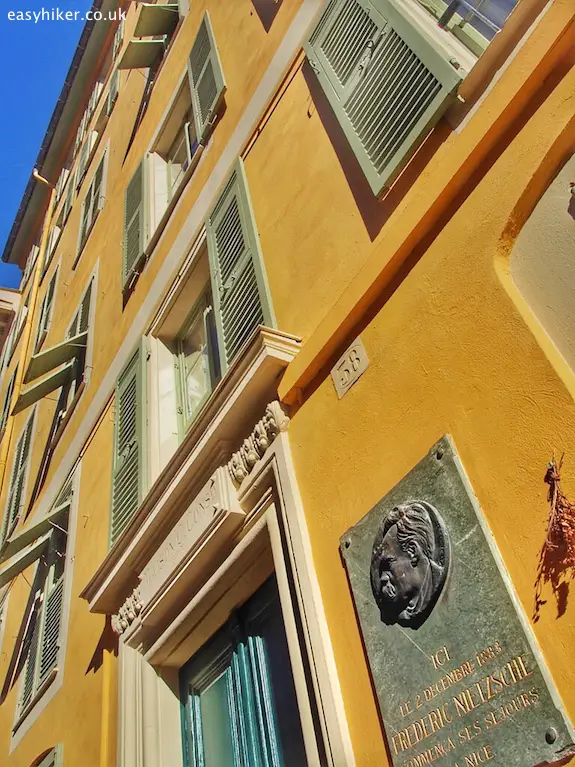 Return down Rue Segurane and continue until you reach Place Garibaldi, the heart of the Old Town. Stay on the left hand side and turn left into Rue Neuve at the very end.
Continue in a southerly direction to cross the Old Town. This is where Thomas Jefferson – does he count as a writer? (well, he certainly penned the Declaration of Independence) – stayed during his visit in 1787. Not, however, to write but to study – of all things – rice cultivation, in his capacity as the (then) US ambassador to France. Which is why we can safely ignore him and do not have to feel sorry that nobody actually knows where exactly the great man lodged. (The Hotel de York of which he writes in a letter home no longer exists, and it is not known where it once stood.)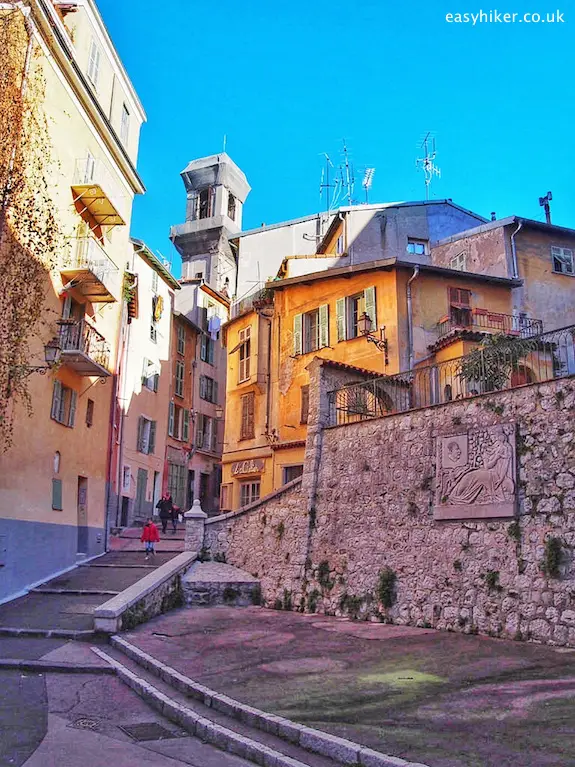 On the southern side of the Old Town, between the Cours Saleya and the sea, you can find the picturesque Rue des Ponchettes. Villa Speranza is the name of the house at no. 17 …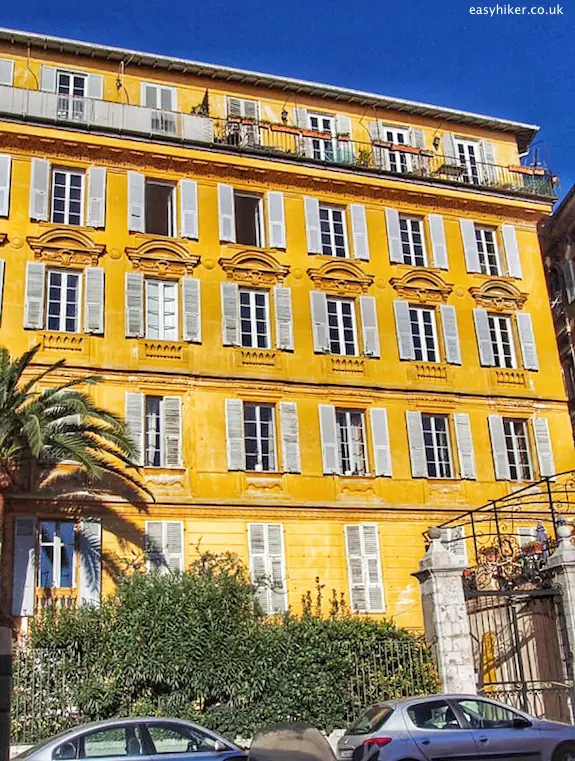 … where, again, Friedrich Nietzsche stayed to write, this time for six months in 1887/88. His lodgings were, although not luxurious, much bigger and nicer than his single room in Rue Segurane, but the self-confessed "sun flower" was decidedly unlucky with the weather that year when it was frequently so cold that the philosopher would write home about his "blue-frozen fingers". (At the same time, however, he bragged that he "did not turn the heater on once". Well, …)
Now move one short block further to the Quai des Etat-Unis (the beach promenade). In the distance, on your left hand side, you can see the Hotel Suisse where James Joyce came to write in 1922 but, in the end, could not because of a worsening eye condition (he had to return to Paris after barely one month).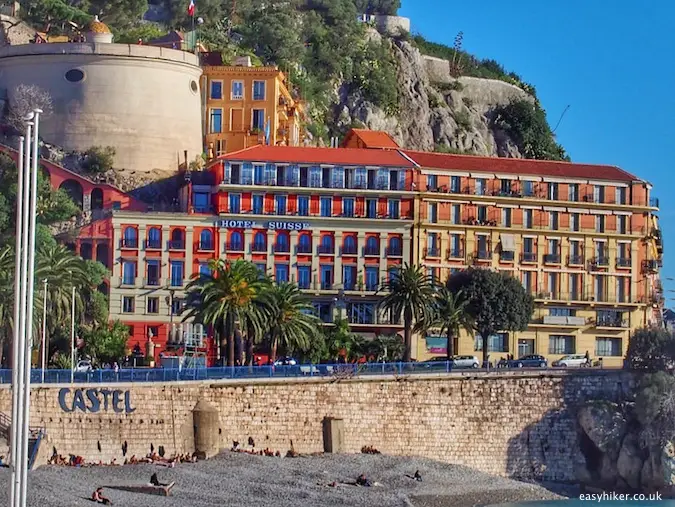 Turn right along the beach promenade which will, after a few blocks or so, become the Promenade des Anglais.
Perhaps the single most famous building on the French Riviera's most famous street is the Hotel Negresco at no. 37.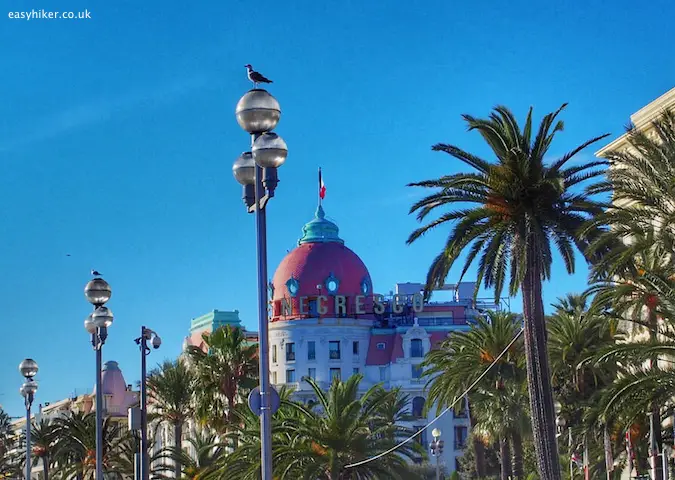 Many famous writers stayed here (including Hemingway, Scott Fitzgerald and H.G.Wells who conducted a long affair here with a married woman), but as far as I know only the cartoonist and wit James Thurber did any "serious" writing at the Negresco.
In the 1920s, Thurber worked for the Riviera edition of the Chicago Tribune, essentially a supplement of society news. The entire staff of that paper, Thurber would later reminisce, congregated every evening at the bar of the Negresco to "improvise" the next day's issue, making up a "gay and romantic cavalcade" (Thurber's own words) simply on the basis of the names on the hotel's guest list, along lines such as these (Thurber again): "Lieutenant General and Mrs. Pendleton Gray Winslow have arrived today, bringing with them their prize Burmese monkey, Thibault" …
Continue down the Promenade past no. 57 where Vladimir Nabokov finished Pale Fire in the winter of 1960 …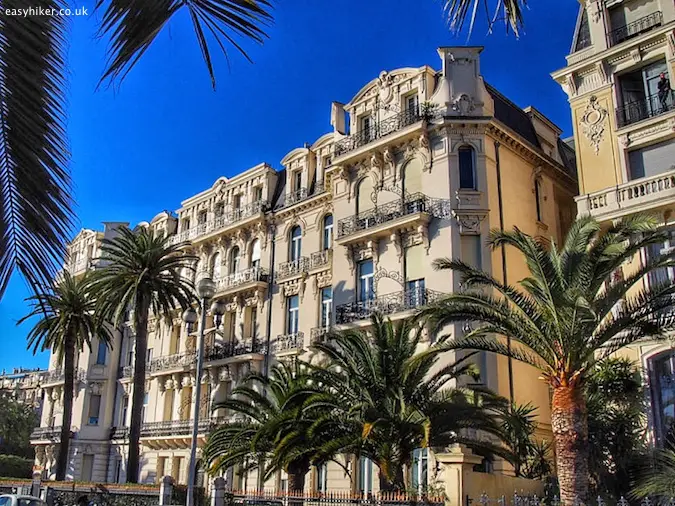 … to no. 121 which was shared by three German-speaking writers – Joseph Roth (the author of Job), Heinrich Mann (on whose novel the Marlene-Dietrich breakthrough hit The Blue Angel was based) and Hermann Kesten – who were taking refuge here from the Nazis in the 1930s.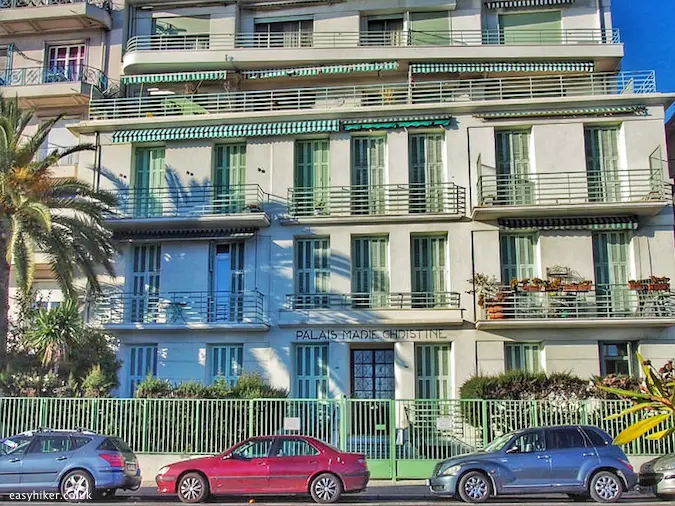 Before you walk back to town, take a peek into the first inland street that runs parallel to the Promenade, called Rue de France: this is where the mother of the short story writer Guy de Maupassant had a villa in the late 19th century, but it is a safe bet that neither she nor her writer son would recognize the area were they to come back today.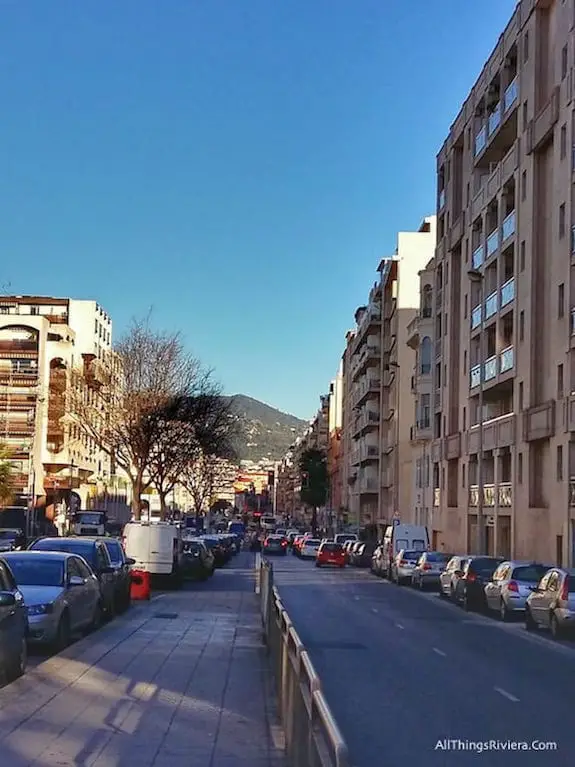 Maupassant spent a lot of time here, not least because he was a passionate yachtsman. He also tried to kill himself on the Riviera, gruesomely slitting his own throat.
On your walk back, turn left into Rue de Rivoli just behind the Hotel Negresco and then right into the Rue de la Buffa. Near the end of this street, at no. 9, you will find a "Gothic-style" apartment building. This is where Frank Harris lived for many years, one of the true originals of the Jazz Age: writer (of more than 30 books, one of which, his autobiography My Life and Loves, was banned in more than 30 countries for its sexual explicitness), imposter and raconteur ("Frank only told the truth when his invention flagged", Max Beerbohm said). Harris was also the man who put up Oscar Wilde after he was released from prison. It was his idea that Wilde would be better off across the Channel.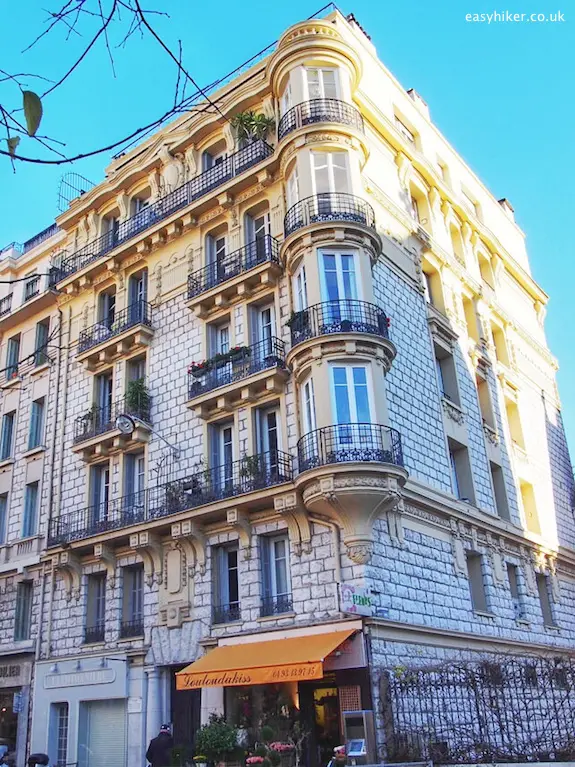 Turn back on Rue de la Buffa and right into Rue Meyerbeer which soon becomes Rue Gounod. After a block or so, you will find – at no. 23 – the Hotel Oasis, which lies in an idyllic backyard, a piece straight from the 19th century albeit surrounded on all sides by modern buildings.
At the end of the 19th century, this hotel was called the Pension Russe, run by a Russian landlady and the Riviera's refuge for all Russians who had money enough to travel but not enough to do so in style. Lenin stayed here, and so did a great many other expats, but the most famous writer in residence was Anton Chekhov who finished the second half of Three Sisters here in 1900/1901, famously while the actors back home in Moscow were already rehearsing the first two acts.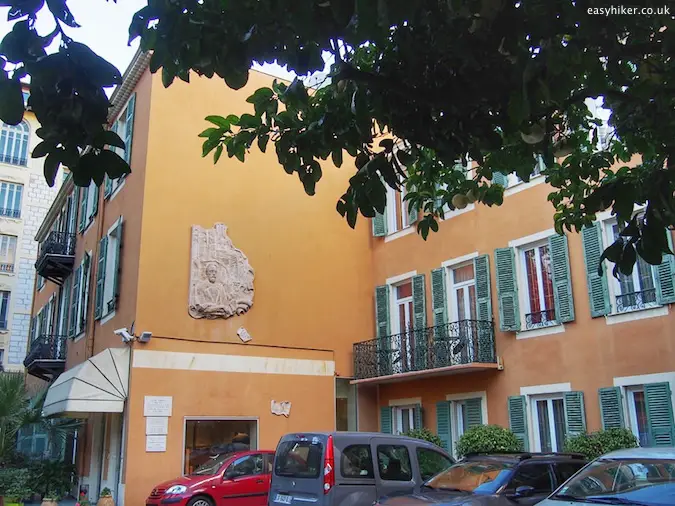 This was to be Chekhov's last visit to the Riviera. He had been to Nice before, once celebrating Easter in the city's Orthodox Church (the old one on Rue Longchamp) and setting some scenes of a novella there (An Anonymous Story). Contrary to what he said about Nice being a "bad place to write", Chekhov appears to have done a lot of work here, writing scenes, letters and short stories, always meticulously dressed, always by the open window no matter what the weather was like.
Continue further up Rue Gounod, until – after a couple of blocks – you reach Nice central station. Oscar Wilde used to lodge here, coming straight out of Reading Gaol, in a run-down inn called Hotel Terminus which no longer exists. Wilde arrived here in late 1897, and Chekhov spent the entire winter of 1897/1898 in the Pension Russe, just a few hundred meters away. Did those two ever meet – and, if yes, what would they have talked about? A tempting thought – something to ponder perhaps on your train journey home.
Follow us in making more discoveries in the French Riviera like this walk on the trail of famous writers in Nice. Be sure to get them by subscribing to our free updates via email. You can also follow us on Facebook, Instagram and Twitter. Why not include us in your G+ circles too?