Break within a break
Counterpoint is king for any "break within a break" – and the busy street life of Malta's capital city was the right antidote after the solitude of Gozo
Sometimes, even a break needs a break. During a trip of, say, four days or more, about half-way in you will long for a day with something else to do – if only to avoid your holiday from descending into mere routine.
On a city break, for example, after three days of shopping and going to museums, in search of something as much different as you can think of, you might want to go out on a hike. But the same "let's do something else" rule applies after three days of hiking, of course.
The rule is simple: always look for the most change that you can get. Do you like pizza? I do, as it happens, but after three days of pizza in a row, I remember that I also like other stuff. Not pizza with a different topping, but something really different – a steak, for example. Spare ribs. Lemon chicken.
In practical terms, this means: on a holiday in the mountains, look for a place where you can dangle your feet in a large body of pleasantly warm water. After a week of uninterrupted slouching near the hotel swimming pool, go for some novel cultural experience; after days in the wilderness for the bustle of a crowd. Variety is king.
Today, to start off a short series of "breaks within a break", I would like to ask you to accompany us one more time to the Mediterranean island of Gozo where, after our (roughly) One Hundred Hours of Solitude, no matter how much we had enjoyed ourselves, we longed to experience the liveliness of a proper city again – and fortunately for us, such as city was only a short ferry ride away.
Many visitors of Malta, tired of the island's long nights of partying, nightclubs and casinos, go to Gozo for a day of nature and tranquility. We went the opposite way: for a day trip to the island republic's capital of Valletta.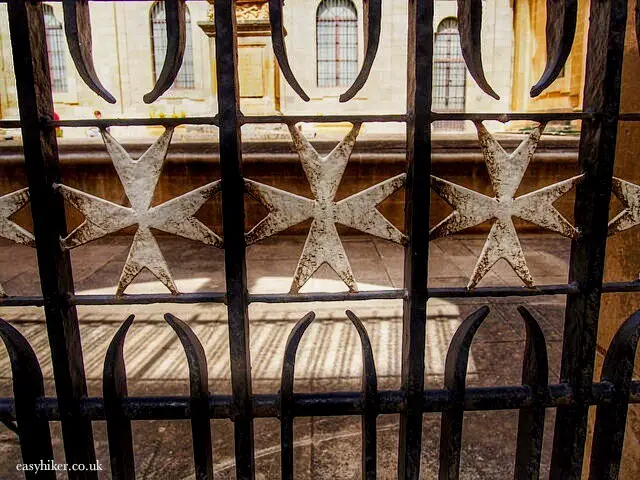 For a brief tour of Valletta, I suggest the following: Start at St John's Square, with a visit of the town's major cultural site, the St John's Co-Cathedral, whose highly ornate interiors …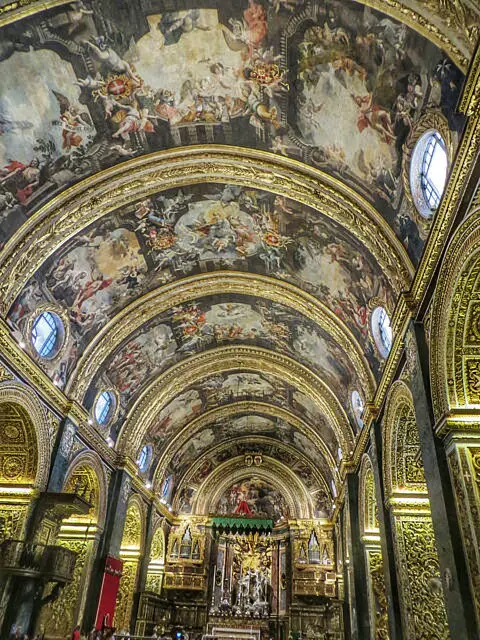 … stand in a somewhat curious contrast to its more austere facade.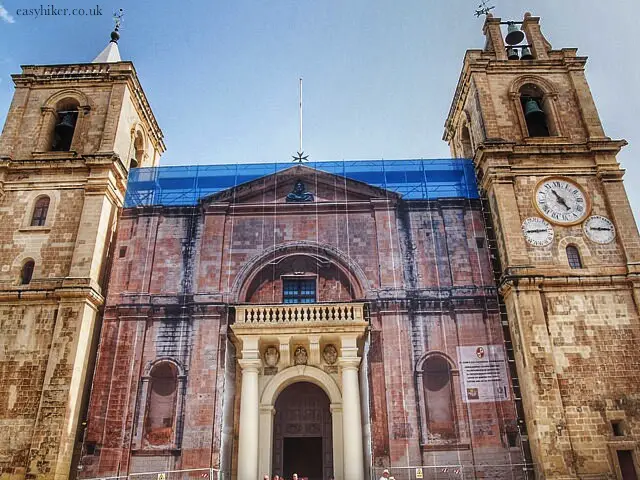 Turn right past the Cathedral, down Merchants Street, and right again into any of the picturesque side streets …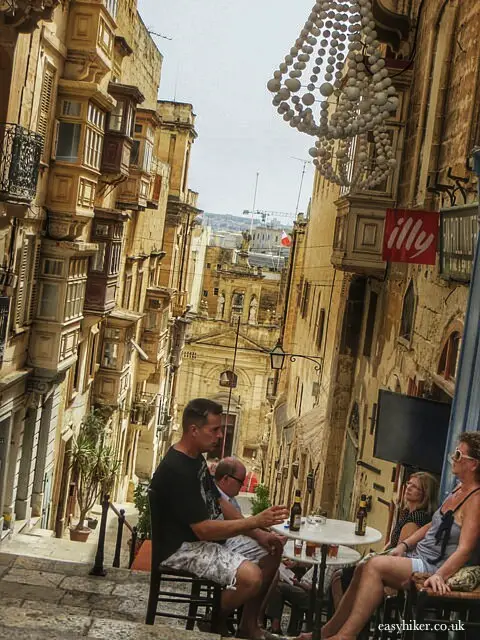 … that lead you down to the Grand Harbour.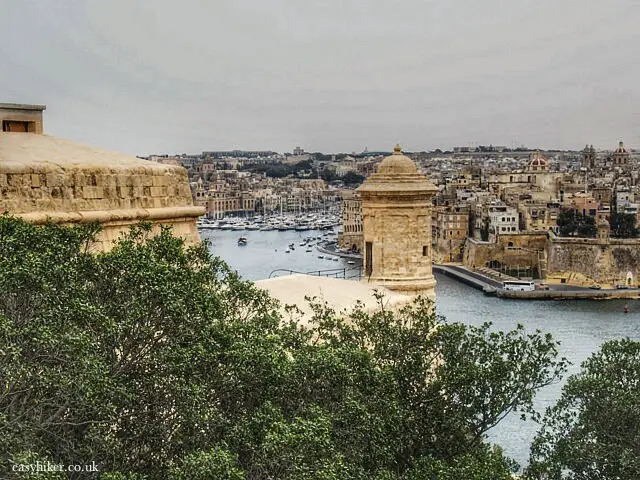 It is here, at the latest, where the sheer ubiquitousness of ramparts and thick walls that were constructed to protect the town remind you of Malta's history as the "Battleship of Christianity" in hostile, largely (throughout most of Malta's history) Ottoman waters.
Over hundreds of years, the Maltese Knights (there were only ever a few hundred of them on Malta) fought back many attempts of the Turkish navy to conquer their island, almost exclusively on the strength of their fortifications which allowed them to hold their positions with a small force against a seemingly overwhelming array of enemy troops – most famously in 1565, when 700 knights and 8000 armed men defeated an Ottoman army of 40,000 invaders.
Before this, the Turks had been feared across Europe as an unstoppable force. After that, they were practically always on the back foot. The "Siege of Malta" was quite simply the most famous underdog victory of its time, the "Italy 0, North Korea 1" of the 16th century.
From the Grand Harbour, turn northwards again in the direction of the town centre, but take your time: Valletta is best enjoyed as a ramble, turning here and there wherever your fancy takes you, rather than as a breathless "checkmarking" of sites.
In nearly every side street, there is something interesting to spot: we, for example, found a church dedicated to the Apostle Paul (who, according to legend, was shipwrecked here on his way to Rome) …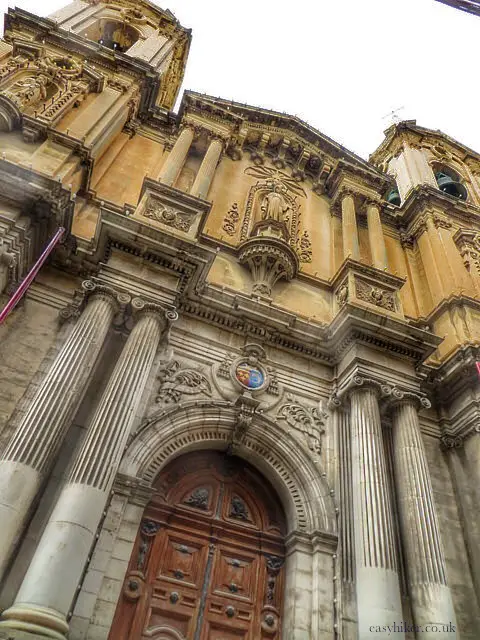 … and more evidence for the Maltese love of statuary …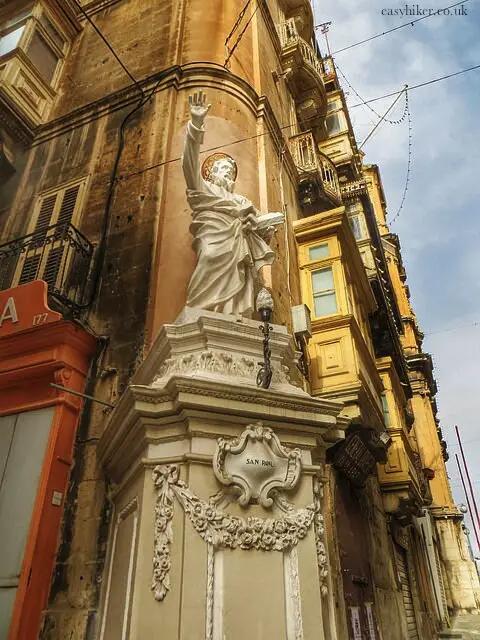 … in all forms and scales.
Curiously, whereas religious statues and historic monuments in Malta tend to be rather grand and full of drama …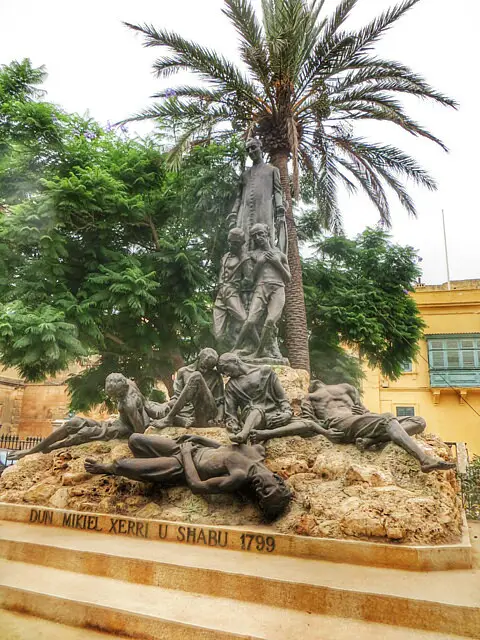 … the Maltese prefer to depict their politicians in a distinctly non-heroic mode.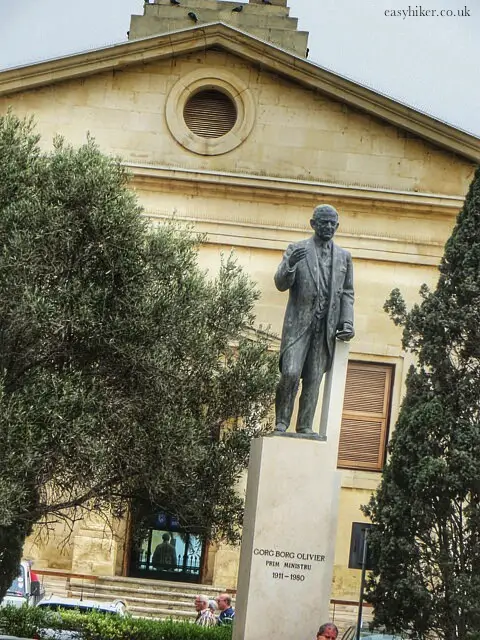 (There are half a dozen statues like this in Valletta, all of different former Prime Ministers, and they all look like this.)
One thing these pictures fail to show is how busy a place Valletta is – to a lesser extent in the side streets, but very much so in the town centre around the Cathedral.
After three days of Gozo, we had almost forgotten what it feels like to be stuck in the middle of a crowd – Valletta certainly reminded us of that.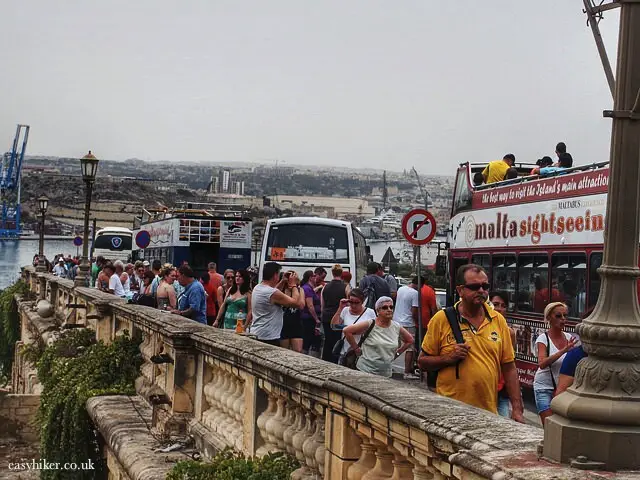 But when all of this simply becomes too much, there is always the Barraca Garden near the Grand Harbour: an oasis of tranquility, a few steps away from the pushing and shoving of the town centre.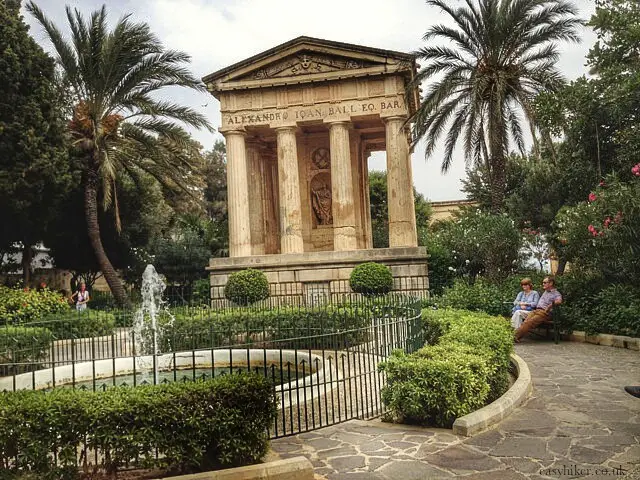 Because there are times when even the break within a break needs a break of its own.