Roman Holidays:
Walking Down the Road to Rome
All roads lead to Rome. But this is not to say that it does not matter which one of these roads you are going to take. Clearly, there is one road to Rome which is more deeply woven into the city's historical fabric than the others, more famous and more glamorous than the rest, and it is this one that we are going to explore today.

The Via Appia Antica in the south of Rome may or may not be the oldest road in the world (it was built in the 4th century B.C. to allow Roman soldiers a quick passage to the republic's southern colonies in the event that they were threatened), but it is certainly its most storied: it was along the Via Appia where Spartacus and his rebel army were crucified, it was here the Apostle Paul walked on his historic mission to Rome and it was also here where Saint Peter ran away from his persecutors – only to turn around when called upon by God to walk back to Rome and face his martyrdom.
Read also: Let's Go Eating in Rome
After 2500 years, the Via Appia is still Europe's longest straight road (nearly 40 miles without a curve) and certainly one of its most beautiful, at least for the first 5 miles or so: lined by tall trees, lavish estates and ancient monuments, it immediately makes you feel that you are in the countryside, far away from the hustle and bustle of the city. All in all, it was the most enjoyable thing we did all week in Rome.
Start the walk at the Circo Massimo (where the Romans used to stage chariot races for up to 200,000 spectators) and walk in a southeasterly direction past the Imperial Palace and the Terme de Caracalla.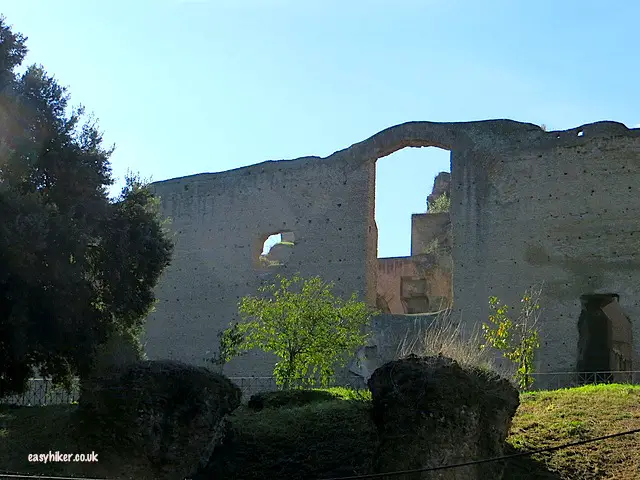 These "great buildings of state" will serve as a good introduction for the rest of the walk, throwing into relief what was a far more residential, more private part of ancient Rome.
Cross the busy highway and continue straight for a few metres before taking the right road at the fork, called Via di Porta San Sebastiano. You will immediately feel the change of atmosphere, entering a more quiet, "suburban" Rome – this is how it must have felt even in the days of antiquity when many aristocratic and patrician families settled here.
Soon, you will reach a "double city wall" – one antique, one medieval – and this is where the Via Appia proper begins and where you cross another frontier, this time the one between ancient suburbia and the countryside of Lazio.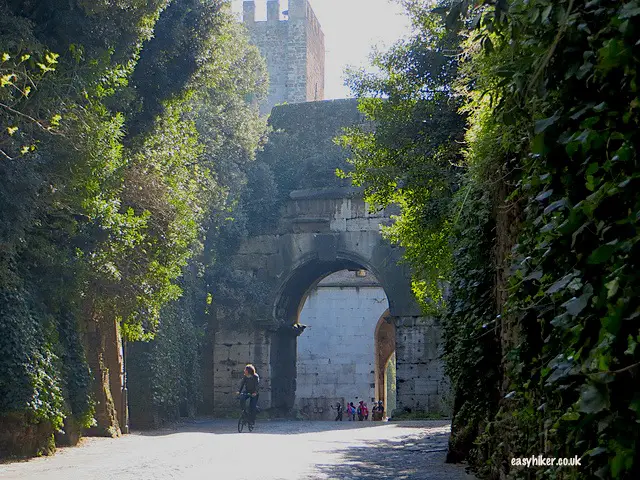 You will come across many ancient graves along the entire length of the street – no burials were permitted within the ancient city's limits – as well as some grand estates, or, I should say, what is left of them.
Because there is also a surprising amount of dereliction here, often you can see crumbling old walls from afar, holding out the promise of some Gothic horrors behind them: an old lady, perhaps, living alone since she was stood up at the altar, or a haunted mansion with a pair of pale aristocratic siblings who are bound together in a semi-incestuous relationship. What you can actually see behind these walls, however, is generally disappointingly mundane: a car park, a depot of building materials, a dog obedience school, an abandoned restaurant.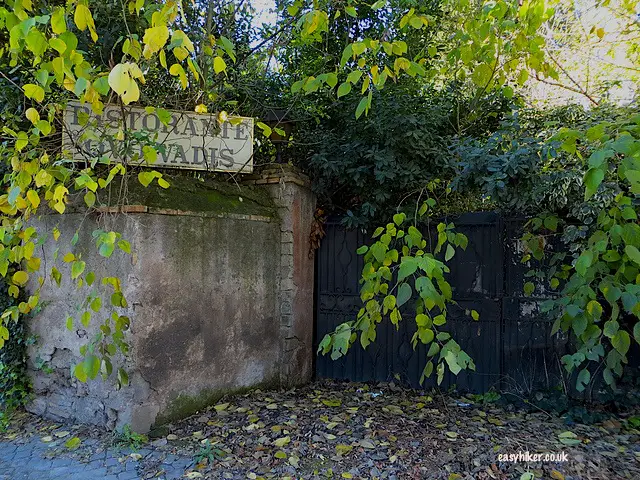 After about half a mile, you will arrive at the Church of Domine Quo Vadis. It was here where Saint Peter met Jesus on his flight from Rome and where he uttered the famous quo vadis question ("Where are you going, my Lord?"), to which Jesus replied: "To Rome, to be crucified again" – making Saint Peter realize that God expected him to return to Rome and die as a martyr.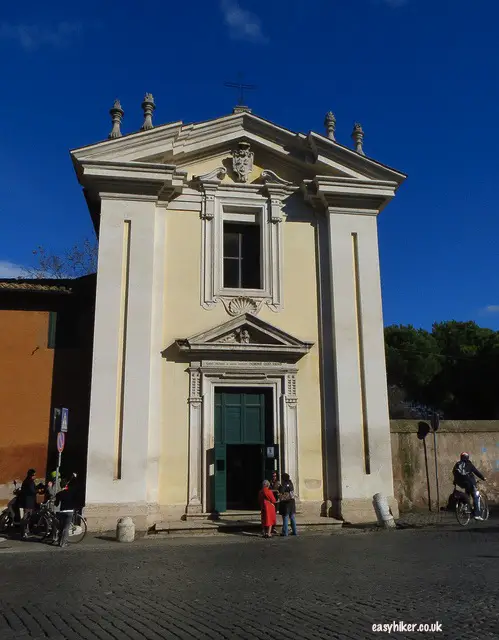 From here, you can continue in two ways: either on the path through the park (up the stairs and through the gate) which will lead you directly to the San Callisto Catacombs or – which is what we did – on Via Appia to your left, the more atmospheric route. You will still be able to visit the catacombs if you decide to stay on Via Appia, because there is a stairway later on that will connect you to the site.
After the park route and Via Appia have rejoined, you will pass several ancient monuments in quick succession: the St Sebastian Catacombs, the Circus of Maxentius and, finally, the famous tomb of Cecilia Metella.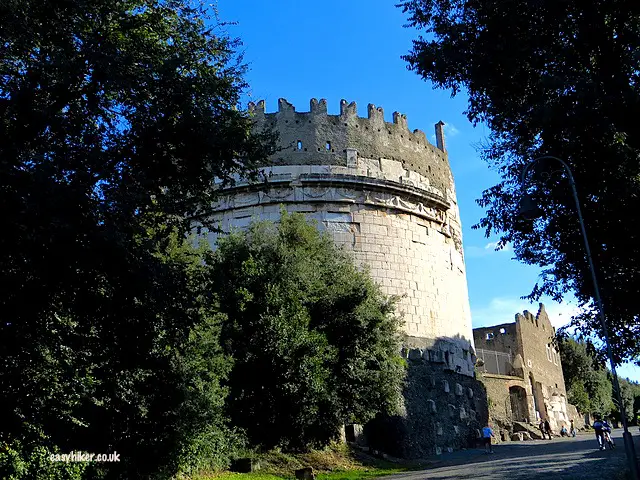 (The monument, constructed as a tomb for the wife of one of Caesar's generals, was originally far more modest and only extended to today's dimensions in the Middle Ages when a powerful Roman family turned it into a fortress from where to extol road fees.)
Read also: From Ostia Antica to Lido di Ostia
And if you are feeling a bit peckish: the Giardini di Guilia e Fratelli across the road is a great place for a brief stopover, particularly on a bright and sunny day.
For those of you who are tired: the 660 bus back to Rome stops just around the next corner. Better, however, to continue for another mile on a particularly tranquil and beautiful section of the road that features old-style pavement, more ancient graves …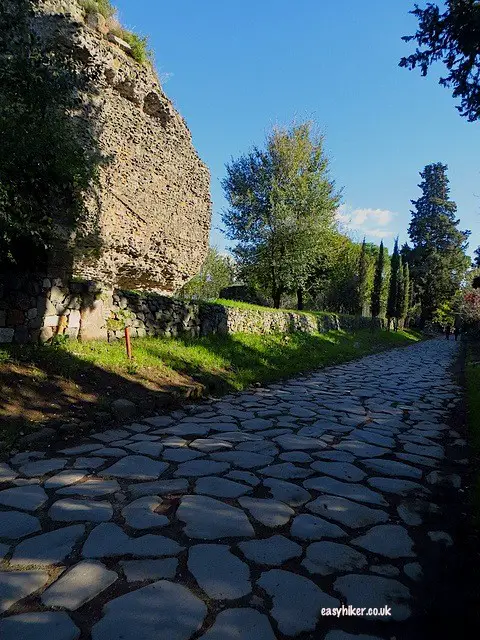 … and spectacular views over Rome.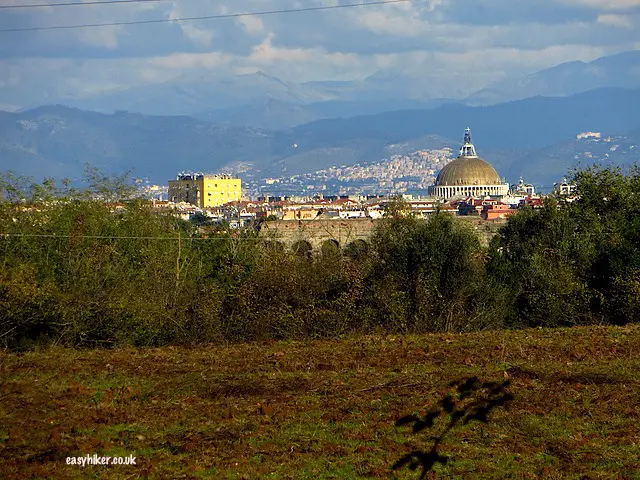 Continue right up to the crossing with Via Erode Attico and turn left. There is a bus stop after 200 metres or so. Two lines, the C11 and the 765, stop here and will take you to a Metro station (Cinecittà and Arco di Traventino respectively) from where you can continue your journey home.
We thank GowithOh for letting us stay for seven wonderful days in Rome in one of their apartments, allowing us to revisit the capital and gain fresh insights into the city. Next time you're in Rome, GowithOh!