For our recent journey through Emilia Romagna, a region in northern and central Italy, we decided to hire a car – something we had not done for several years, generally preferring to make our way on public transport and, of course, on foot.
After so many years of not using a car for our journeys, I had forgotten how profound the difference between driving and walking trips can be. When you walk, you see little but experience it with every fibre of your body: your eyes, your ears, the tired muscles in your legs, so much so that every little detail becomes engraved in your mental hard disk.
When you drive, on the other hand, you see more but the experience is a great deal less intense. Actually, you see so much in such a short period of time that there is a real risk your overwhelmed mind will simply throw all your impressions into a blender and process them into a memory soup of terracotta colours, empty piazzas in the baking midday heat, vineyards by the side of the road and the dark interiors of baroque churches. That palazzo that we saw, the one with the wooden horse in front of it: that was in Cento, wasn't it – or was it Sant'Arcangelo di Romagna?
It is by no means inevitable, however, that your holiday memories will have such a short half-life. It is actually possible to combine the advantages of the hiking trip and the car journey, the flexibility of the latter with the intense, long-lasting impressions of the former.
You can get just as many profound and unforgettable experiences out of a car journey as out of a hiking trip: you just have to fight harder for them. So you better make sure that, in between long days on the road, you spend some serious time – at least a full morning or an afternoon – out of the car, using your own two feet to get around and giving your mind time to let it all sink in.
To help you a little in preparing your own trip to the Emilia Romagna, we have prepared three such "slow travel" routes for you: one a hike through the countryside, one a culturally themed town walk and one a "bucolic" town walk. Which is where we shall begin today.
Ferrara (approx. 50 km north of Bologna, the regional capital) is a beautiful and interesting city, a UNESCO World Heritage Site (representing, as the official text says, a "wonderful example for Renaissance town planning") and full of stunning, monumental buildings.
These come mainly from the period between 1300 and 1600, Ferrara's heyday, and include the Cathedral …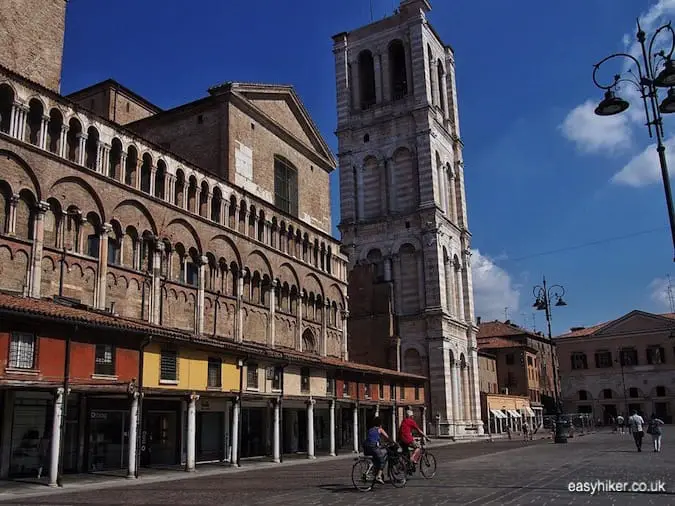 … as well as the magnificently gloomy Castello Estense from 1385, …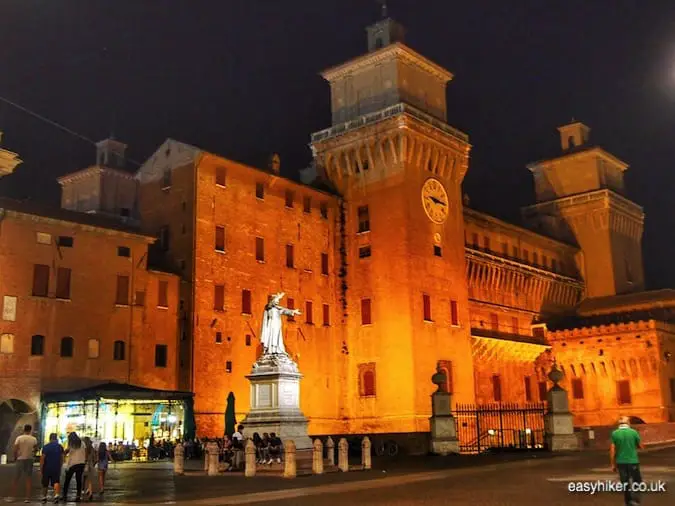 … which is still surrounded by its original four bastions and the ancient moat.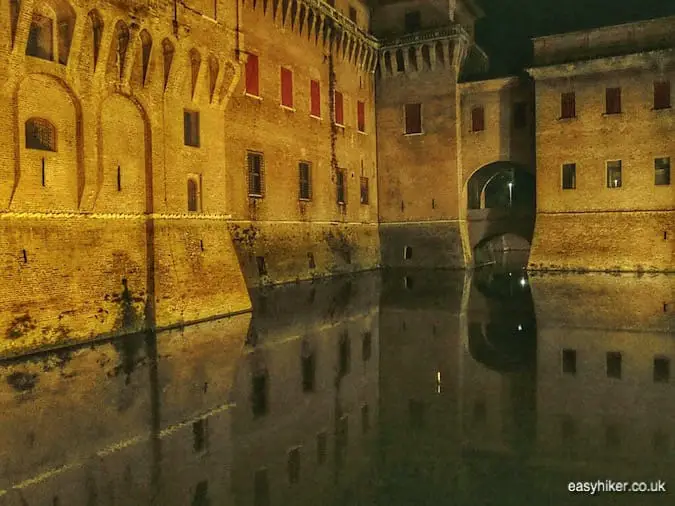 For us, however, the best thing about Ferrara was the ancient town wall that has been converted into a 9 km long embankment around the city.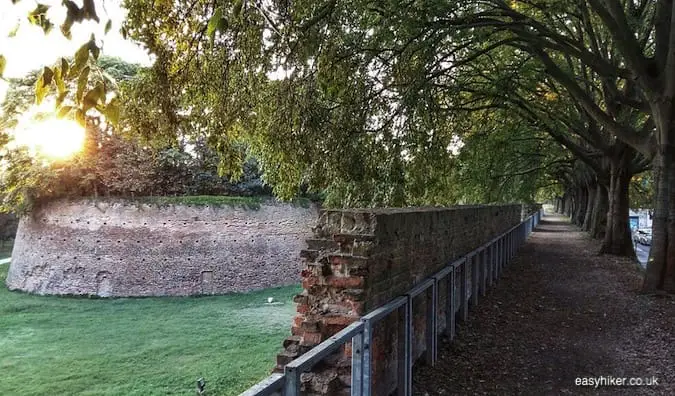 You can, in theory, join this hiking-and-cycling path anywhere on its route around the Centro Storico and the town's older suburbs. (The system of defensive walls and bastions was started in 1493 and extended many times until the 17th century, reflecting the growth of the city.)
We recommend, however, to begin the walk in the south of Ferrara, near Piazza Travaglio, and to proceed counterclockwise past the Old Town where you get some picturesque views of the ancient city streets on your left …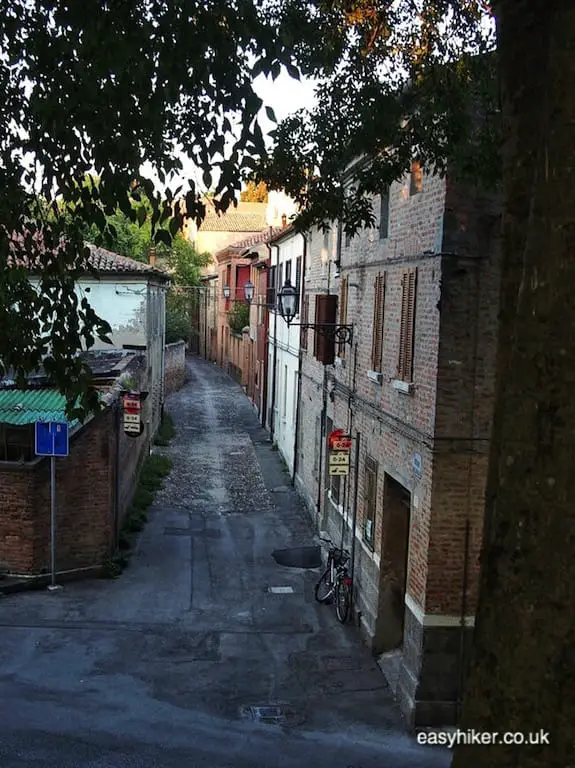 … while on your right, the landscape already thickens into pretty dense forests.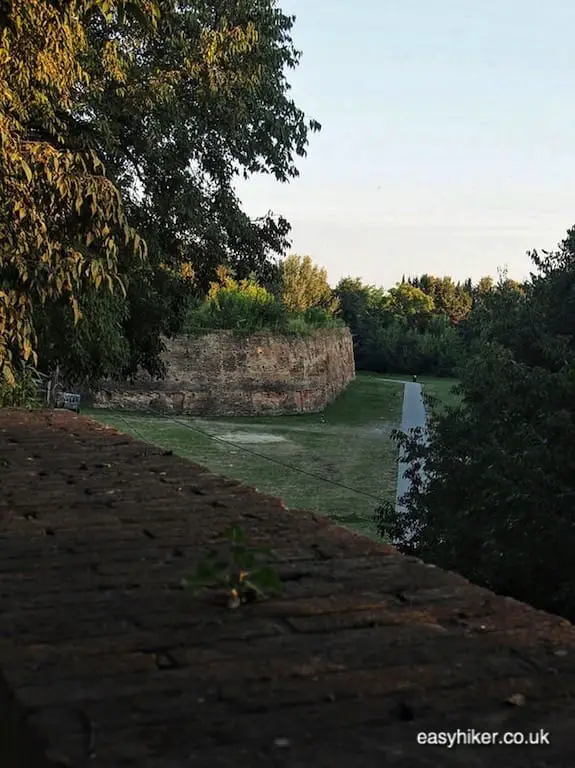 You also get a chance to collect some first-hand impressions of defensive military strategies in early modern times: Ferrara's town walls are said to be the best preserved in the whole of Italy, so their essential structure has changed little since the 1630s.
You may wonder, for example, how a wall that does not exactly look forbiddingly high would have been able to deter foreign invaders, but you must consider that the sections on your right at the foot of the embankment …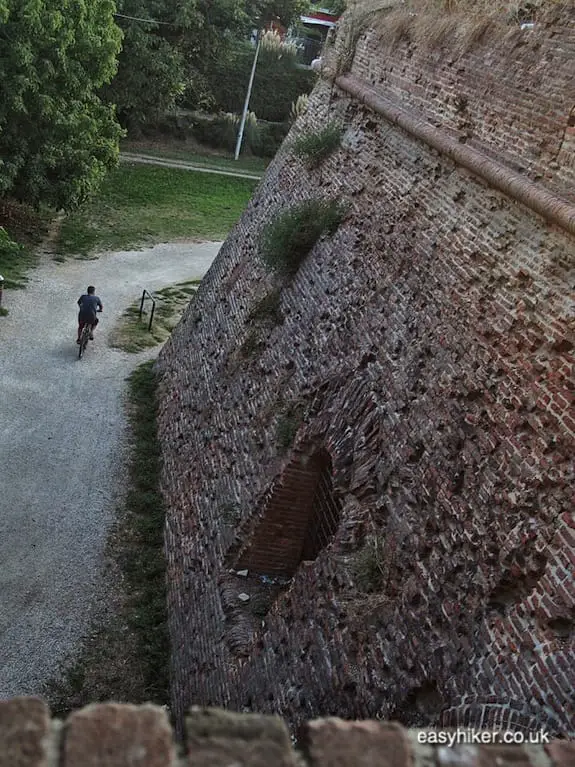 … would have been filled with water at the time, so there was a long way to go (or shoot) for the enemy on the far side of the fortification's outer wall.
This part is the most urban section of Ferrara's "wall walk". Other areas, such as the north and the west …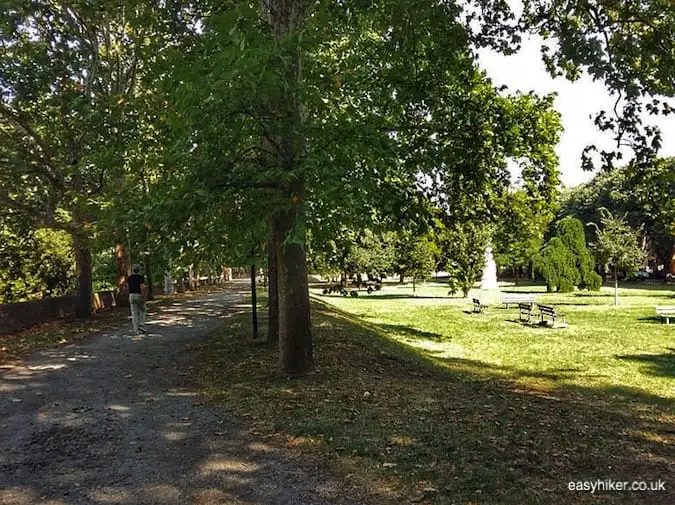 … are surrounded by lush woodlands on either side and sometimes open up into vast park like spaces.
These stand in extreme contrast to the section immediately to the west of Piazza Travaglio, the Rampari di San Paolo, which overlooks a sequence of parking lots. This is the one part of the walk you can safely skip.
Finally, while you stroll over Ferrara's (not quite) "unpeopled walls", you may consider that you are walking in the footsteps of Lord Byron who visited Ferrara in the spring of 2017 and had this to say about the town and her ramparts (the "poet" in lines 4 and 5 is the writer Torquato Tasso who died in 1595 at a Ferrara "dungeon", actually a lunatic asylum, having set his period's standard for being "mad, bad and dangerous to know"):
While thou, Ferrara! When no longer dwell 
The ducal chiefs within thee, shalt fall down,
And crumbling piecemeal view thy heartless halls,
A poet's wreath shall be thine only crown, –
A poet's dungeon to thy most renown,
While strangers wonder o'er thy unpeopled walls!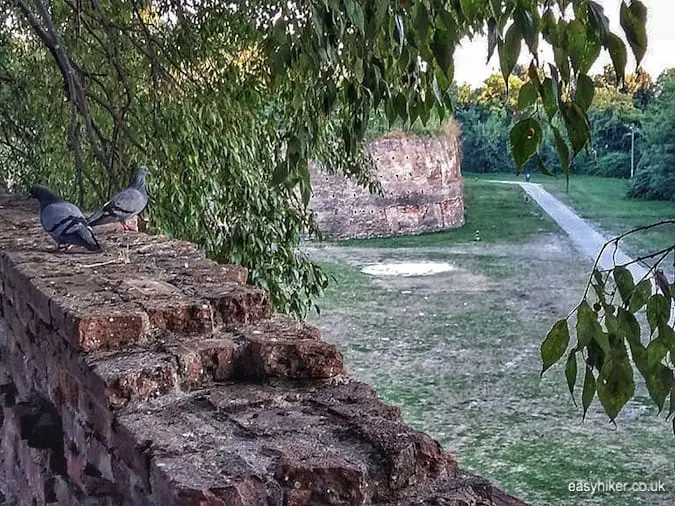 Don't miss the next part of our tips we've gathered from our recent journey through Emilia Romagna by subscribing to our free updates via email or follow us on Facebook, Instagram and Twitter. Why not include us in your G+ circles too?