Walking in Paris – Part 1
Parisian Parks to Choose From
Keep it short, keep it urban: that was the general advice I gave you a few posts ago for walks and hikes during the cold season. Walking in Parisian parks would do the trick!
For many people, of course, that is the motto for any kind of outdoor activity throughout the year. Not everybody feels equally tempted by the prospect of a day on a hiking trail, not even when it's warm outside and the sun is shining, particularly when they are away on a holiday.
And frankly, sometimes even I can't blame them. If I had friends over for a weekend in London, and let's just say for the sake of the argument that they had never been there before: would I really insist on schlepping them out to the Epping Forest?
So there you go: this post and the next will be for all those of you who like to keep your walks short and urban all of the time, rain or shine, summer or winter. Because I am sure that, even for folks like you, parks are a different matter. Parks, after all, are part of the cityscape.
Central Park, for example, is as famous a New York landmark as the Statue of Liberty and Broadway. If you haven't been to Central Park, you haven't been to New York.
And a walk through a park can be squeezed into the tightest of itineraries – instead of having a proper sit-down lunch, for example, you can buy yourselves a couple of sandwiches and sit down on a bench underneath a tree. Perhaps even with a bottle of wine, for an improvised picnic. (Even if your walk will be slightly less steady on the way out than it was on the way in, it still counts as a walk.)
And there's no better city for having this type of an "urban" experience of nature than Paris. Surprised? Mais oui! The French capital, famous for many things, may not be so famous for the beauty of its green outdoor spaces, but it has many public parks and gardens that are well worth a visit – and who knows: you may even learn a thing or two about the city's history and its people that you would not have found out had you stayed on the straight and narrow of the asphalted roads.
Want to find out more about walking in Parisian parks? Here are a few tips where to go.
Tuileries Gardens
Where?
In the centre of the city, between Place de la Concorde and the Louvre.
How to get there?
Metro Concorde.
What can I expect to see?
The French style of gardening is based on three principles: symmetry, unobstructed lines of view and high artifice. The Tuileries, the gardens of the Louvre when it was still used as a royal palace, have preserved much of their old character through revolutions of politics and style, and are the best example for this "man-imposing-his-will-on-nature" approach to landscaping within the Parisian city limits.
Who am I most likely to meet?
Fellow tourists.
Jardin du Luxembourg
Where?
South of the river, near the Pantheon.
How to get there?
RER line B from Chatelet Les Halles or the Gare du Nord (station: Luxembourg). Next metro station is Odeon (5 minutes walk).
What can I expect to see?
The Luxembourg gardens were also part of a palace once, which is today used as the place where the French Senate convenes, but are less "French-formal" and display a mix of different influences, combining the best of many worlds: long perspectives from the French style, naturally grown trees and some winding paths from the English tradition, and there is still the Italianate fountain from the garden that was built for the homesick Catherine de Medici. The overall result is, however, pretty grand and formidable rather than lovely.
Who am I most likely to meet?
Well-behaved French children pushing toy boats around the famous octagonal basin, students from the various elite schools and universities that are dotted around the neighbourhood.
Parc Monceau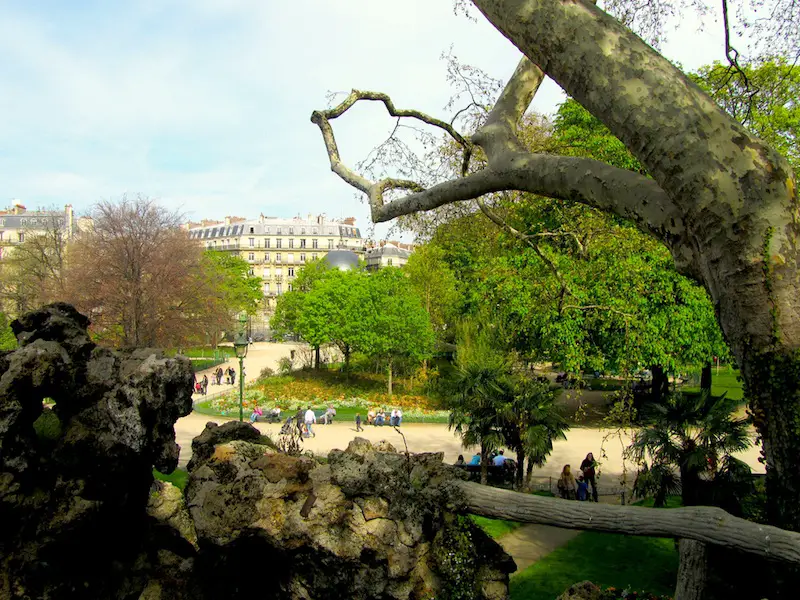 Where?
A couple of blocks east of the Arc de Triomphe.
How to get there?
Metro station Monceau.
What can I expect to see?
The Monceau is Paris's "bijou park": it has everything a proper park has or should have (a lake, a forest, a stream with a bridge), but all of it en miniature like some sort of legoland landscape – and that goes for the classical temple ruins and the Egyptian pyramid as well. This was the first Parisian park that was laid out in the "English" style, although it must be said that it is not a particularly successful imitation, a little bit like French rock'n roll.
Who am I most likely to meet?
Expat executives from one of the near-by investment banks (such as Morgan Stanley whose offices overlook the park from the south) during their lunch break, nannies with prams.
Banks of the Seine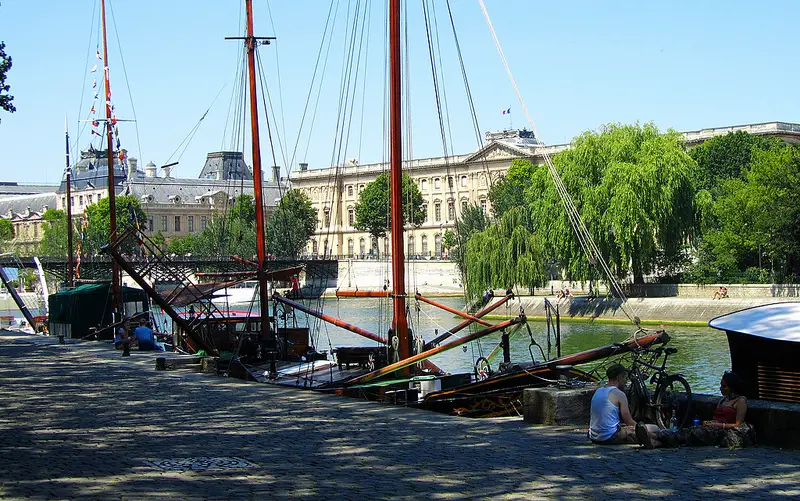 Where?
Slicing all the way through Paris from east to west, but I would suggest the stretch from Notre Dame Cathedral to the Eiffel Tower.
How to get there?
Metro station Cite.
What can I expect to see?
The banks of the river Seine may not fit everybody's idea of a "park", but they certainly are the most successfully landscaped part of the city. What's more, they provide more Parisian bang for your walking buck and more high-quality street theatre than any other route that you might take: the beautiful buildings, the trees, the colourful boats on the river …
Who am I most likely to meet?
Young lovers walking hand in hand, hobos, artists with their sketchbooks, old men fishing in the river – all that urban has to offer is there.