MEDVIEDENKO
Of all the cities you visited when you were abroad, Doctor, which one did you like the best?

DORN
Genoa.

TREPLIEFF
Why Genoa?

DORN
Because there is such a splendid crowd in its streets. When you leave the hotel in the evening, and throw yourself into the heart of that throng, and move with it without aim or object, swept along, hither and thither, their life seems to be yours, their soul flows into you, and you begin to believe at last in a great world spirit, like the one in your play that Nina Zarietchnaya acted.

(The Seagull, Anton Czekhov)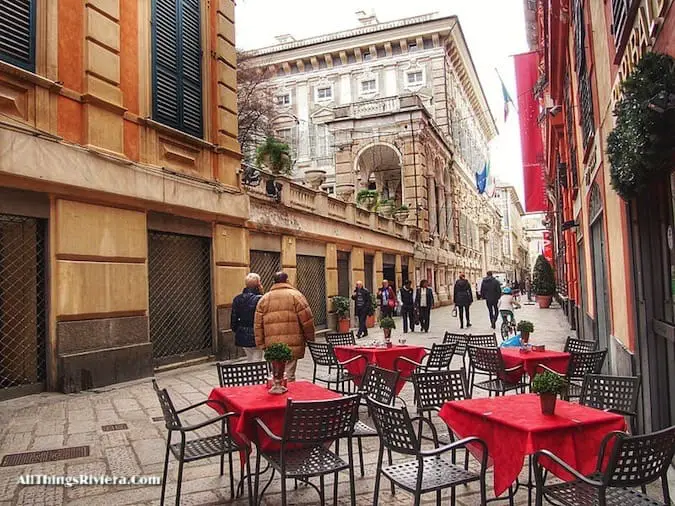 It is difficult in this day and age to make true discoveries. You eat well at a modest taverna in a small town, and when you google its name – just to check before you write a post about it – you find that dozens, perhaps hundreds of people have already been there and done that.
Discoveries? Perhaps we should abandon the notion altogether. We are just as likely to run into a stone age tribe on our way to do the weekly shopping.
And good riddance too, I say. What's so great about being the first person to see something or to write about it anyway? Isn't it much more useful – and ultimately more satisfactory, from a personal point of view – to learn how to appreciate something which is well known but undervalued?
Why I think Genoa is like Audrey Hepburn
I am speaking about things that people know are there but, for some reason, have so far failed to see properly, measuring them by the wrong standards or unable to see their hidden beauty: a little like what happens in old Hollywood films, when some guy takes off an insecure and bookish girl's glasses, loosens her hair, and before you know it, she has turned into Audrey Hepburn.
That, in a nutshell, is the way I have always felt about Genoa. Genoa was not fashionable the first time we visited many years ago and immediately took a liking to it. We did not return for 20 years, and when I realized that, for most people, Genoa was just a run-down harbour town in between the two strips of the Italian Riviera, I thought: well, probably I was deluding myself. But then we visited again, and I liked it as much as I did the first time around.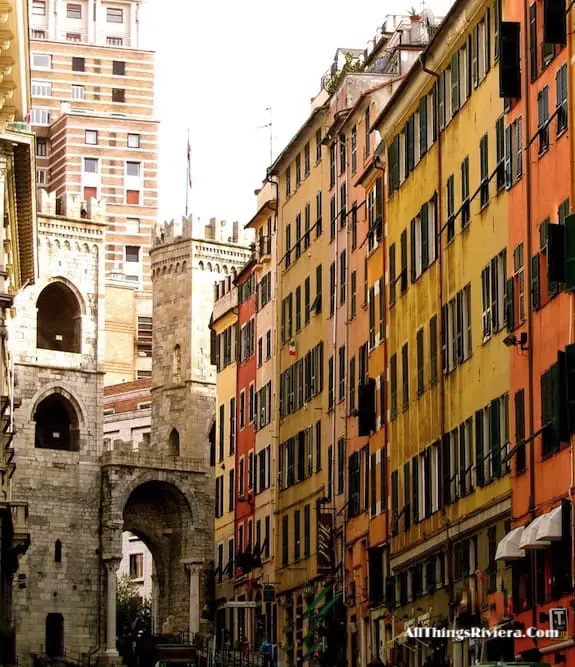 Why Genoa is not as famous as Venice or Florence, I have no idea. Maybe it's because it is a bit grubby in parts, more so than most tourist towns in Italy. But its historic core looks interesting everywhere, and no matter which way you turn, you are sure to, yes, discover something intriguing or compelling: a hidden statue in a shadowy lane, an old palazzo or chapel, a dark alley that suddenly opens up into a scenic view of the sea, a street where everybody appears to have jumped straight off the boat from Africa. If that's not the definition of a fascinating city, I would like to hear a better one.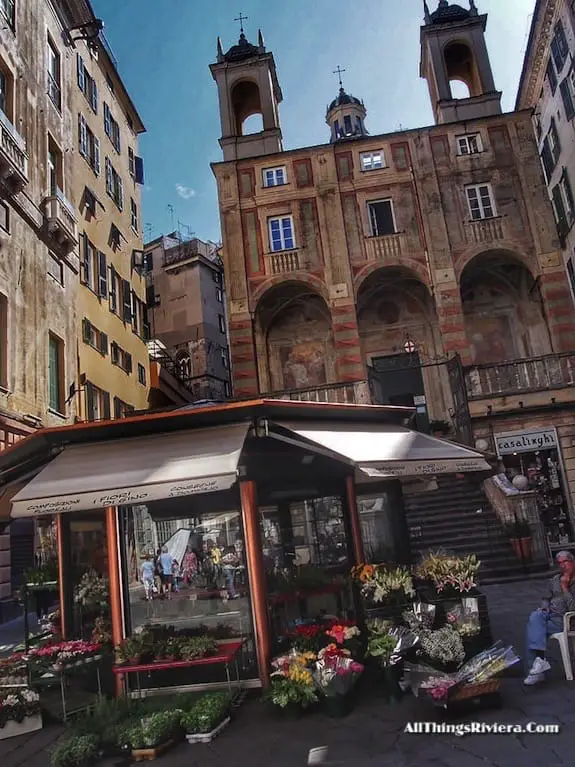 Today, however, we will be going for a walk outside the town centre. After all, if you really like a place, you must familiarize yourself with its lesser known parts. Town centres are the equivalent of a first date: you only see what you are supposed to see. You may fall in love with a city because of that, but you cannot establish a long-term relationship on the basis of a make-up job well done. To get to really know a city, you must see its many every-day faces.
Taking a walk in Genova, any kind of walk, is a time problem for day trippers. If you come from Turin, Milan or a resort town on the Italian Riviera, you may easily have travelled 2 hours just to get there (and will need another two hours for your return), so there is never much time for extended trips.
For us, the journey is a little longer still, but one thing we have always wanted to do was take the funicular railway up to Righi, and a couple of weeks ago, we finally did just that.
You can buy your tickets for the railway at a tobacconist or at the automat in the downtown station (on Largo della Zecca, just before the tunnel). They are cheap (€ 1.60 pp one way), because this is not a tourist ride but part of the city's public transport network.
The train ride up to Righi takes 15 minutes, and there is a platform right at the station from where you can enjoy panoramic views all over the town centre and the adjacent harbour.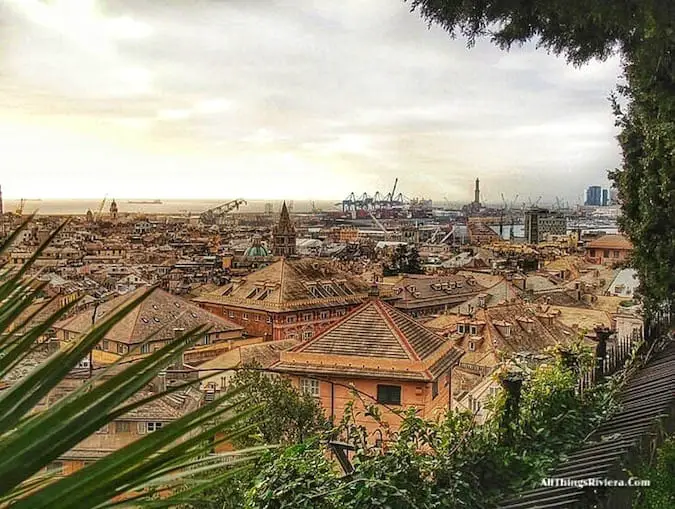 After that, it's decision time. There are many ways to go: you can turn left into the Parco delle Mura, and the names of several ancient fortresses in that direction are signposted. They did, however, mean little to me. (I regretted not having done my homework properly, but – all lazy boys know how that feels – it was too late for that now.) We decided to turn right in the direction of the Sanctuario, thinking we could perhaps come back later to check out the park.
As it turned out, however, there would be no "later", since the path goes all the way downhill, and before you know it, you have descended considerably and find yourself halfway back in town.
The area is very pretty, you are walking on what appears to be a wall system to protect Genoa's northern frontier, …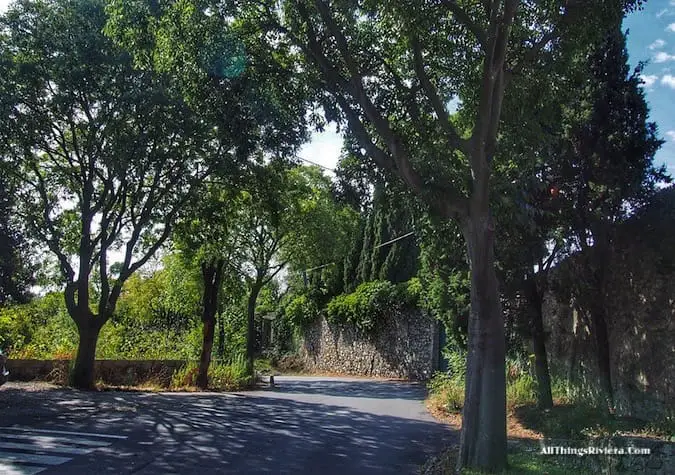 … but you know you won't be climbing uphill all the way back on the off chance that the other direction would perhaps have been even nicer.
After our return, I peeked into "other boys' homework" – for which read: other articles about Righi – and found out that there was indeed quite a lot to see over there, such as the Begato and Sperone fortresses. Those are proper hikes, however, and if you only have a few hours time, they could be a trifle ambitious.
The Sanctuario itself was, to be honest, nothing great and located in the middle of what was already a fairly suburban area, but you do get a splendid view from the concourse.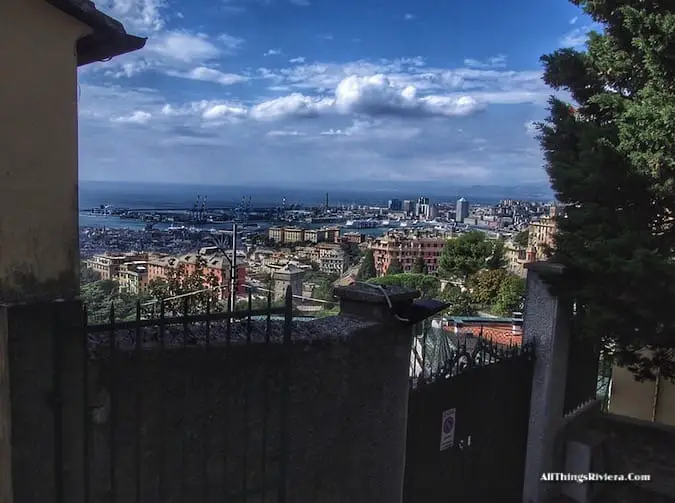 You also visit parts of the town on this walk that you would generally not get to see. You can also enjoy magnificent views of the areas east of the Bisagno river including Genoa's famous football stadium.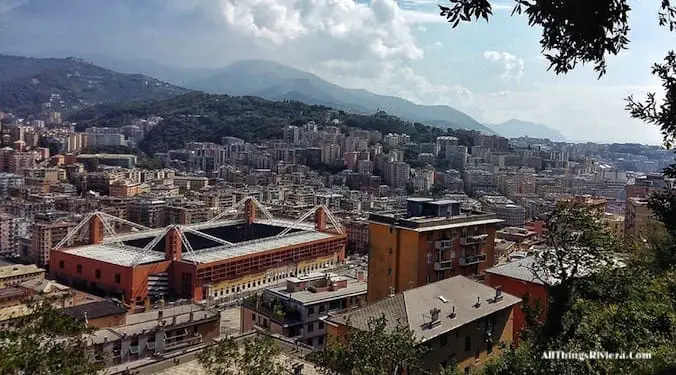 The highlight of the walk, at any rate, is without a doubt Mackenzie Castle, a surreally medieval-ish palazzo that is incongruously surrounded by modern residential buildings.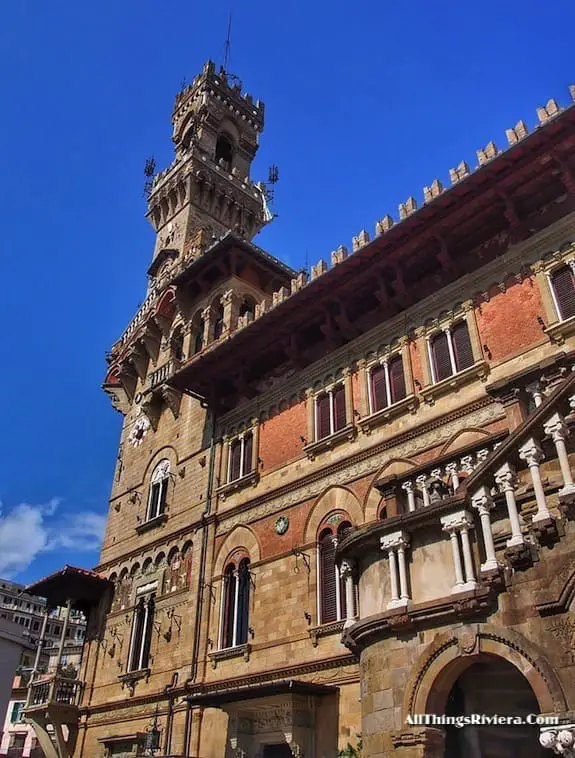 I later found out that the castle is famous in its own right, albeit mainly among people with a love for eccentric artworks of the early 20th century. I also learned that the castle's architect, Gino Coppede, has built other houses much like that all over Genoa where he is considered the local equivalent of Barcelona's Gaudì.
Discoveries, discoveries. I cannot wait to return.