Hiking in Italy, like so much else in this sweet and lovely country, is by turns an exasperating and wonderful experience.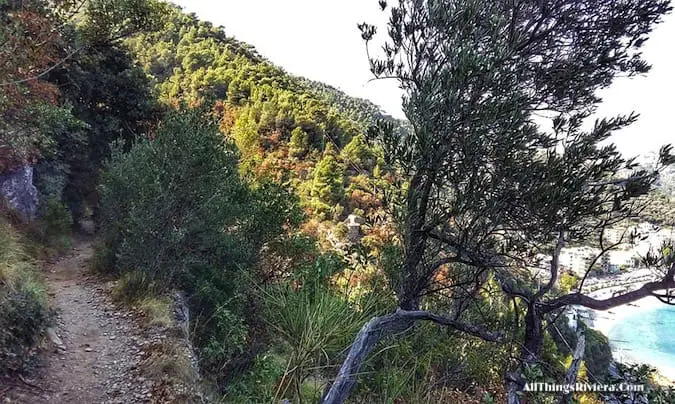 Whether you are getting one or the other is largely determined by the kind of people who are in charge of the town or municipal district you are visiting.
Some towns could clearly not care less about hiking, to the extent where one can almost physically feel the contempt for smelly backpackers who will probably bring their own food and who have no money to buy expensive local delicacies, while other towns operate a surprisingly well-organized and well-maintained network of footpaths.
Once a town has landed in one of those two camps, there is no guarantee that it will not switch sides, so you can also find places where, at some time in the past, good work has been done: maps were prepared, information panels where erected etc., but then another administration came in, and trail markers were not renewed, panels were removed, paths fell into neglect and so on.
And then there are towns where hiking is an exasperating and wonderful experience at the same time. Which brings me to our recent trip to Noli.
Our Wondrous Easy Hike in Noli Italy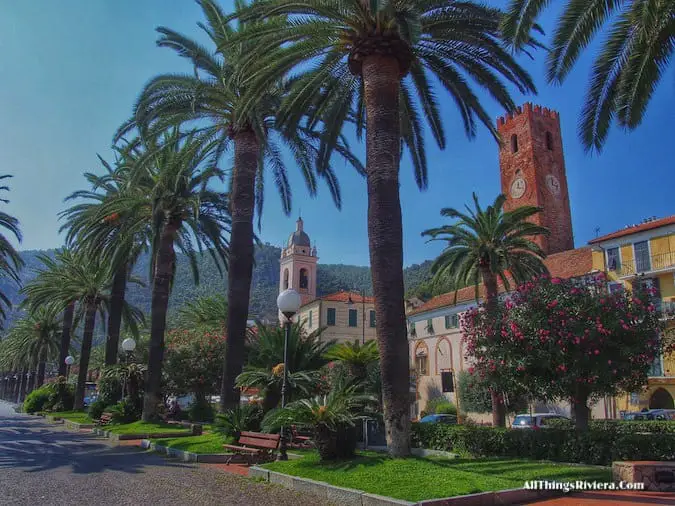 The local tourism office had handed us a map with a number of short and long hiking trails around town, but no precise instructions of how and where to find the actual trailheads. Our search for the right starting point took us down several blind alleys, respectively ending in a parking lot, in front of a railway tunnel and on a busy highway with only a hard shoulder to walk on. Somehow the literature – between effusive words about all the fantastic things that we would find along the way – had omitted to provide useful directions.
Just when we were about to give up, however, we managed to find the start of the trail (on via XXV Aprile: remember that), and from there on, Noli proved to be a heaven for easy hikers.
Once we were on the trail, we did not have to look at our map for orientation one single time, a rare occurrence anywhere. There are signposts (with fairly accurate time estimates to the next stagepost), directional arrows on stones, reassuring markers all the way: a German Wanderverein could not find anything to complain about.
The Noli hiking map lists a total of 14 trails around town, most of which are clustered either around the castle on the northern end of town …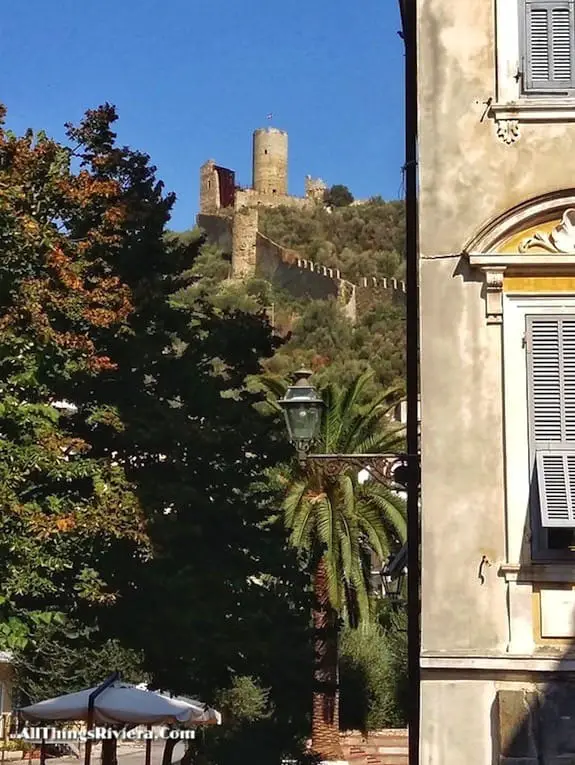 … or which lead south in the direction of Finale Ligure.
This was where we were planning to go, heading for the Passegiata Dantesca which is named after the poet Dante who visited the town, then a thriving and powerful independent Republic, on his way to France in 1306. This route continues for 3.5 hours all the way to Cap Noli and back, but there are shorter varieties and other walks that branch off the main route.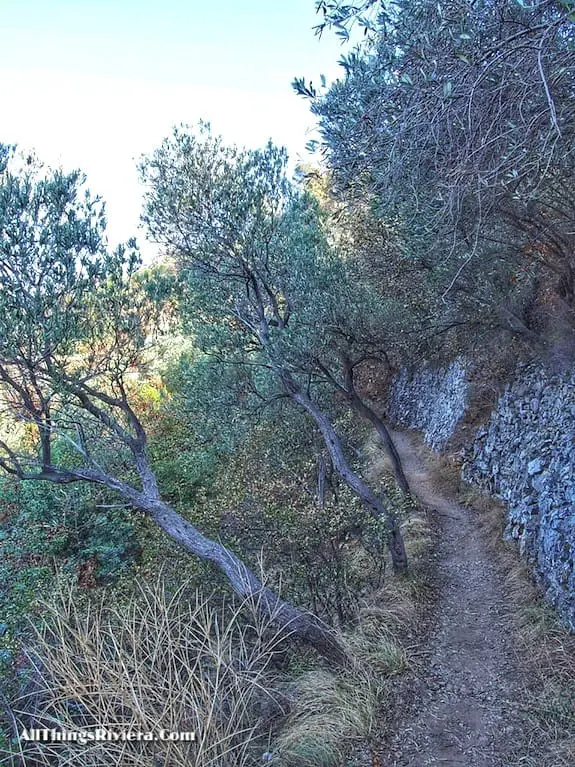 Such as the route to San Lazzaro and Chiesa Santa Margherita.
Every hiker knows that it's the way that counts, not the destination, but every hiker will also be grateful if the destination nicely rounds off his day with a final flourish. Happily for us, it turned out that the churches of San Lazzaro and Santa Margherita are wildly romantic ruins, …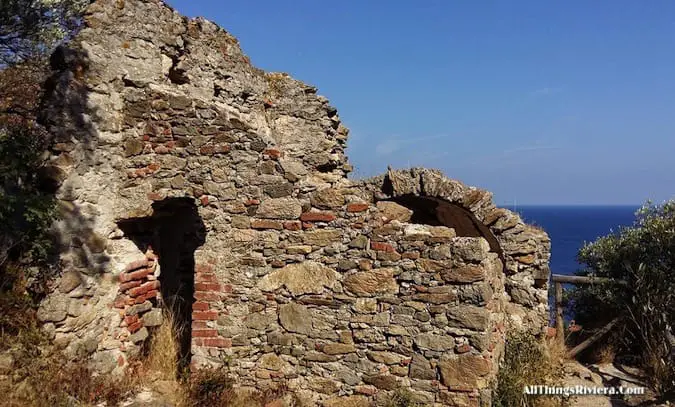 … the results of a devastating earthquake one hundred years ago.
Today, they are providing great views against a panorama of the deep blue sky and the sea, an image of desolation at its majestic and melancholy best. Gasparo Davide Federico would have loved it.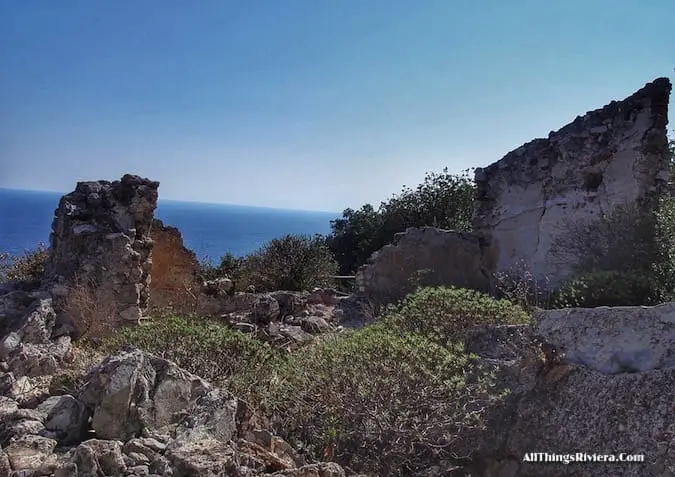 Tips on hiking the Noli trails
Remember: the trails on the map are generally not circular, so you have to find a way of returning to your base. It is easy to get carried away with all the choices on offer, all the trails that are branching off, so make sure you do not miss your train home.
For visitors from France, Noli is a bit out of the way (90 minutes by train from the border town of Ventimiglia, although less than one hour from Genoa in the opposite direction), which means that it will most likely be late morning when you arrive. You should take the time for a quick look around town: it is one of the prettiest on the entire Riviera …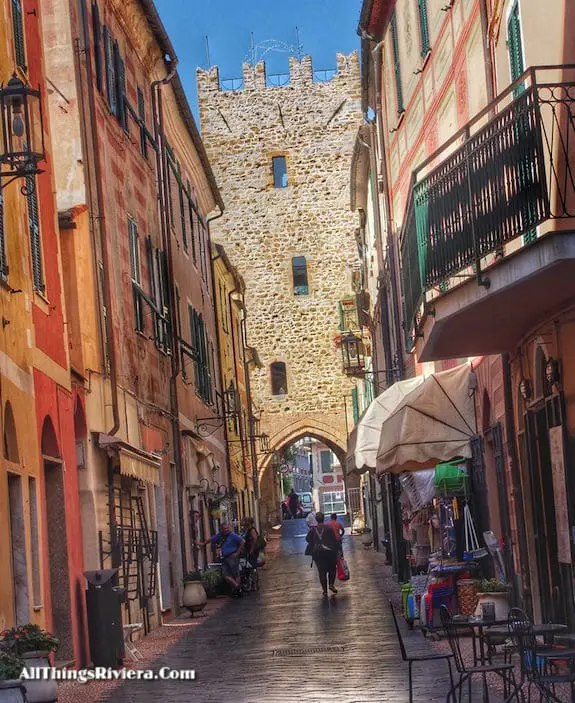 … after which you will inevitably feel peckish. Your time for hiking is therefore somewhat limited. The Santa Margherita route took us roughly 2 hours, which was just about right.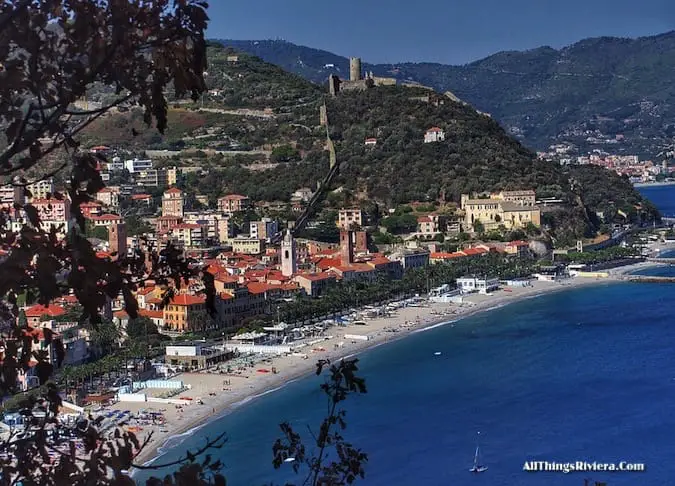 How to get there
Noli shares a train station with another resort town called Spotorno. The station is actually Spotorno's, really, and Noli's name has been added because that is where most visitors want to go. Noli is about 1.5 km away from the station. You can take a walk down the coastal road, but in truth, you won't miss much if you take the bus. Line no. 40 (from Savona to Andora) stops in the middle of Spotorno (on the Via Aurelia). It runs half-hourly throughout the day, and you can buy your tickets from any tobacconist for € 1.30 pp.
Spotorno gets short shrift in guidebooks, but is actually quite charming. Perhaps you should take the time for a closer look and a coffee on your return, after your wondrous easy hike in Noli.
We are always in search of easy hikes and checking them out for you.  Be sure to find out our next easy hike by subscribing to our free updates via email or follow us on Facebook, Instagram and Twitter. Why not include us in your G+ circles too?  We have some more tips for you in our our sister site: All Things Riviera for your next trip to the Riviera.