Where to go hiking in Germany
Easy Hiker never pretends to have all the answers. For example, one question that I still have not been able to settle after all these years on the road is this: What's the better hiking holiday – a continuous trail that you follow from town to town or a series of one-day hikes?
One-day hikes certainly have advantages: for one, you can put your heavy stuff away and hike with a daypack of necessities, essentially a few sandwiches and a bottle of water. (Hands up everybody who enjoys lugging around 10 kg or more. Well?… I thought so.)
You also know what expects you in the evening, which means that in the afternoon heat and exhaustion, a few miles away from your destination, you can already start fantasizing about where exactly you are going to sit in the beer garden of your choice and where you are going to put up your feet. That can put an almighty spring in your step.
But of course, one-day hikes also have their drawbacks. More often than not, they involve a long way to the trailhead, so it can easily be mid-day before you start on your hike. And they either involve complex return journey logistics or are circular in shape, of the dreaded "from the parking lot to the castle and back" variety. (When reading the descriptions of hiking trips, each time I come across the phrase Return the same way, I die a little.)
But on the third and final hiking day of our recent hiking trip to the Palatinate, we found the perfect method of combining all the one-day-trip advantages with none of the drawbacks: by taking the first stage of the Pfälzer Höhenweg around the town of Wolfstein in the northwest of the region.
Quite simply the best one-day hiking trip we had ever done
We arrived mid morning and had just enough time, on a brief walk from the train station to the Landgasthof Königsberg (our hotel), to verify that Wolfstein was a pretty little town, so we knew that, in the evening, we'd be coming home to a pleasant little town square, well-kept homes and a few lanes of old-worldly half timber-framed buildings.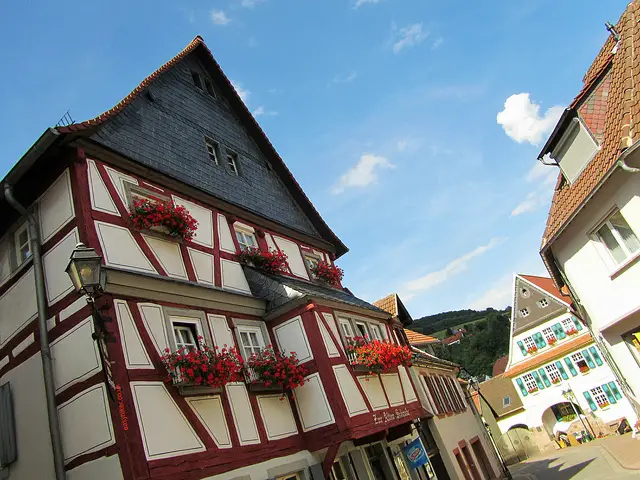 Having something like that to look forward to always helps to put a spring in your hike as well. (Wolfstein, I said, is a pretty little town, but the emphasis is on little as much as it is on pretty. In fact, the number of local inhabitants has practically not increased since the 13th century when the town was founded. The Landgasthof Königsberg is the only hotel in town, too, so it might be a good idea to establish in advance whether they can take you in.)
On sheer hiking trip terms, the Wolfstein hike was the best of our three walks in the Palatinate. The loop around town, at a length of just under 12 km, is neither too exhausting nor so short that it would deny you the feeling of accomplishment (which then entitles you to an extra large serving at the dinner table).
The trail leads you clockwise around the town – imagine Wolfstein on the "12" – and provides a surprising degree of variety. In the beginning, in particular, you will get splendid views over the hills around you, but there is a lot of forest, too, all rounded off with a couple of castle ruins near the end.
The trail is easy to find and, overall, very well marked.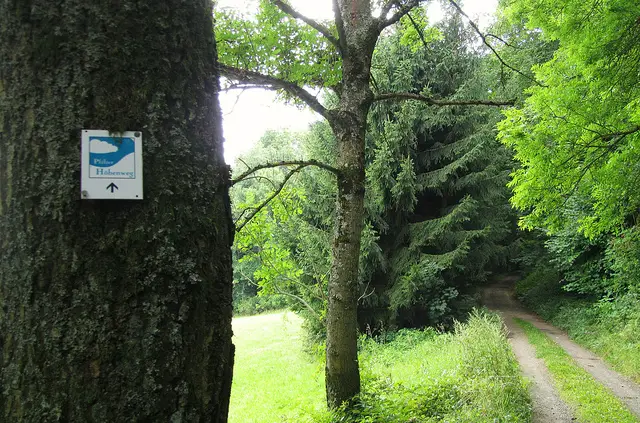 Simply turn left out of the hotel and follow the markers to the Youth Hostel (the "Jugendherberge") – you are now on a "feeder route" of the Höhenweg – on a fairly steep climb uphill and just continue straight – into the Höhenweg trail proper – when the hostel appears on your right hand side.
From then on, just follow the trail markers – until the very end when you can already see the town from above. Which is when you must descend rather than continue uphill, of course, which is so self-evident that even we could not quarrel over the directions or go astray at this stage.
Before, however, there were a few close calls. None closer than 2 km from the end when you must take a steep right turn off the path on the ridge. The sign on the trunk that leads the way is not just a "reassurance" sign that has been put, for whatever reason, a little further back into the 2nd row of trees (of which there have been quite a few till then): you really have to descend down the slope here.
What really confused us was the total absence of any further sign until the end of the descent  – we had already been here and returned half way down to continue further up on the ridge (wrongly) before we realized that this appeared to lead us nowhere.
Just be on your guard throughout, and remember: if you have not spotted a "reassurance marker" for a few hundred meters, this is normally an indication that you have gone wrong. Better to return and to establish where you have made an error than to continue in the hope that, as long as your "general direction" is right, you will be fine.
Something else that is good about one-day hikes: if you have selected your hotel in advance (and with a certain degree of care), you will have a good dinner waiting for you, and this can put a spring in your step, too. (That's a great many springs in the step, you may have observed, but this being Day 3 of our hiking trip, we needed all the help we could get, believe me.)
The restaurant of the Landgasthof Hotel Königsberg is run by Christian Schneider who has trained with 3-star chefs across Germany but returned to his native town to serve as the chef de cuisine in his parents' hotel. Christian is well aware of what is possible and what is not in a hotel that caters mainly for locals and weary hikers: he does not intend to run a "fancy" place but is determined to demonstrate that high-quality cooking and a strong emphasis on local specialties do not rule each other out – expect to find nothing but local and seasonal ingredients on your plate.
As far as the hiking went, we were fairly impressed by the Pfälzer Höhenweg, which provides an interesting alternative to endless trudges through forests. The locals say that this is where people from the other regions of the Palatinate go if they want to do some serious hiking.
But why leave it all to the natives? Wolfstein is only a couple of hours away from Frankfurt, less if you arrive at the budget-airline hub of  Frankfurt Hahn – and therefore a perfect destination for a daytrip away from the treadmill and the trading desks of continental Europe's financial capital.
Bankers of the world: you have nothing to lose but your boring routines – and a pretty good hiking experience to gain!