From Imperia to Bordighera, there is a stretch of Italian Riviera villages that have become unstuck in time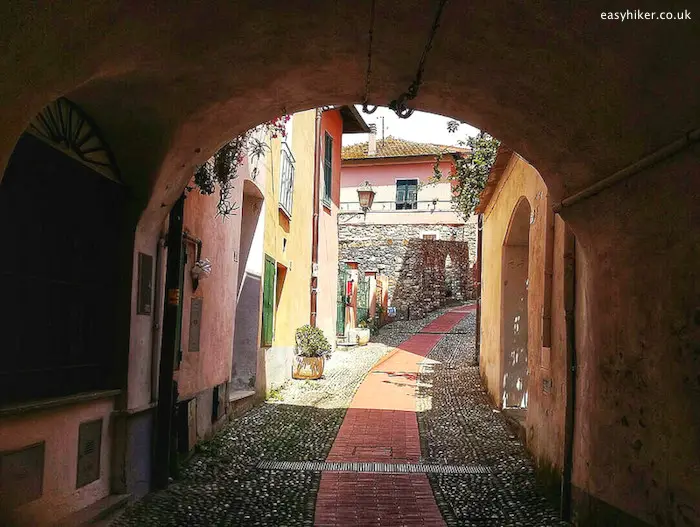 All the small coastal towns between San Lorenzo al Mare and Santo Stefano look as though they had retreated into a time capsule, a little like the New England hamlet in M. Night Shyamalan's "The Village", with the main difference that the year written on the capsule is not 1870 but some date in the late 20th century.
The story goes something like this: When the railway line between Genoa and Ventimiglia (the last Italian town before the French border) was constructed 150 years ago, only a single track was built, mainly because it was so difficult to find enough space between the mountains and the sea for a twin-track railway line. Very soon, however, already after a few decades, this was causing problems in the face of growing demand (and an expanding tourism industry).
Read also: A Garden with a View in Genoa
We all know that Italy is not a country where problems are identified and resolved in the same breath; that in fact is part of Italy's charm.  But even by local standards, the Riviera railway project proceeded at a snail's pace. Bold plans ignited heated discussions, following which the bold plans were abandoned or modified beyond recognition, while the most pressing problems were addressed with patchwork solutions – so that, after 150 years of talking and planning, some sections of the line are still waiting for their second track.
One big piece of the master plan, however, was completed in 2001 when the double-track between Imperia and Bordighera became operational. The new line was cut right through the mountains, proving that Italian civil engineers are capable of matching anything that their northern peers can build, while the old track was closed, together with five stations that were no longer needed: Sanremo (replaced by a new one), Arma (the new station of Arma Taggia was built further inland), but San Lorenzo, Santo Stefano and Ospedaletti lost their stations altogether.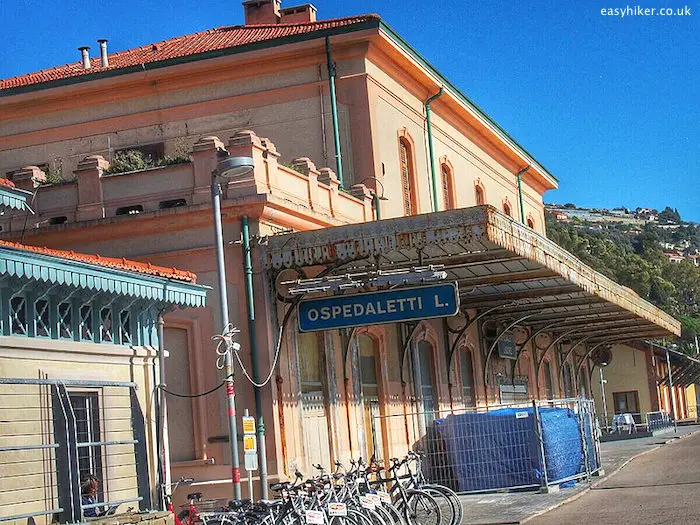 Ever since, these towns, and the smaller villages between them, have been a little cut off. They are lively enough (in summer at least), and Italian tourists still flock to them in their thousands, but foreign visitors who take the train to Genoa and beyond would never learn of their existence.
If you do make the effort of getting there (there are buses from Sanremo and Imperia), you will find that these Rip van Winkle villages of the Italian Riviera appear to exist in a very Italian sort of comfort zone, a world where the Italian Way of Life (where shops close for three hours in the middle of the day and everybody sits down in a trattoria on the market square for a long boozy lunch) still rules, no matter what those crazy people in faraway places such as New York and London (or Milan) may be up to.
Little, it seems, has changed in this world since, say, 1975 as evidenced by the number of small shops selling pots and pans and cheap electrical goods, the twee figurines in the shop window displays of bakeries, the creaky furniture and dark wallpaper of traditional restaurants.
It is not that these towns do not want to attract the attention of the outside world: on the contrary. They just don't want to adapt their ways to its foibles.
And a good example for the sort of thing they still do well over there is the new hiking-and-biking trail, which takes you over a distance of 24 km from Imperia to Bordighera: an asphalted, scenic route between the mountains and the sea that follows the old, now disused railway track.
We already took this trail from Ospedaletti to Sanremo in one of our previous posts. So today, we will be heading east of Sanremo …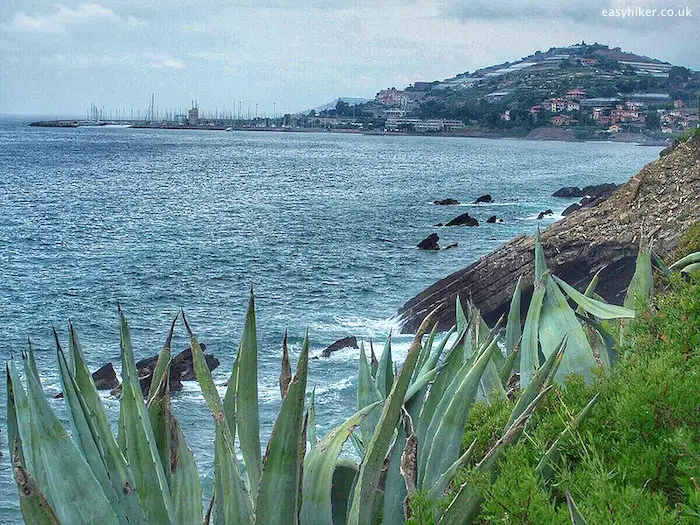 … to San Lorenzo al Mare, a seaside resort with quaint streets in the region's typical colour scheme …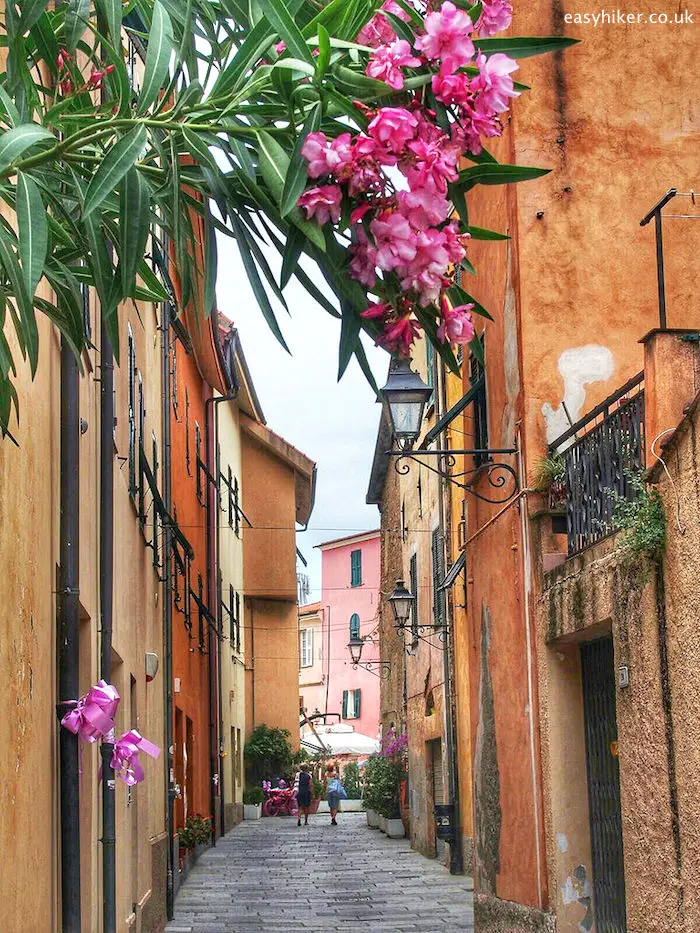 … lately enriched by a distinct dash of pink …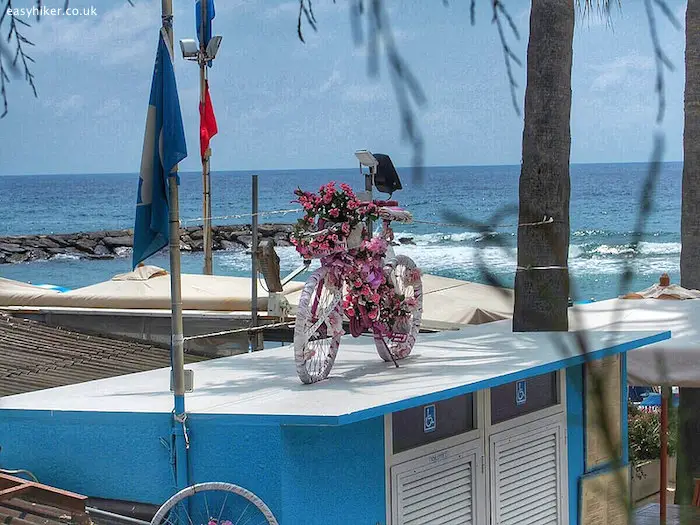 … which happens to be the colour of the Giro d'Italia, Italy's foremost cycling race, which started here in 2015. (This is a big event on the Italian sports calendar, somewhat the equivalent of hosting the Super Bowl.)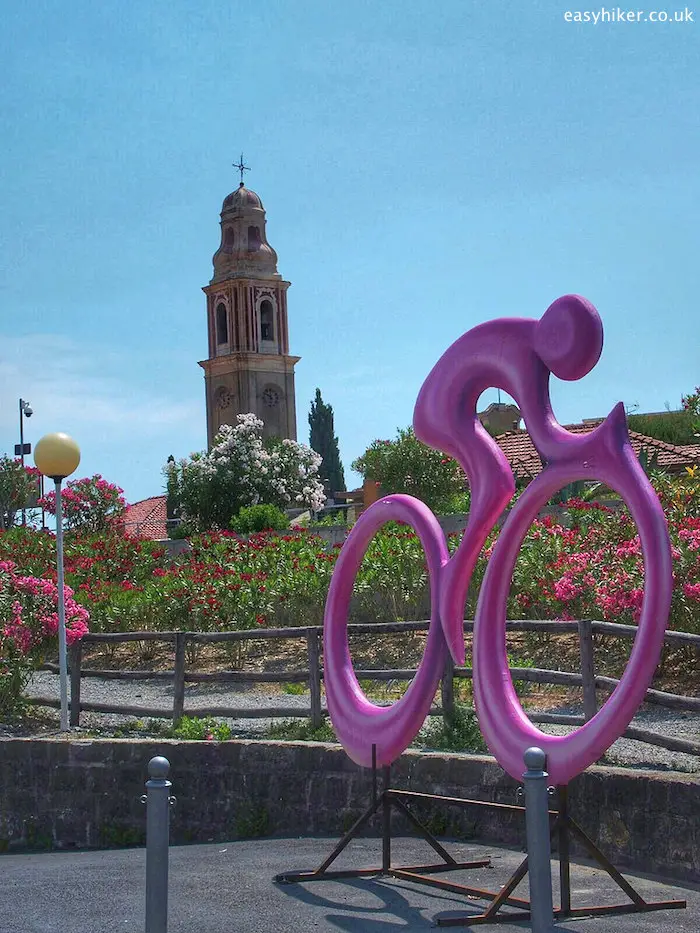 Leave San Lorenzo over the bridge towards the railway tunnel.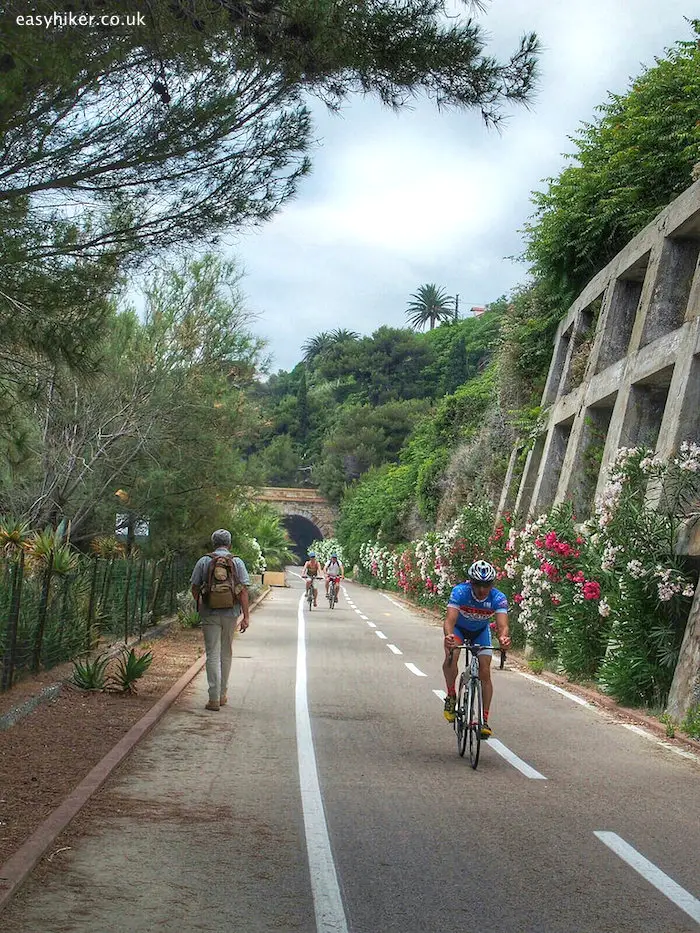 Now you have two options: you can either walk right through the tunnel, of course, but also – it is roughly half a mile long – use the footpath on its left hand side …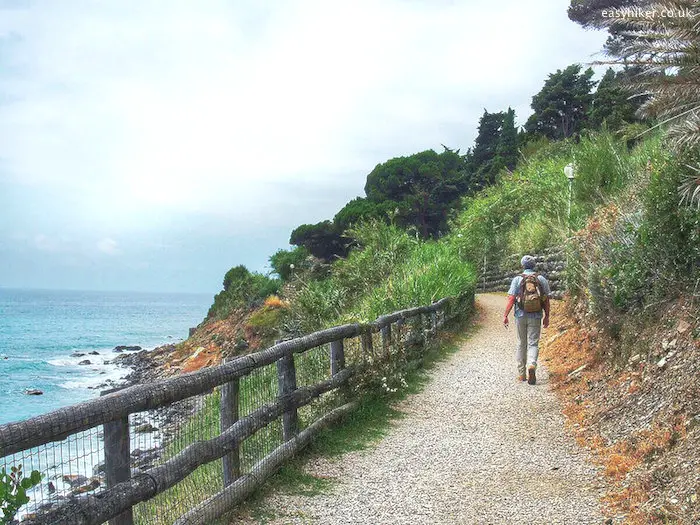 … which looks tempting at first, but you will soon run (or walk) into trouble.
Turn right when you reach the sewage treatment plant, squeeze past and climb the stairs to street level. Only now will you get a whiff of the sludge they are treating behind those walls, but by now, this will be the least of your problems, because for the next 500 metres or so, you will need to continue on the shoulder of a very busy and not exceedingly wide road.
Just stay close to the guardrails, very close, and climb down back to the biking-and-hiking trail as soon as you see it on your left hand side, right after it has emerged from the mountain. (Use the wooden stairway.)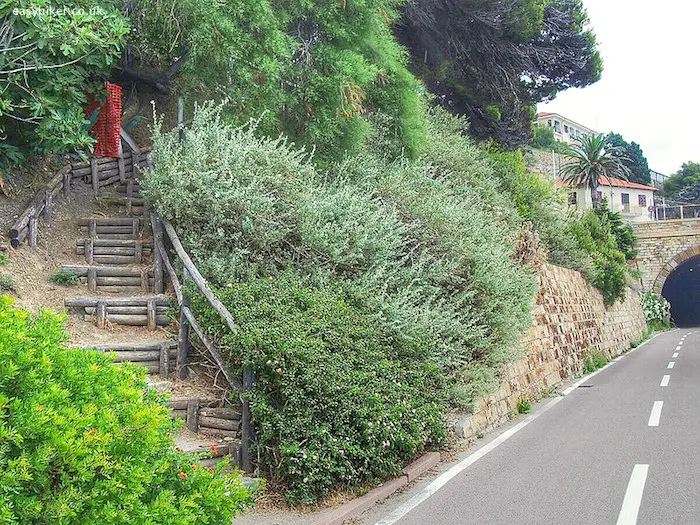 Continue past the Torre degli Aregai, one of the many so-called Saracen Towers in the area (although the pirates from whom these watchtowers were meant to protect the locals in the 16th century were as likely to be nominally Christians as nominally Muslim)…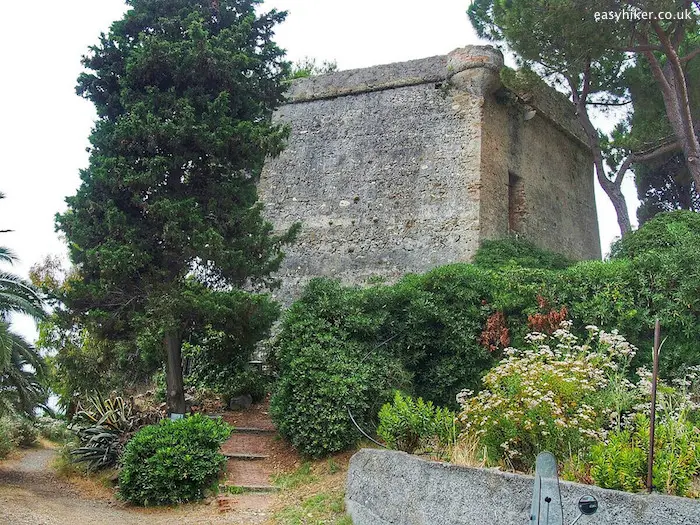 … and Cavi harbour …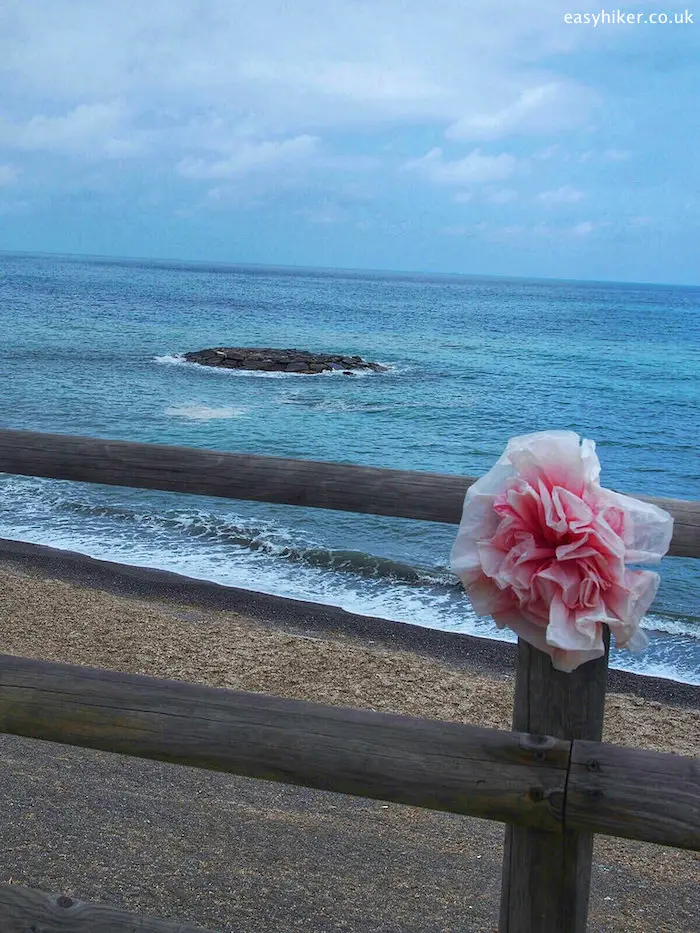 … to Santo Stefano.
By now, you will have walked approx. 5 km: not a lot perhaps, but if you have come over from somewhere else along the coast (from France, for example), you have probably arrived in San Lorenzo around noon and may have felt unable to resist the temptation of a long boozy lunch (these Italian habits are old-fashioned all right but also somewhat addictive), so the afternoon will already be reaching its later stages.
So let's just take it easy – go home, rest a little and complete this walk on another day. See you in our next post!