The Riviera (T)railway
Forbidden fruit: taste it and find out what made Sanremo famous
Coastal walks on the Italian Riviera, ideally, connect two seaside resorts that are well worth a visit in their own right. Whether or not these outings are successful, ultimately depends as much on these two resorts as on the walk itself – the more there is to see on either end, the more interesting the trip, even if the walk between the two towns fails to deliver more than the usual mix of beaches, palm trees and the twin azures of sky and water.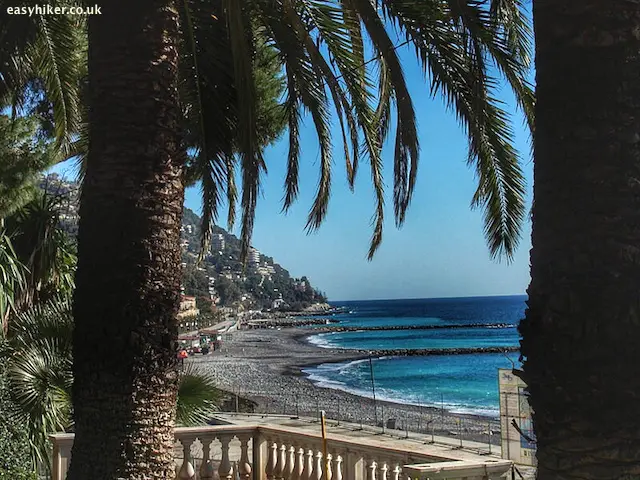 This is why, for quite some time, we have wanted to feature a walk to Sanremo, the capital of the Riviera di Ponente in all but name, for the simple reason that there is much to see and to do in this elegant and beautiful little town – so much, in fact, that just about any walk to Sanremo can only produce a successful day trip.
The most obvious candidate as a starting point for such a walk is the village of Ospedaletti: because the distance between the two is short enough (roughly 4 km) to give you the time to enjoy Sanremo after you have done the hard work, and because Ospedaletti can be easily reached by bus (the "V" line that runs every 15 minutes between Ventimiglia and Sanremo).
Not to forget that Ospedaletti is rather cute in itself, with a small but pretty old village centre …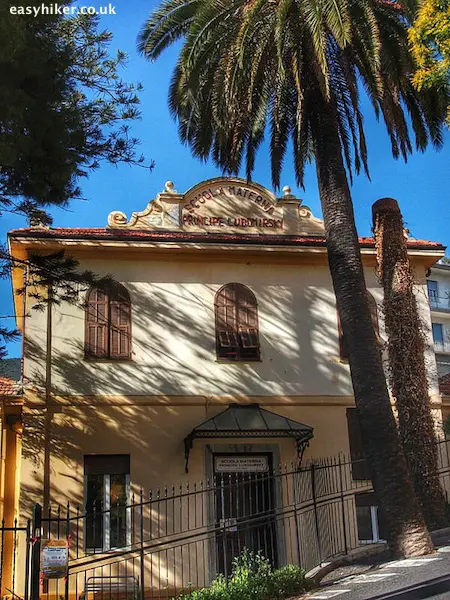 … which is just right for a cup of coffee on the beach promenade and a short exploratory walk before the "real" walking begins.
And now for the surprise: it turned out that, this time of all times, it was the walk that was the real star of the trip. What made Sanremo famous!
Two things make it shine so bright.
Read also: A Garden with a View in Genoa
Firstly, the trail gives you a rare chance to do something that you are normally not supposed – in fact, strictly forbidden – to do, which is to walk on a railway track. Forbidden fruit are always sweeter – especially if you can enjoy them without any risk and any danger to life or limb, as you can in this case because the once forbidden track has not been used by trains for 15 years and is, in fact, completely covered by asphalt.
The frisson of going where you are not meant to go, meanwhile, is maintained by many tell-tale signs that give away the original purpose of what today is a cycling-and-hiking trail, such as railway embankments and perimeter walls.
Mainly, however, right at the start of the walk, by the abandoned and slightly melancholy train station of Ospedaletti …
… and, above all, the centrepiece of the walk: the 1.75 km long Capo Nero tunnel.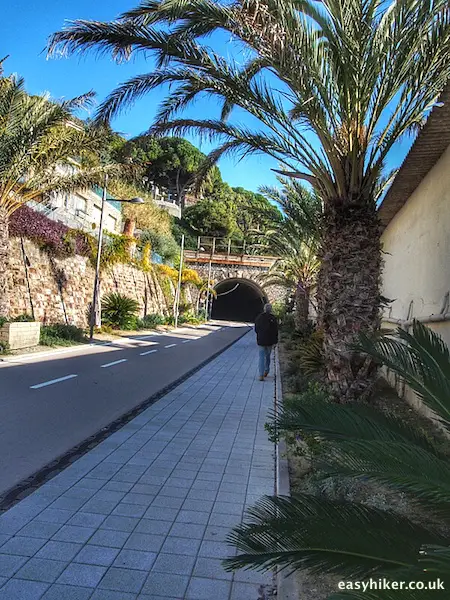 And this tunnel is the second feature that makes the Ospedaletti-to-Sanremo walk so interesting and unique. When the track was turned into a rail trail, it was also decided to convert the Capo Nero tunnel into a museum for Sanremo's most famous sporting event, the cycling classic Milan-Sanremo, which has traditionally been, for more than 100 years, the first important contest of the road season.
Every bay of the tunnel is dedicated to a specific year in the history of the race, providing you with some basic facts about that year's event on one side …
… and with tidbits and anecdotes on the other, each time in Italian and English.
On top of that, famous Milan-Sanremo quotes have been painted on to the asphalt.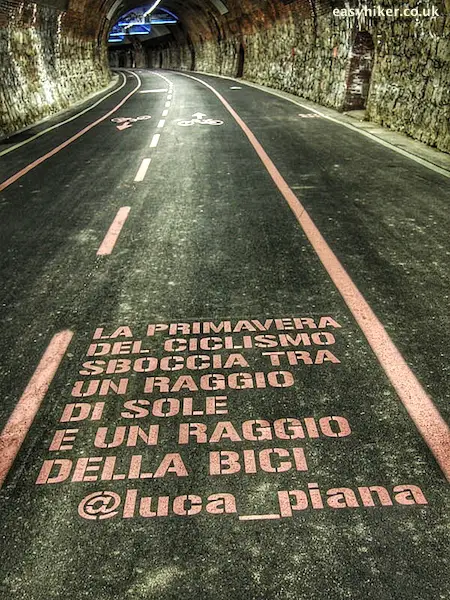 This specifically poetic one informs us (if my woefully inadequate Italian does not fail me) that "cycling's spring blooms between the rays of Riviera sunshine and the rays of a wheel".
And finally, at either end of the tunnel, there is some basic information about the track conversion project as such. Apparently, the Ospedaletti-to-Sanremo rail trail is only one section of a wider, altogether 24 km long project to connect all the small seaside towns between Ospedaletti and San Lorenzo al Mare, which lost their train connections when the new line was built.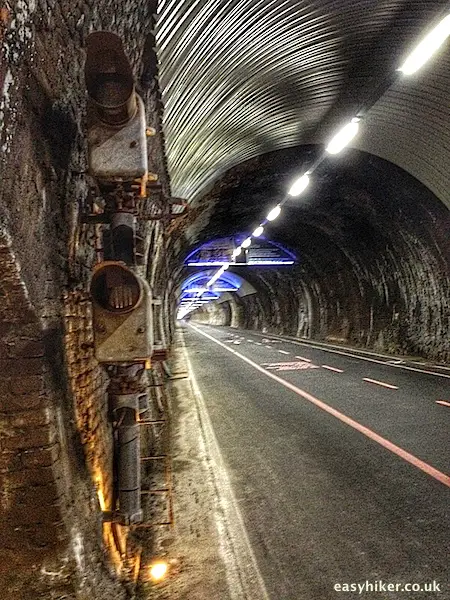 After the tunnel, the trail will lead you through the western suburbs of Sanremo and past the casino …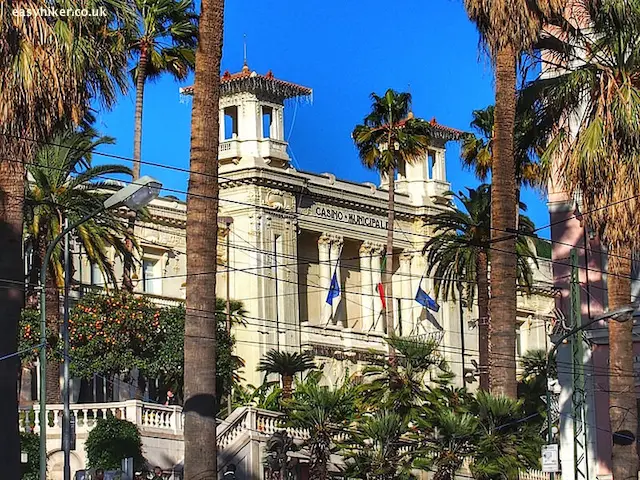 … to the old (now disused) Sanremo train station where our walk ends.
For a further exploration of Sanremo, I recommend this post which we wrote two years ago, following our first ever trip to Sanremo since when we have been there many times. I have just reread it and would only add a couple of suggestions.
Read also: A Perfect Winter Walk in the Italian Riviera
Firstly, if you have started your day early, you may arrive in Sanremo just in time for a late lunch, in which case we recommend A Cuvea, a trattoria-style, family-run restaurant on Corso Garibaldi, not far from Piazza Cristoforo Colombo – from where you can also catch a bus home later. (This will save you the effort of walking to the new train station which is a good 15 minutes away.)
And secondly, in addition to a visit of the Old Town, a walk down Corso Matteotti, the town's main shopping street, can also be very rewarding – go there not necessarily to buy anything, but just to get a flavour of Sanremo's unflashy, slightly superannuated charm.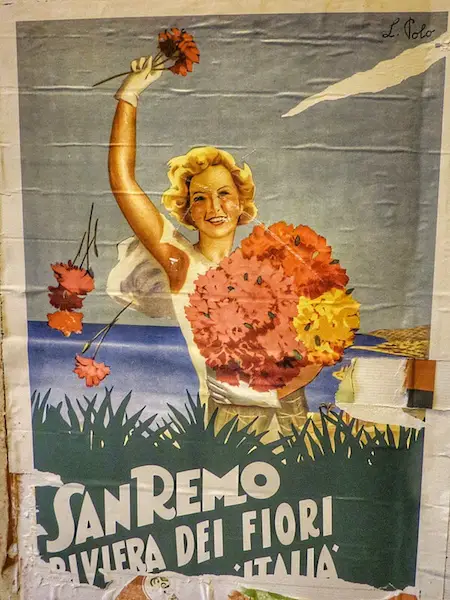 Corso Matteotti may also – provided you make your trip in mid-February, as we did – give you a chance to acquaint yourself with the second of the two events that have made Sanremo famous: the Sanremo Music Festival, the Super Bowl of Italian pop music, held every year in the Ariston cinema on the corner with Via Mameli.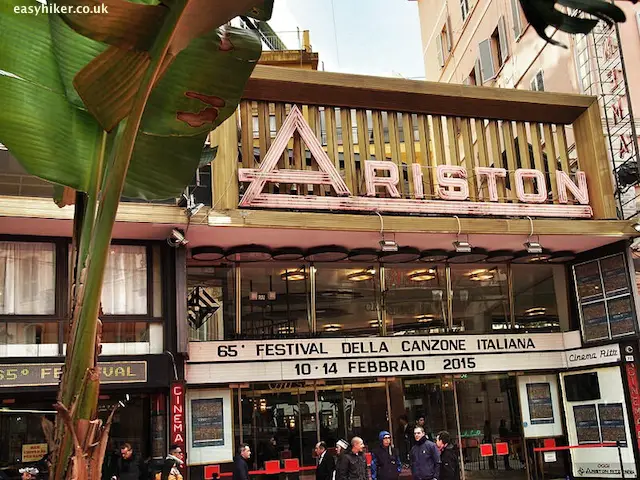 While we had a cup of coffee in a near-by street café, a band happened to walk by, on the way to a rehearsal, presumably, accompanied by a hundred-strong crowd of teenagers who were all madly clicking away with their camera phones. Today, when I checked some facts about the event online, I came across a photo of the 2015 winners – and I think I recognized them. Just imagine: we had a brush with history! The band will now represent Italy at the Eurovision Song Contest. I certainly know who to cheer for.
Feel that you're there with us on our walks in the French and Italian Riviera. Get our free updates by subscribing via email or following us on Facebook.